Last week we celebrated my son's third birthday. Since this was his first birthday with a full-time stay at home mom, I felt it was my maternal duty (ha!) to get my act together and be organized and prepared and present an appropriately themed party for him. But let's face it, he was going to have a good time with or without a theme and supporting decorations. We have enough family gatherings and he has a unique placement in the family order (i.e., a gap of 18 years between him and his nearest cousin) that he has come to easily enjoy the excitement and attention-getting aspect of such events, and has been quick to realize he can usually get away with a few things during the hubbub of celebration (like an extra juice box or helping of chips). I suppose the party planning was more about challenging myself to see if I could actually do this kind of thing. I'm not giving Martha Stewart a run for her money any time soon, but I think it came together pretty well and it was fun to plan.  I thought I'd share a bit in case anyone else is considering a truck-themed party for their little one.
Selecting a party theme for my son's third birthday could not have been easier. He thinks trucks are the best. This obsession started in the fall and has been holding steady with no end in sight. There is good and bad to this. I'll admit I think it's kind of cool that "flatbed" and "excavator" are mainstays of his vocabulary and that he can explain to me the purpose of outriggers on a crane truck. But, it also means that he wants to spend ninety percent of his time at the playground in the sandbox with the trucks. YUCK! Go ahead and put me on the bad mommy list, but I don't like sandboxes. Eeeew, they just seem so dirty. Ask a cat to explain the difference between a sandbox and a litter box, and it's going to be a very short conversation. When the nearby park with the sandbox was closed for over a month this summer due to major renovations, I didn't shed a tear. And now that it's open again and has a gorgeous new jungle gym with the latest and greatest amusements, he'd still rather occupy the sandbox. Ugh.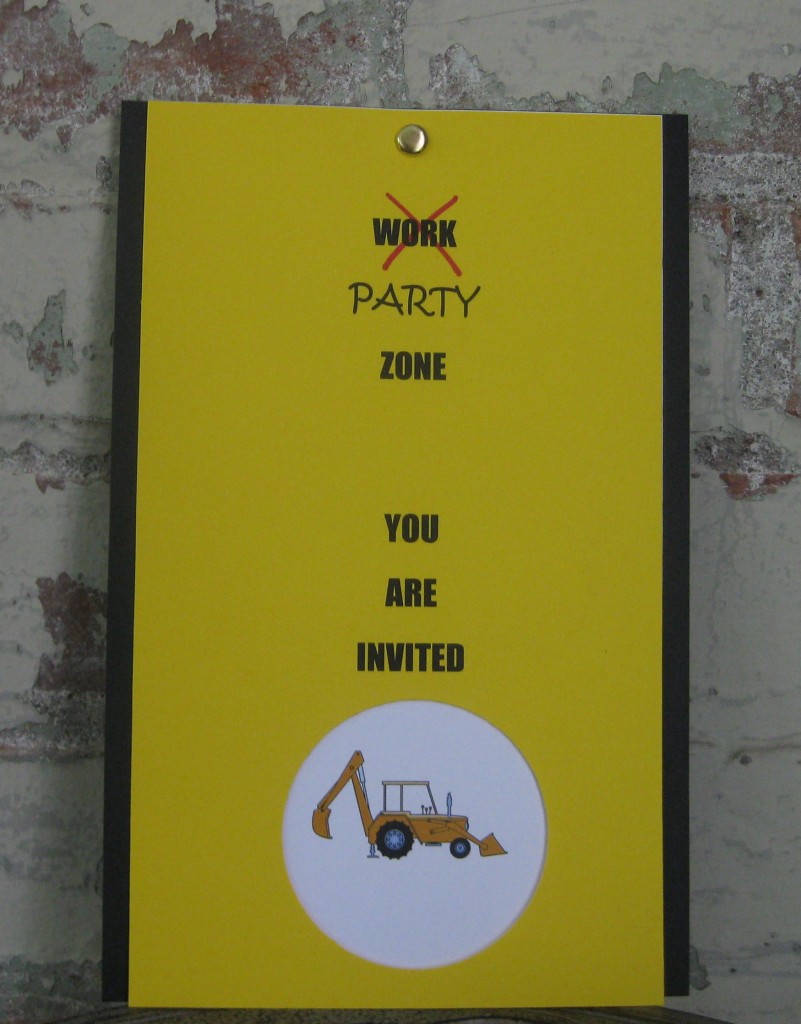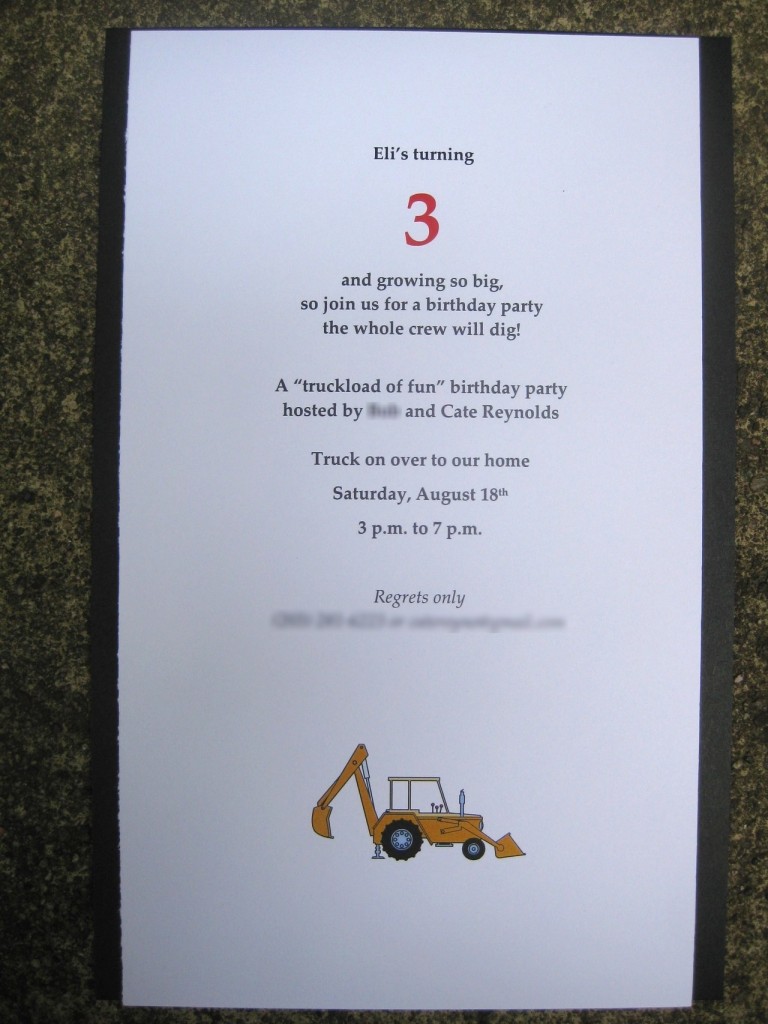 So the truck theme was a given. Theme in hand, I was determined to conquer the greatest uncertainty of all — the guest of honor. Despite all my bribes best efforts, I can barely get him to nap anymore. Obvious indications to the contrary, he insists he doesn't need to nap and refuses even my compromise offer of "quiet time" each day. I knew a well-rested child would offer a better chance at party success, but unfortunately the week leading up to the party yielded but one nap. As anyone who spends time with young children knows, tired children are the most unpredictable creatures ever to walk this earth. Okay, slight exaggeration, but allow me. Tired children are capable of mood changes so swift and inexplicable they put PMS to shame. For example, a tired child's reaction to his birthday cake might vacillate between trepidation and glee within a twenty second time span. Case in point:
I carried the truck theme from invitation to wardrobe to table. I made his shorts by following Dana's  tutorial for Kid Pants with a Flat Front and shortening the length, and used Rae's pocket tutorial to add back pockets. I chose a Moda truck fabric (Ten Little Things Trucks, Navy) and paired them with a freezer paper stenciled shirt intended to look like a road work sign emblazoned with the number "3." (Please forgive the wrinkled shirt below. He's not the most willing model, so I need to strike when he's willing, wrinkles or not! I bartered an episode of Caillou for these shots.)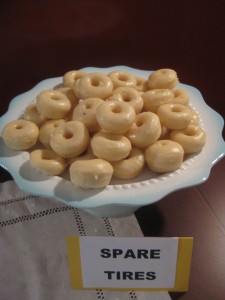 I had fun playing with desserts and the truck theme. We had a pumpkin spice cake, by request from the birthday boy, which I decorated as a road sign to match his shirt. We also served "broken pavement" (saltine toffee, addictive and definitely not health food!) out of the back of one of his dump trucks, and "spare tire" mini glazed donuts. I considered using plastic toy shovels for serving the food, but ran out of time to shop for some. Probably overkill, and I think they may have been too cumbersome anyway.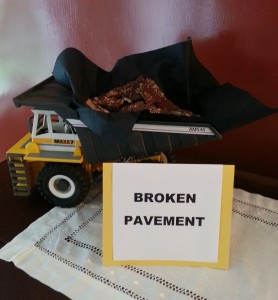 The party favors were mini tape measures bagged in clear favor bags tied with black, white and gold ribbons. Seemed to fit the truck/construction theme well enough. I piled them in the back of another toy dump truck. However, I didn't place the party favor truck in an obvious location and forgot to remind people to take one — silly mistake. We've since been handing them out as we catch up with folks post-party.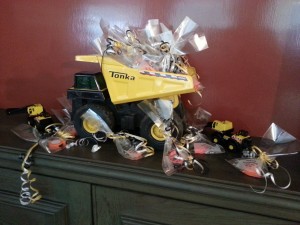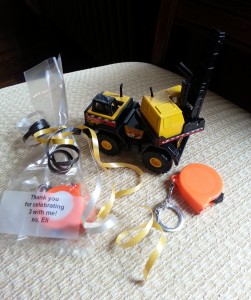 I never know how best to put out the utensils for a party when serving buffet style. I hate rolling them in napkins and tying with ribbons; it seems so inconvenient to make your guest struggle with a ribbon in order to get to their food. I found these really neat chalkboard buckets in the dollar bins at Target. I envision a lot of great uses for them, and couldn't resist breaking them in at this party — they use buckets at construction sites, right? I used a yard of Michael Miller fabric (Tot Town Dig It, White) to form a makeshift runner for the sideboard. I didn't actually bother to sew a runner since I was really just using the fabric to highlight the truck theme and protect the wood; simply folded it to hide the raw edges. My son loved this fabric when he saw it in my stash and was trying to put in on as I gently explained I hadn't actually made anything with it yet and so there was nothing for him to wear!
I think overall it was a fun time. At the very least, my son was amused that mommy was placing his trucks all over the house — even in places that he'd never be allowed to put them — like, on dining tables! And despite his napless weariness, he put on a good show as birthday boy. He slept well that night.
My daughter's birthday is in November. I am looking forward to a girlie theme next time around. I should probably start planning…. What birthday themes have you tried or enjoyed? Any tips for convincing a child to take his nap?
You may want to check this out: