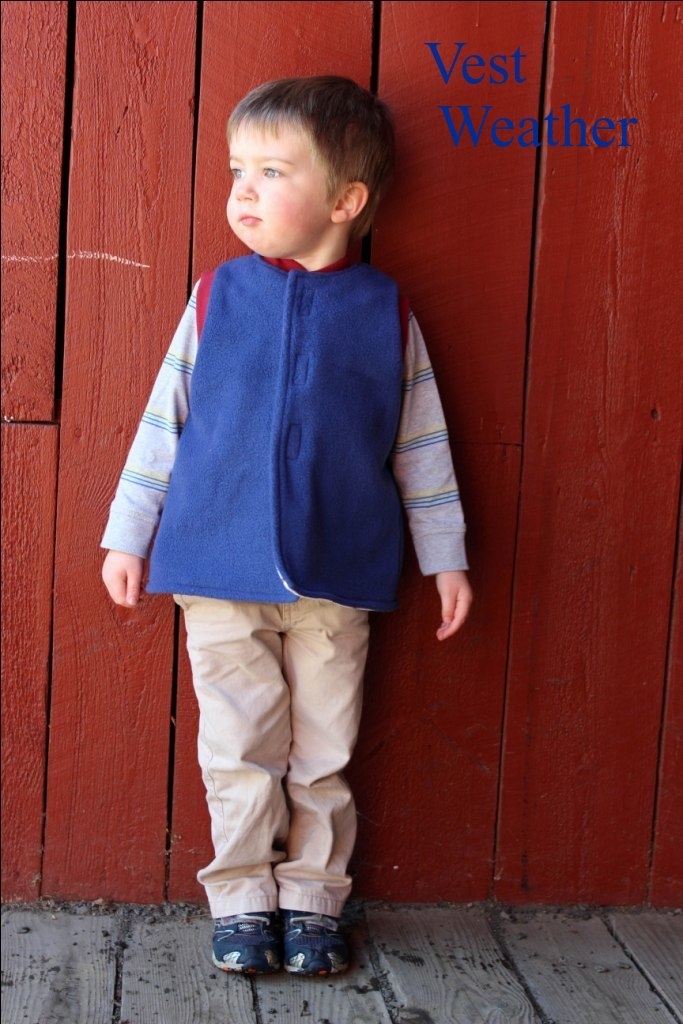 Today is the kick-off day of Dana and Rae's Celebrate the BOY series 2013.  Hurrah! They've both posted some great projects today, including a tutorial and free pattern by Dana for a basic tee.
In the spirit of Celebrate the BOY, I'm showing off a new vest for my boy! It was sewn using Dana's new FLIP Vest Pattern. Fleece on one side, printed cotton on the other — fully reversible and fun.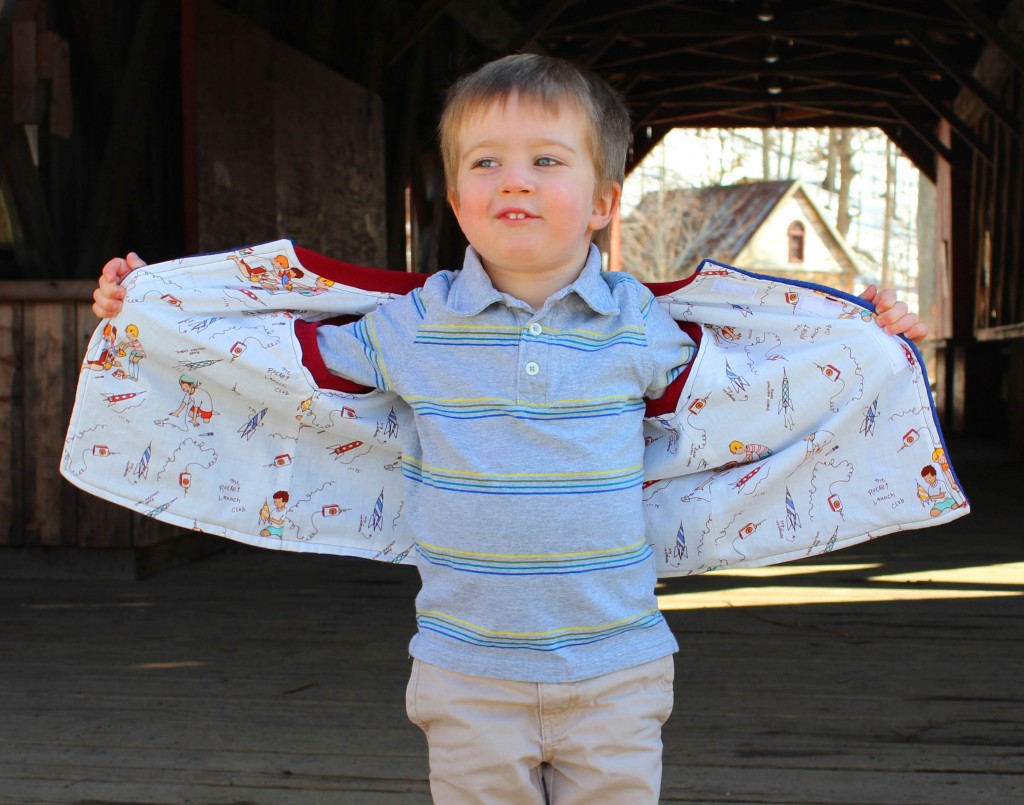 I actually started this vest a week ago but just finished last night.  No, no, this is not a week-long project. More like a solid afternoon project (or, in my case, late night after the kids are asleep). The pattern is actually quite user-friendly and the vest comes together easily. But, scheduling issues and buttons – dreaded buttons – led to the delay. The pattern provides instructions for making a reversible vest using velcro fasteners, or using buttons for a one-way vest (since the buttons would likely not feel very comfortable worn on the inside).
Many months ago I purchased a great "boy print" from Michael Miller's Children at Play by Sarah Jane collection. Such a wonderful collection. While I love bright colors and stripes for boys and girls alike, and Eli's wardrobe fully reflects this, I typically don't use patterned or printed fabric for the clothes I make Eli unless it fits a particular theme (like his birthday shorts!). But I found the boy-themed prints in this collection so endearing that I had to buy some. I was envisioning using this Rocket Launch Club print for the lining of a jacket of some sort, and Dana's vest pattern seemed like a perfect opportunity.
Since I planned on using the print fabric as a lining only, my intention was to add buttons to this vest and skip out on making the vest reversible. So let's talk buttons, or rather buttonholes. Grrrrrr. I've made clothes with buttons before without any problem. And, per usual, I even did a few practice buttonholes on this fleece/cotton combination last night before trying it on the actual vest. Six practice buttonholes came out perfectly (perfectly being subjective here). Six!! Did you notice the final vest has velcro, no buttons??! I don't know what it was, but I could not for the life of me sew a buttonhole (never mind the 5 buttonholes I desired) on this vest. I spent much, much too long attempting it, broke two needles in the process, shed a few tears of frustration (such an attractive quality), and then finally in the early morning hours came to my senses and decided there ain't a darn thing wrong with velcro.
So velcro it is!  As you can see, he doesn't seem to mind.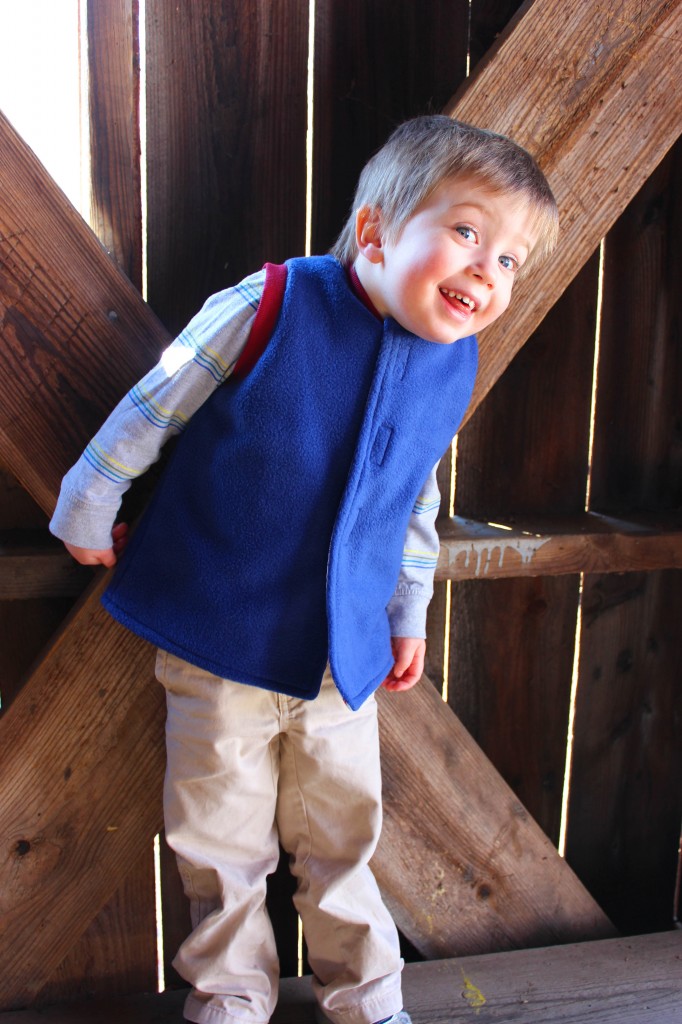 Thankfully the sting of being button-less was wiped away by two things: (1) Eli's excitement upon seeing the vest in the morning, and (2) perfect vest weather for our photo shoot this morning! My husband generously allowed me to sleep in a bit this morning after my late night battle of the buttonholes, and I awoke to Eli standing bedside, adorned in the vest, gleefully saying "Mommy, Mommy, look at my vest!" And he's taken to calling it his Rocket Ship Vest in homage to the lining fabric. Man, I love that boy.
We went frolicking on the grounds of a nearby museum/learning center for our photo shoot, and had the whole outside to ourselves.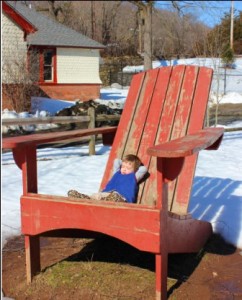 We were only about 50 yards from a busier street, but the rush of a waterfall and the absence of company made it feel like we'd been transplanted somewhere secluded and special. I dare say it felt enchanting. Playing in the sunshine but surrounded by snow. And after the rain and the thaw/freeze/thaw/freeze weather whiplash of last week, the snow piles had hardened enough that we could walk on top of the snow. Of course, all the leftover snow didn't make for easy passage for the stroller, so poor Miss Daisy was parked in place watching her goofy mom and brother run around in the snow and take pictures until she'd squawk and we'd comply by repositioning her for a change of scenery.  There were two busloads of children inside the center on a field trip and I wonder whether they were envious of our sunny snow play or laughing hysterically at our antics.
And isn't this a great bench? I might need one for my backyard.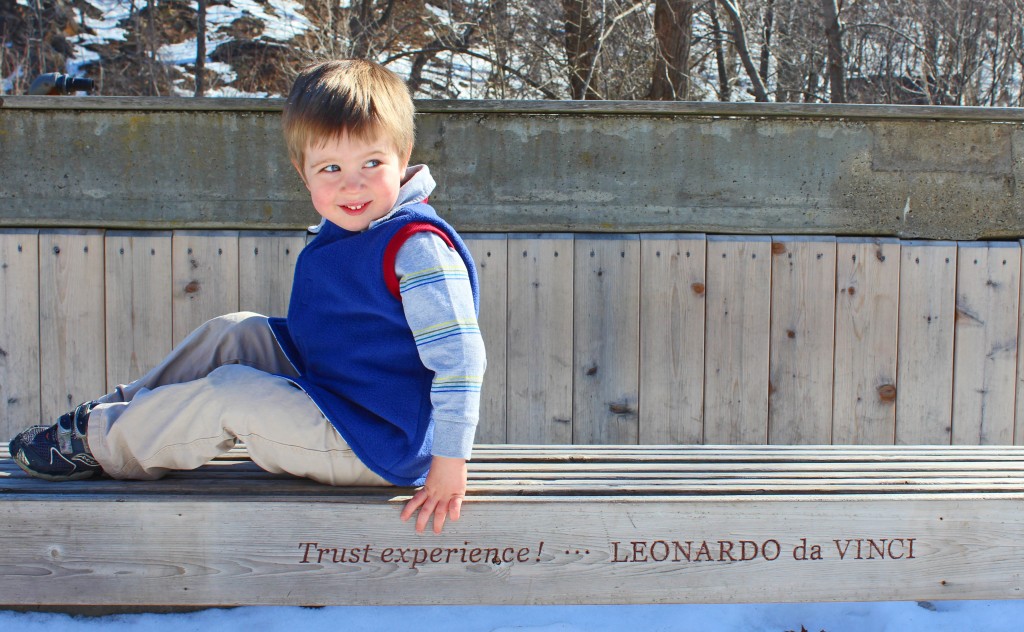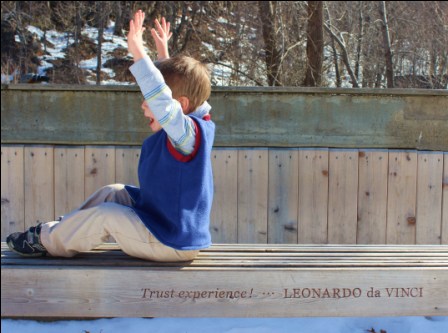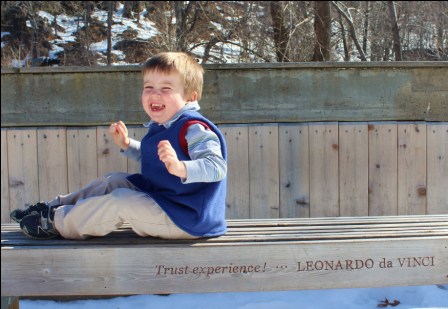 I'm going to trust my prior, positive experiences with buttonholes, and erase from memory the battle of last night. Moving on…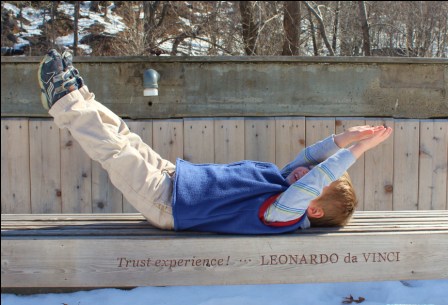 You may want to check this out: