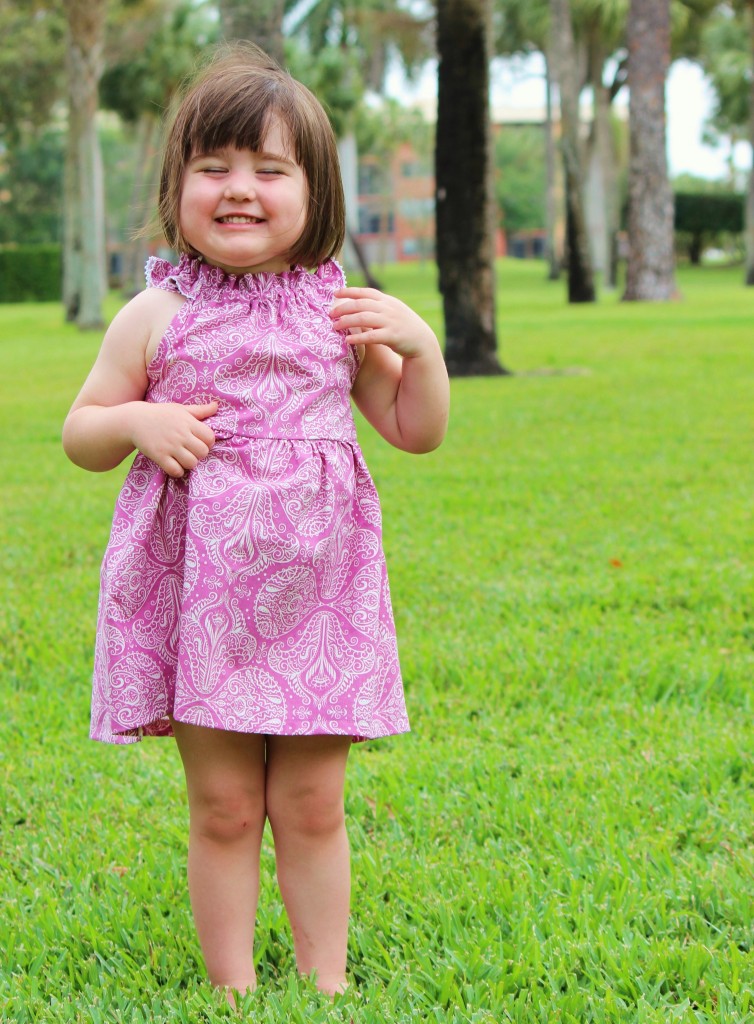 We're nearing the very end of March and it still feels like winter around here. Grrrr. I am past the cabin fever; past being depressed over the snow, snow and more snow. Now I'm just COMPLETELY ANNOYED. I used to be someone who enjoyed winter. This year is forcing me to rethink that mindset.
Thank goodness we were lucky enough to escape last month to sunny Florida for a family vacation. I was just so happy to be somewhere warm and sunny, where being outside felt good rather than numbing. It was heavenly to feel the sun on my skin.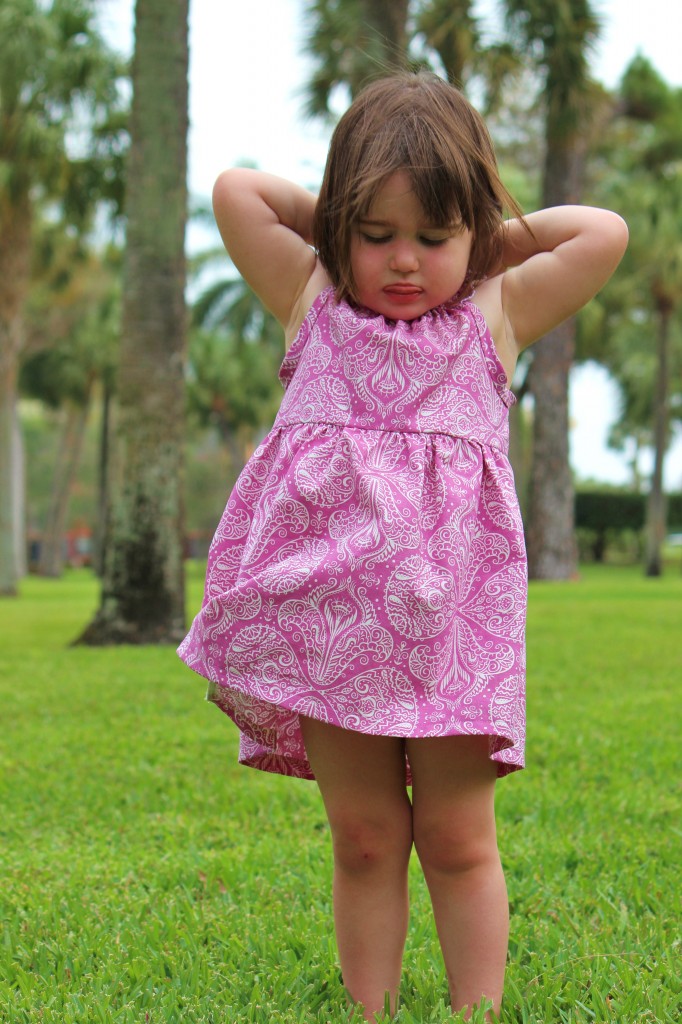 In joyful anticipation of a sunny vacation I made big plans at the beginning of February to sew up a handful of items for the warmer weather. But it turns out that spending your nights sitting on your butt watching Netflix is not very conducive to sewing, so my big plans were quickly whittled down to two items made two nights before our departure. My daughter scored big, and my hopes for a new beach cover-up have been shelved until summer — assuming we actually get a summer and we're not stuck in permafrost tundra forever.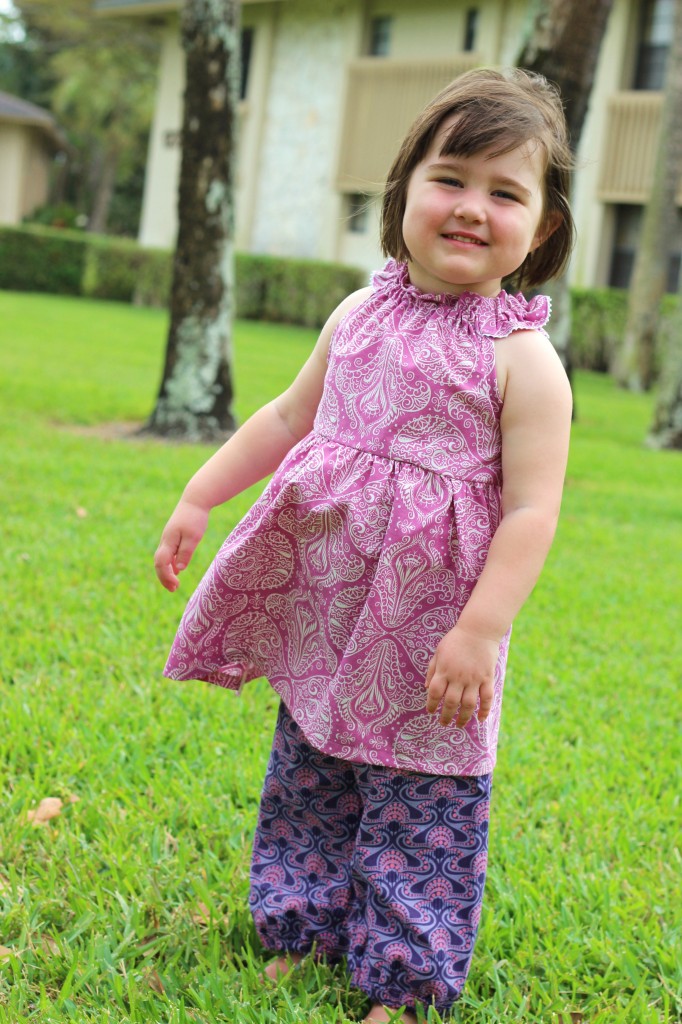 The sundress was made using the The Nelle dress pattern by brownie goose. I love this pattern. I actually have several Nelle dresses in my Etsy shop because it's so much fun to sew. It doesn't require yards and yards of fabric and is so versatile; wear it alone or pair it with pants or leggings. I have had that dress fabric for almost four years now. It was the very first fabric I ever purchased when I started sewing, and I still love it as much as I did back then. The color makes me think of black raspberry ice cream. I have just enough of it left to maybe make her a skirt next year.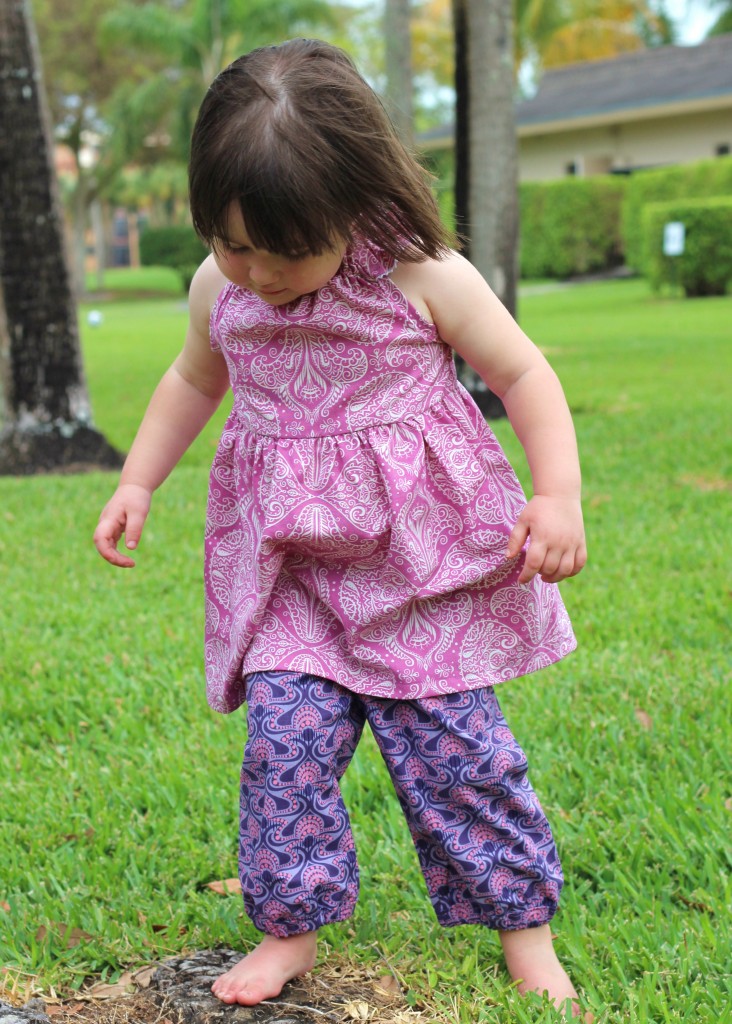 The pants are my attempt to hack the upcoming Moon Pants Sewing Pattern from Made By Rae. Rae's moon pants were among the fabulous sewing projects highlighted in Issue 3 of Stylo Magazine, and I have been eagerly awaiting the actual pattern. After their magazine debut (and before sewists went crazy over the design and *demanded* that Rae create a pattern), Rae mentioned on her blog that the pants could be sewn by making some alterations to her Parsley Pants Sewing Pattern. And so, I attempted just that. I'm happy with the results, but I still can't wait to purchase the real pattern.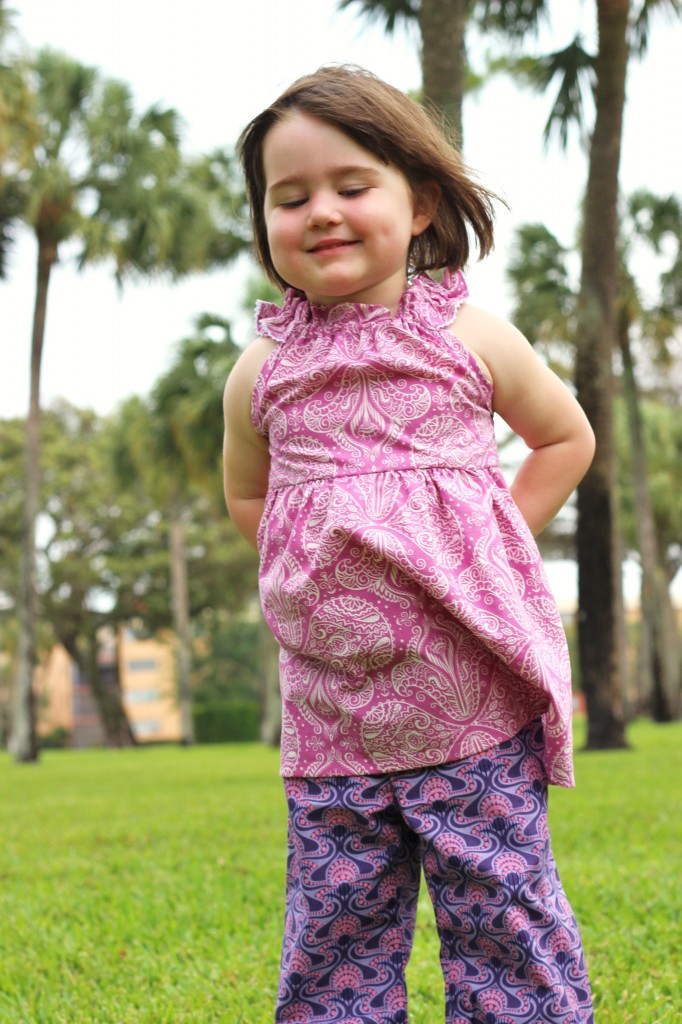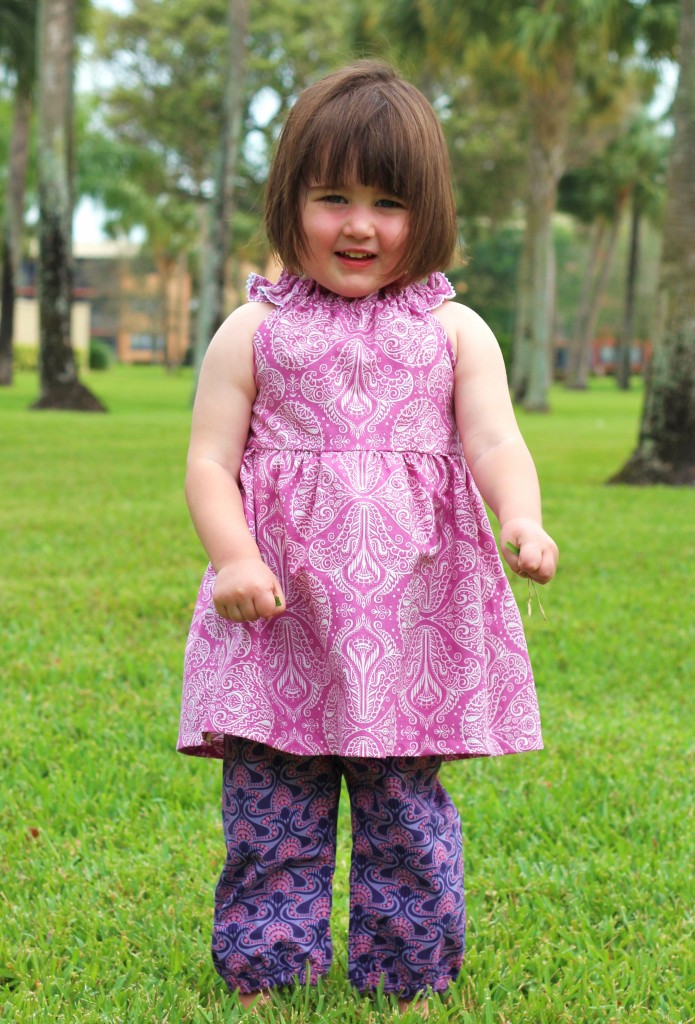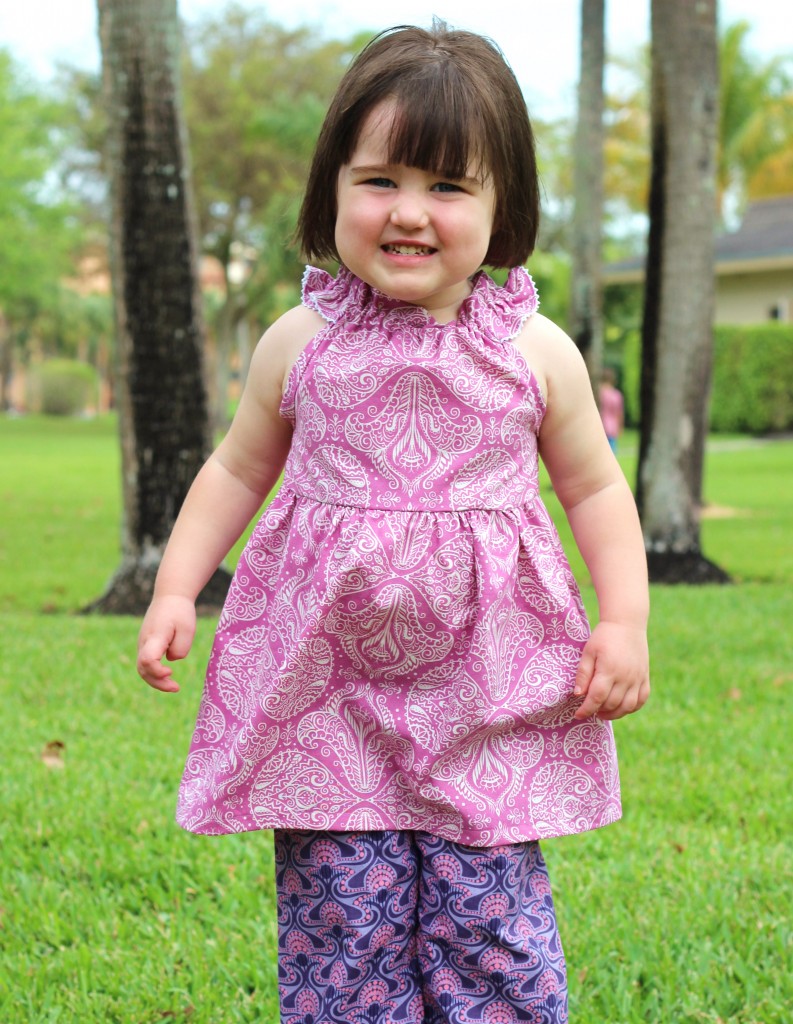 The pants fabric is from the City Girl collection by Kitty Yoshida and is also a purchase from my early days. I guess this outfit was a real stash buster!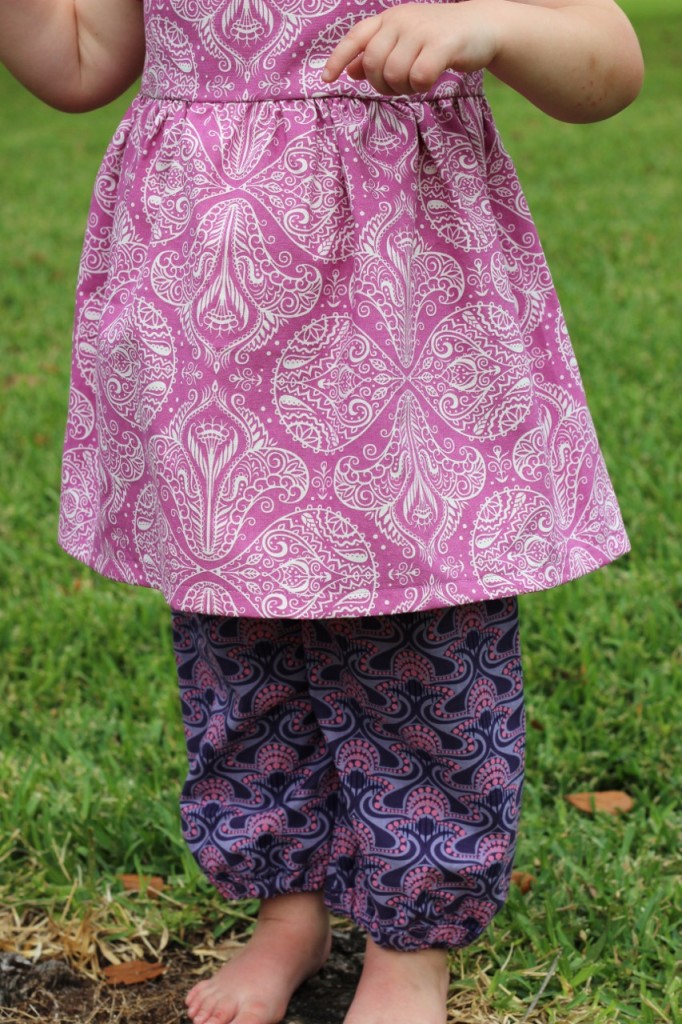 Vacation was great. Not in the big, fancy, expensive, once in a lifetime way that vacations can become, but rather in the way that I felt like I was able to hit the re-set button. In past years we've made trips to zoos and other attractions while on vacation, running here and there for oohs and aahs, but this trip was different. We didn't try to cram each day full of trips and big experiences, but instead spent our days playing at the beach, swimming in the pool, being outdoors, being together, heading to bed early, recharging.
Before vacation I was feeling kind of ambivalent toward many of the things that typically appeal to me. Winter doldrums, I guess. This vacation, in its simplicity and lack of reliable internet connection, was more about having time to think. To enjoy each other's company. To take a deep breath and not have to rush off to the next thing. Of course, that also leaves me wondering why we allow "regular" life to move so far from that ideal.
So, now that those of you who did not have a winter vacation are ready for me to shut the heck up…
I will!
Here's to Spring and all of us feeling recharged and ready for something simple and good!