I've been a busy pattern tester the last week or so! In addition to testing the new women's blouse pattern, the Valley Blouse from Cali Faye Collection (blogged here), I also tested the girl's Valley Blouse pattern from CFC.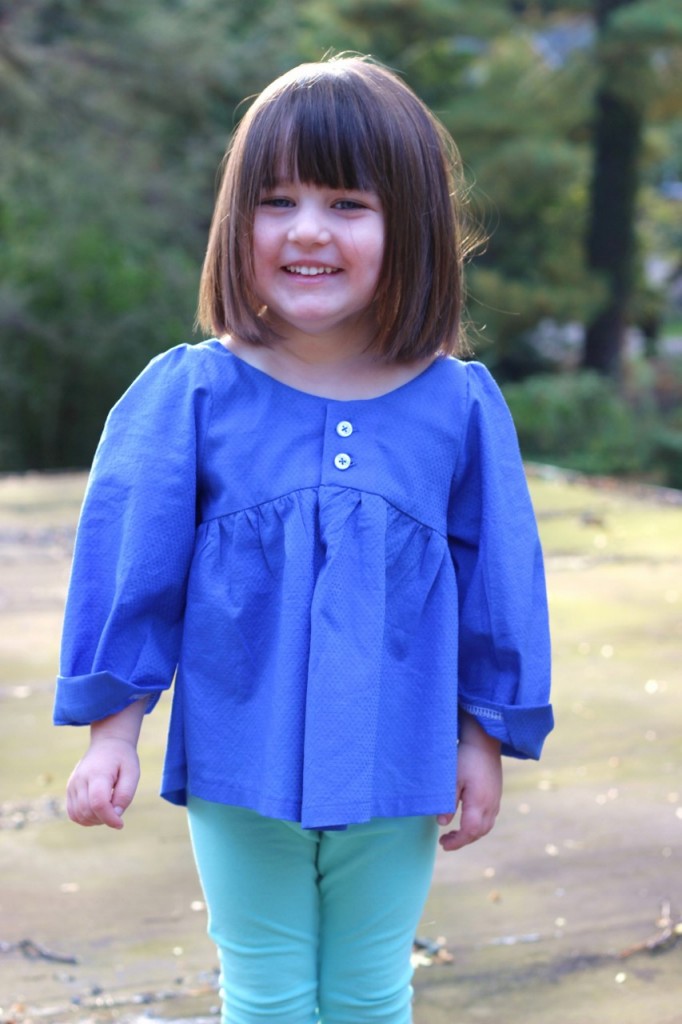 After sewing the women's version of this pattern twice the week before, I had the pattern instructions memorized by the time I sewed up the girl's version for Daisy. This made for nice, quick sewing. And, after some minor tweaks by Sarah of CFC based on the first round of tester comments, very pleasing results!
This is such a fun blouse for a little girl. A simple, without being boring, design. A fit that is not at all fussy or confining (that would certainly never work for my little one), and can be pulled over her head as opposed to requiring her to stand still for buttoning. And a style that easily transitions across the pattern sizing (sizes 2T through 10 girls are included) without making your little one look too grown up or too young at the opposite ends of the size spectrum. I can definitely see myself making this pattern for Daisy for years to come. And heck, then making it some more when she reaches the women's sizing!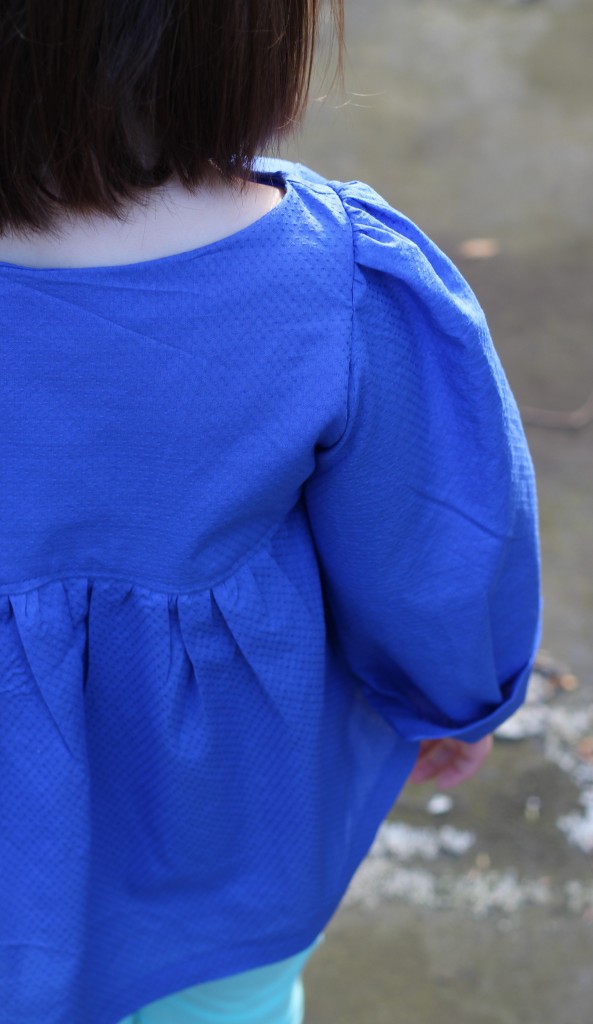 And allow me to profess my fabric love for this blue shirting! I scored it at Jo-Ann's last week (I tried to find a link on their website but struck out). It is 100% cotton and super lightweight; perfect for this blouse.
Note, the keyhole opening in the shirt front is hidden by the gathers when the shirt yoke is buttoned. You can just about see the beginning of the keyhole seam peeking out below the overlapped yoke pieces. And given how lightweight this particular fabric is, you can also see the outline of the interfacing I applied to strengthen the fabric where the buttons/buttonholes are applied. I am definitely glad I cut the interfacing straight and evenly because otherwise that would have been a messy distraction front and center!
My daughter turns four next month but is on the more petite size; although certainly not with respect to CHEEKS. Cheeks for days. I sewed her a straight size 3T based on her chest measurement (it was exactly equal to the 3T sizing). I intentionally left the sleeve length as drafted in the pattern, considering the pattern allows for a generous fit through the chest and waist and this blouse will likely fit for a good while. Left at full length, the sleeves are currently slightly too long for her frame, so for now she can wear the sleeves rolled up or just flipped up a bit for best fit. Too-long sleeves are a common problem with all her RTW garments. Perhaps I should start pulling on her limbs, or hang her upside down a few hours a day? Joking!!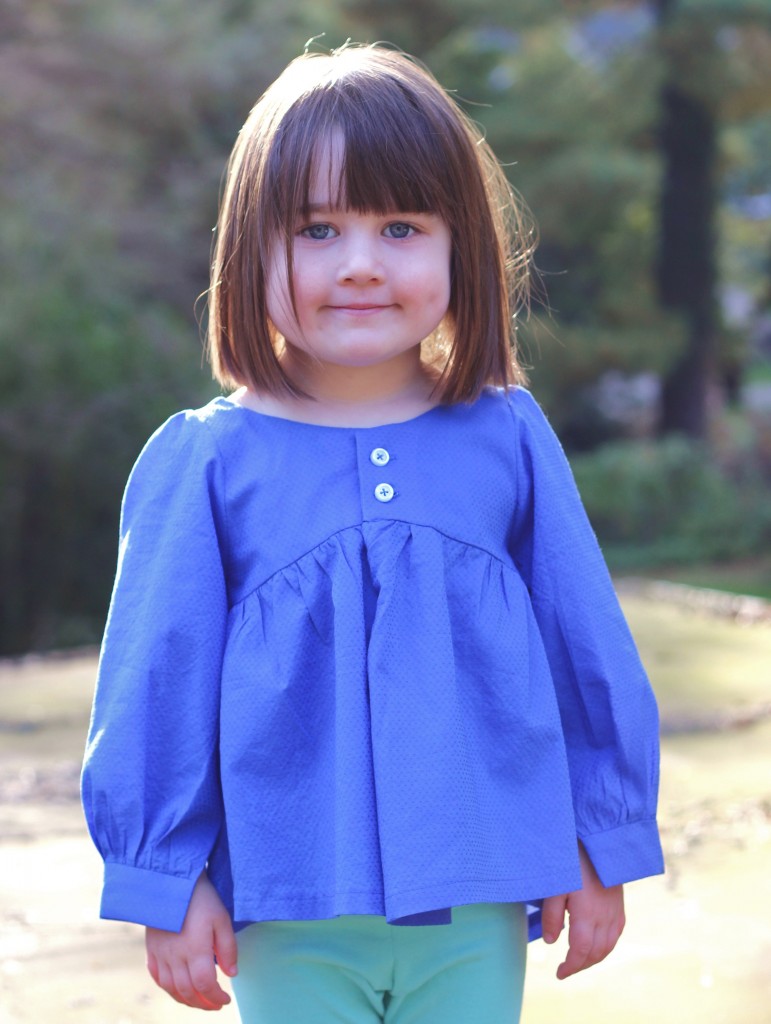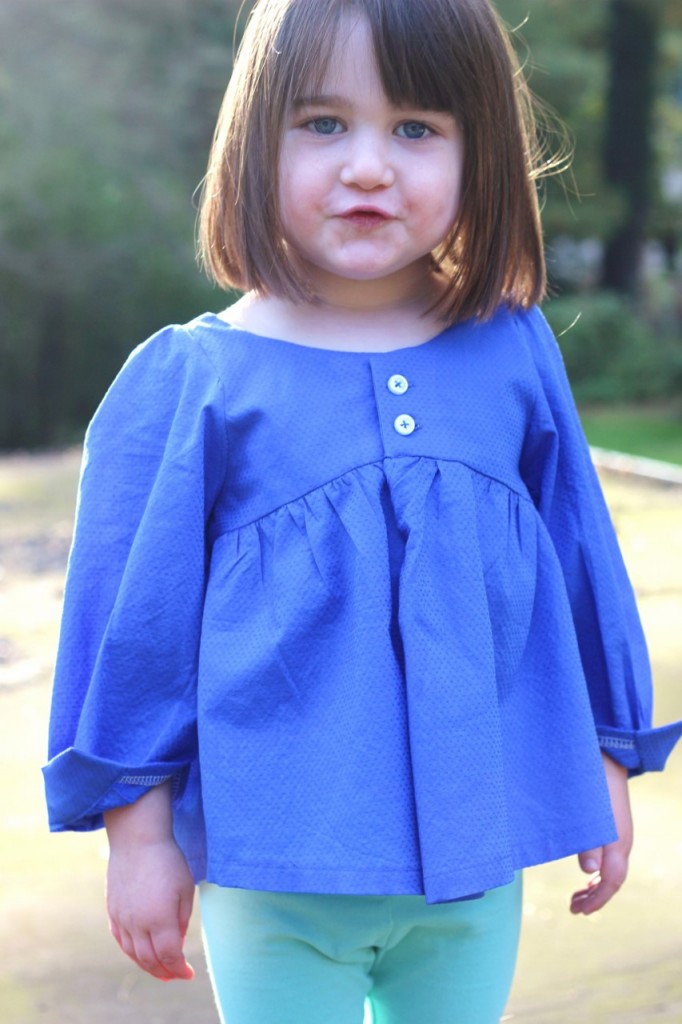 So, Daisy and I recently had a conversation, inspired by a description in a story we read, about what it looks like to stand with your hands on your hips. Clearly this concept made a big impression because as we started our photo shoot, she instructed me to take the photo below "with my hand on my hip". And then, immediately after snapping her picture, she demanded that I show her the photo on my camera. Oh my. Next she'll be demanding full editorial rights. I can't even begin to describe how much she cracks me up on a daily basis.
And, by the way, I can't stand this photo because somehow she went from looking her age in the other photos to looking about 12 years old in this one. Stop the clock, please!!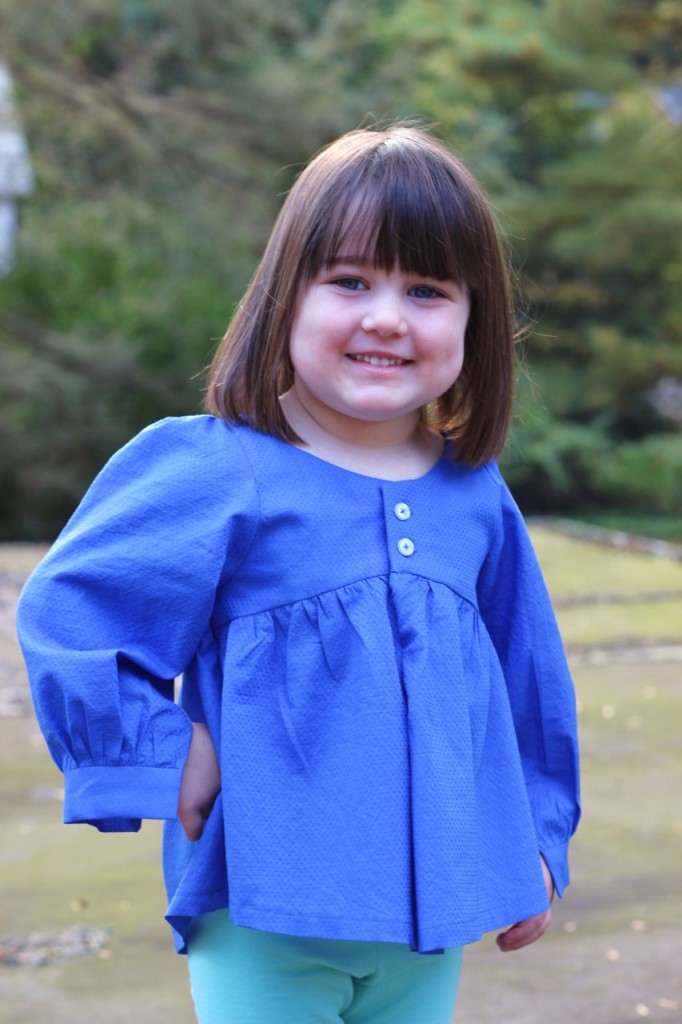 I encourage you to give the Valley Blouse a try for your girl. If you need more convincing, you can find several inspiring versions on Instagram by searching #valleyblouse. You can purchase the pattern here on the Cali Faye Collection site, or by purchasing it through CaliFayeCollection on Etsy.