Dear readers, I thought I'd take a break from sewing talk to share some of my recent thoughts and observations on motherhood. If you'll be so kind as to indulge me…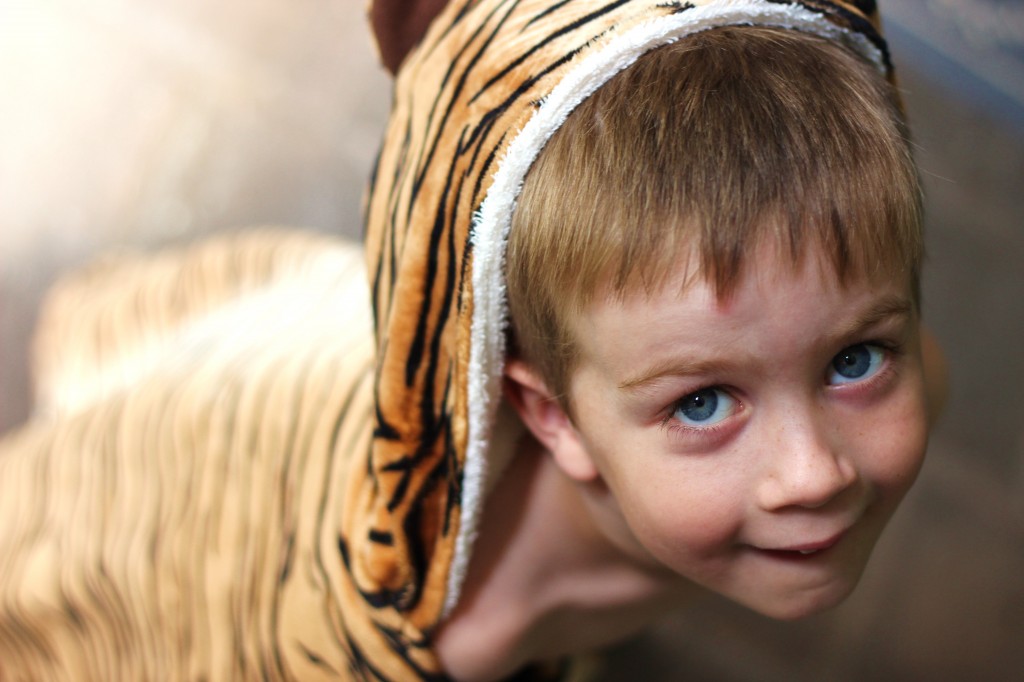 It's official. I am now the mother of a five-year-old.
Five seems so big. In a way that his first through fourth birthdays did not affect me, I am suddenly struck by how much older he seems to me. And despite the still thumb-sucking, and the requests to be held and hugged and to snuggle, and the way he often reverts to calling me "mama" rather than "mom, and even if we're holding off on kindergarten for another year, it is like there is no denying that five years old is no longer a little, little boy.
Five is big. Five for him is full of ambition, even when he's still working on all the skills necessary to achieve. Like wanting so much to ride his bike without training wheels, and tie his shoes. Five means getting dressed by himself but still struggling with socks. Five is being so proud to be a big brother.
But five has a certain fragility to it. It is a tightrope walk between toddler and big kid. More big kid than baby, yes; but the steps toward big kid are often uncertain and slippery. While we wait in line at the grocery store, he boasts to strangers, "I just turned five." It is an announcement that belies his usual hesitancy about talking in public or drawing attention to himself. It is as if he's trying out his five-ness on them. Looking for assurance that he's on the right path.
Selfishly I feel a strange and unwelcome sentiment that turning five has suddenly and irreparably catapulted us down the road toward his adulthood. Like a super-sized gravitational pull toward a time when I won't be the answer for all his questions and worries. When I check on him for the last time before bed each night, I have to fight the urge to whisper "stay little" in his ear. I am embarrassed by how unsettled I feel by this. And yet I recognize it is one of the quintessential hypocrisies of motherhood and aging in general. We want our children to grow up and figure things out on their own. Just not too soon. We want them to be independent, but to need us too. We want to matter.
I must sound ridiculously dramatic. I know. But I was blindsided by how this birthday was tinged with some bittersweet. I'm going to chalk it all up to a fleeting melancholy due to all the changes culminating at this time of year — the end of summer laziness, a new school year for my son, my youngest starting nursery school, new work obligations for me, shorter days, longer nights. Life moves on, as it always does.
And, the truth is, I still really, really matter to him. And we're lucky enough to still be at the stage where a tiger towel and cake pops pretty much assure my "best mom" status. But more on that next time.
Thanks for listening!