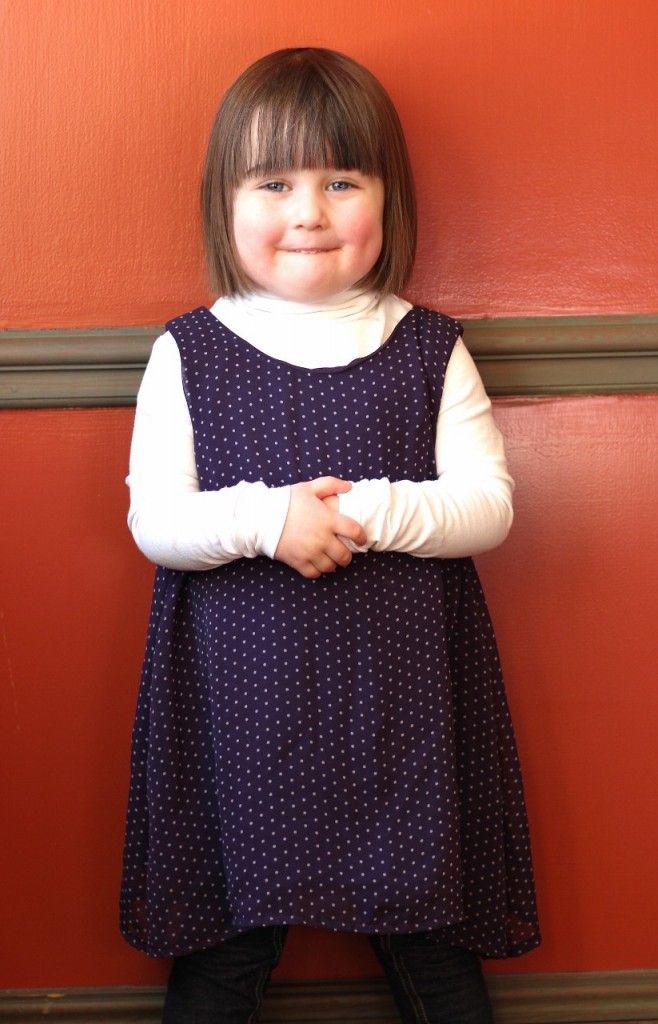 Oh, Kids Clothes Week, are you over yet?
Don't get me wrong. I love Kids Clothes Week and the way such a large online sewing community comes together to celebrate it and share ideas and give virtual pats on the back for jobs well done.
But. I find that not a lot of other things on my to-do list are accomplished during KCW. The final day of KCW means that reality is about to bite down hard on my butt cheek. Laundry piles await. The house is generally unkempt. Nothing tragic or even all that problematic for sure. More like a dull headache that is nagging in the background and you just wish it would go away.
Further, sometimes the creative frenzy that KCW fosters inspires me to sew up garments that are not even remotely a wardrobe necessity. Like this polka dot dress for my daughter.
In its prior life, it looked like this.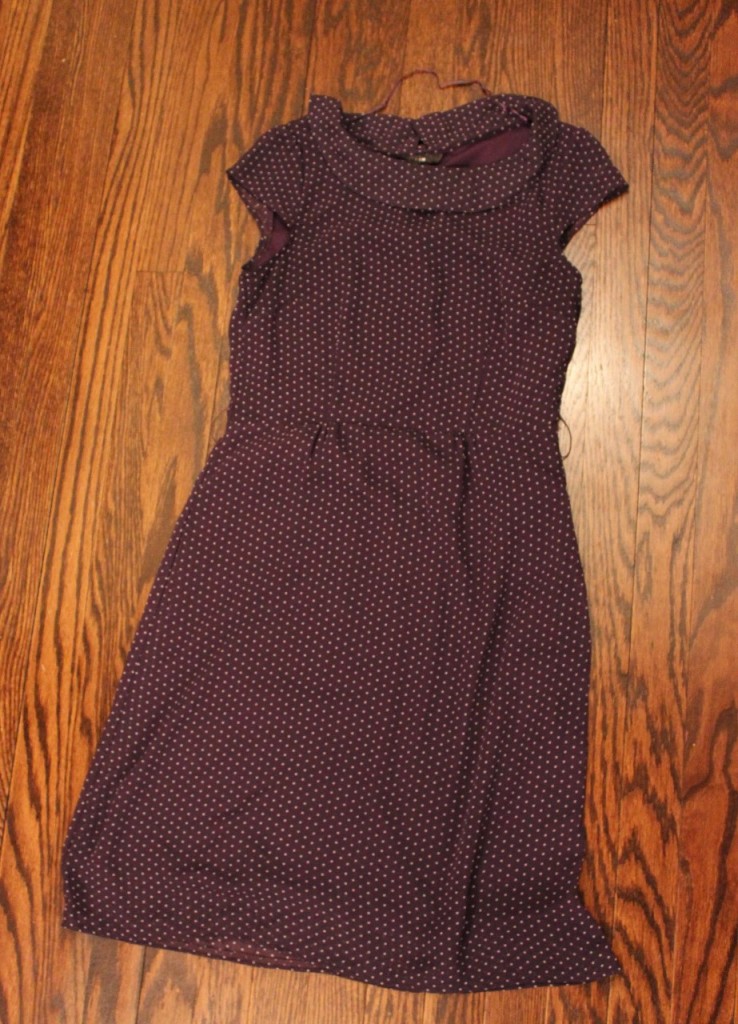 A polka dot dress that is neither purple nor navy blue (blurple?), with a very sheer polyester exterior and a rayon blend stretchy lining.
As I started to lay out my pattern pieces, it became obvious that the original exterior dress hem was not completely straight. Since I firmly believe that an integral part of upcycling clothing is that you incorporate as many of the finished edges and other completed details as you can (heck, I'll take any opportunity I can get to skip hemming!), I was determined to use that hem — asymmetrical or not!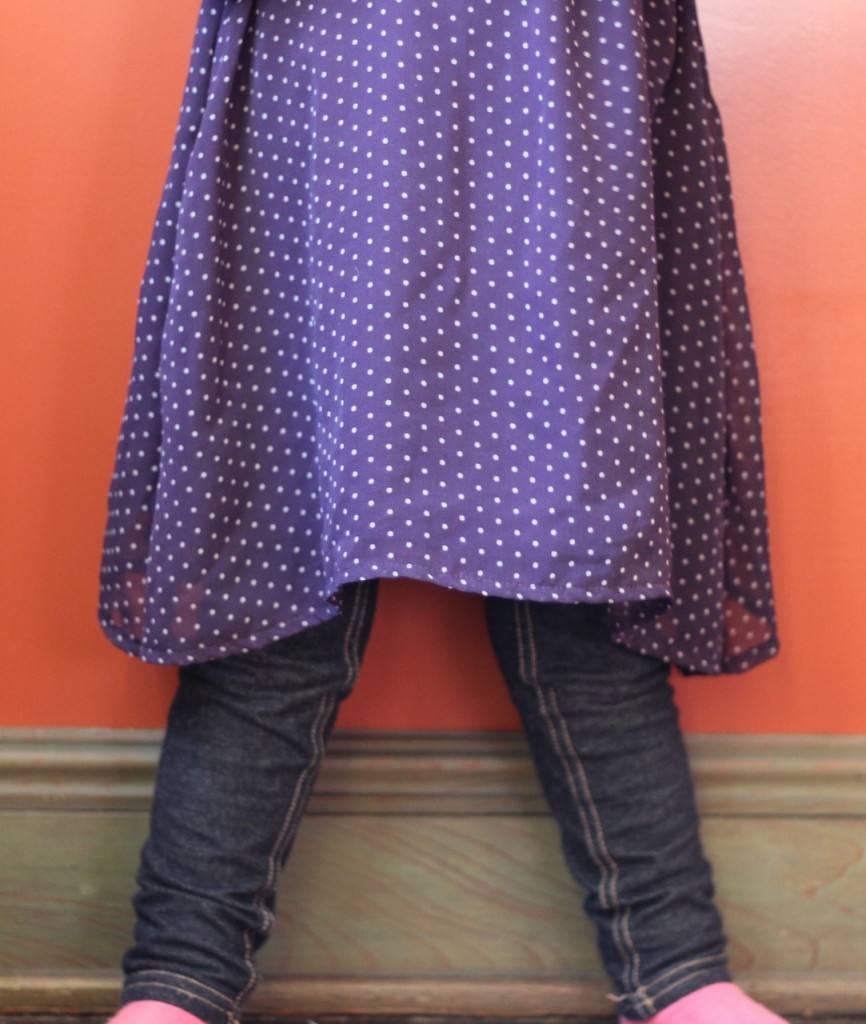 So, I shifted my pattern pieces a bit to accentuate the asymmetry, and now — asymmetrical hem rules the day. I think it's a nice, unexpected counterpart to the otherwise sweet mini polka dots.
And, having now sewn with that sheer polyester fabric — by far the slinkiest, shiftiest fabric I've ever sewn — I can tell you I never would have finished the dress if I had to hem it myself. Dang — this stuff had a mind of its own. I just kept reminding myself that this dress was essentially an experiment, with free fabric (thank you, sister!), and there would be no harm in ditching the whole thing in the wastebasket if it became a sewing nightmare. Yep, that was me, with my devil may care attitude, hair blowing in the breeze, whistling a tune while sitting at my sewing machine. As if. There was some cursing involved as I wrangled the polyester into submission.
The dress fits just fine over a shirt, and so I can justify its utility as a winter wardrobe addition. However, I am looking forward to seeing her wear it sleeveless in the summer. The sheer, flowy fabric is definitely a better match for warmer weather.
And I have a KCW confession to make. I haven't finished off the seams yet; raw edges abound on the inside. So naughty, I know. This is partly because I had light colored thread in my serger and I was too lazy to change to a dark color. The other, perhaps more compelling reason, was that this fabric is so sheer I was afraid I'd burn it with my iron, so I just sewed up the seams and left them — no pressing, no finishing, just moving on.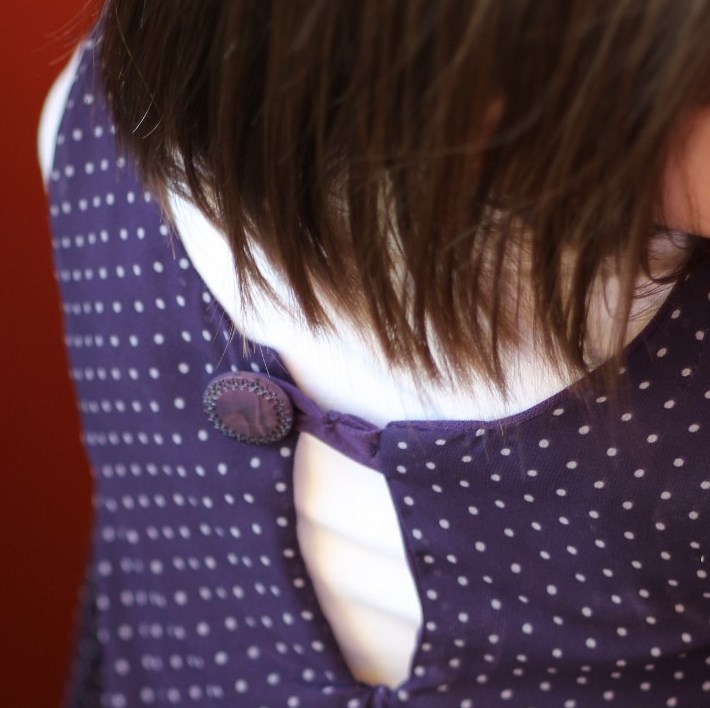 Of course, I can't leave it this way. And there is a reason why ironing is an incredibly important part of sewing. I cringe looking at this photograph below of the side seam in all its unpressed madness. Shudder.
Let me just get on my soapbox for a moment to discuss the need for good ironing (since I'm obviously not leading by example in these photos, ha!). Perhaps my appreciation for a nicely pressed garment was imprinted over several years of spending Sunday nights ironing my school uniform shirts for the week ahead. I recall my mother even teaching me the correct order for ironing a shirt. (Oh, yes, there's a proper order — google it!) But seriously, skipping pressing when constructing garments, will likely contribute to your creations looking amateur and cheap. You can even think of pressing as a remedy of sorts for less than perfect sewing, since pressing can help smooth out minor imperfections and will give everything a nice, neat appearance. Okay, stepping down from that soapbox now.
So behold the dangers of Kids Clothes Week. You make dresses your daughter doesn't need. You get angry at finicky fabric. You leave your seams raw. And you shun your iron. What is the world coming to, people?!
Oh, and you make your daughter endure endless photo shoots.
So long, KCW Winter 2015! It's been swell.