I told you I like this pattern. It's the First Day Dress Pattern from MADE – again! I like it so much I sewed up a second peplum in the same week.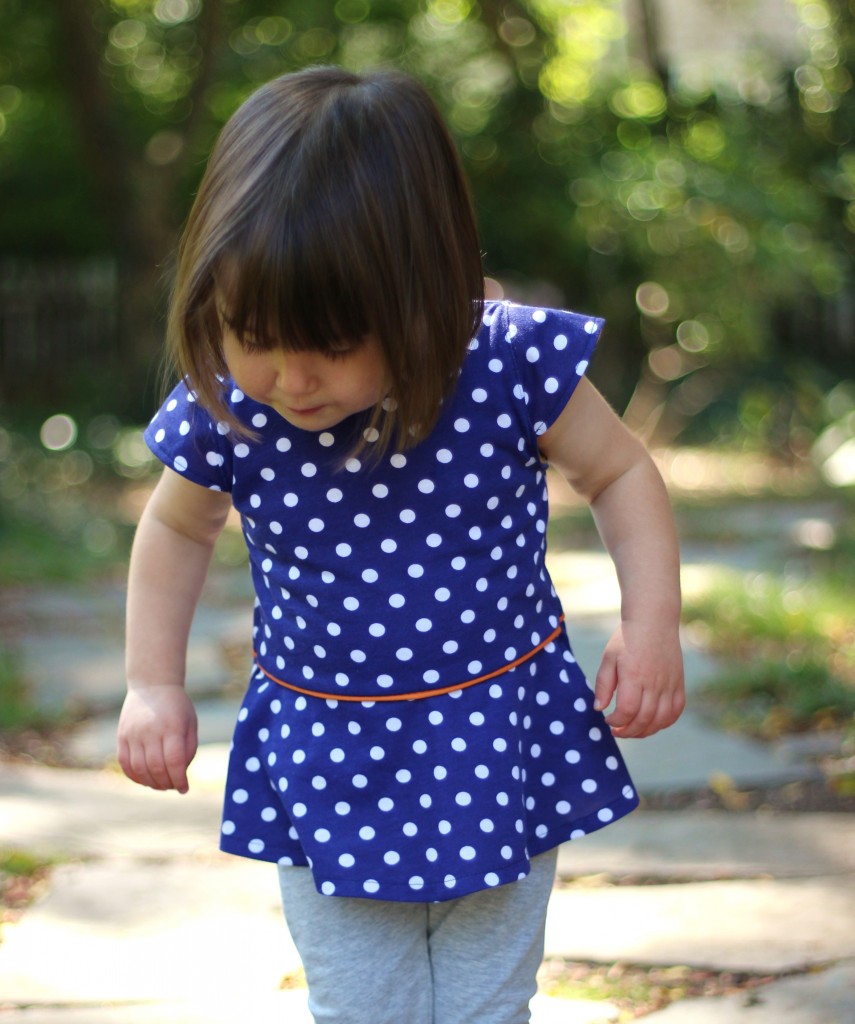 When Dana recently posted a bunch of finished garments from her pattern, there were several polka dot peplums. They looked so darn cute I was inspired to make my own. Polka dots + peplum = perfection! And alliterative overload.
Peplum #2 is made from a knit fabric. The fabric was in my stash – I believe I purchased it from Girl Charlee. It doesn't have much stretch, so I'm guessing it's all cotton.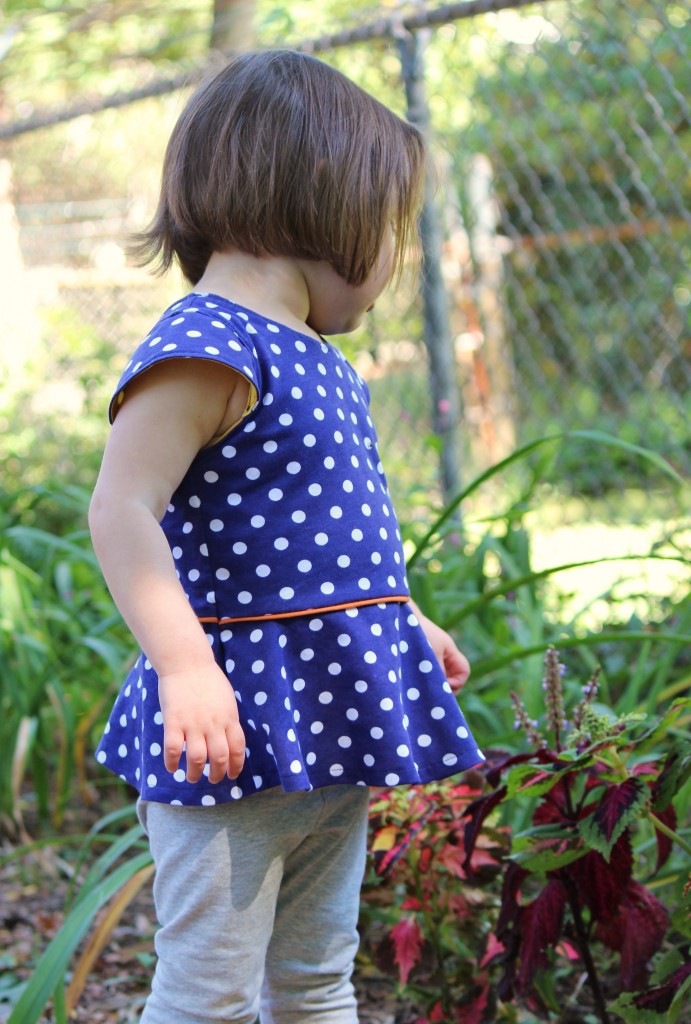 Knits are a staple in my daughter's wardrobe and I was hoping to add this pattern to the knit repertoire. Knit was not included among the recommended fabrics for this pattern, and I was curious if it would work or if, for example, the peplum skirt would fall flat in a knit fabric.
I wanted a quick way to determine if the pattern would support this kind of fabric without expending too much time or using more fabric than necessary, so I some modifications from the full pattern instructions for this "muslin." I didn't fully line the bodice — essentially I made more of a "facing" by lining enough of the top bodice portion to allow me to enclose the raw edges of the neckline, armholes and the back slit. I didn't pay close attention to the length of the facing when cutting it, and I ended up with just enough to cover the back opening. Phew! I didn't line the skirt at all.
Despite taking a quick and dirty approach to the bodice, I decided to fully line the sleeves. The underside can sometimes be seen when the top is worn, and I didn't want to pass up the opportunity for a fun surprise underneath, and I was concerned the knit fabric might cause the sleeves to droop in an unflattering way. I really like the perky sleeves that you achieve with woven fabrics in this pattern, and I was hoping to mimic that in the knit top. I ended up using a woven fabric to line the sleeves, both because the color worked well (it's a yellow polka dot print) and I thought the woven fabric would lend structure. Also, since my knit exterior fabric is not particularly stretchy, I wasn't concerned about the combination of different substrates creating a wonky or misshapen outcome. I also added piping between the bodice and skirt on this peplum. Just for fun and an extra dash of color.
I should mention that while I often size down when sewing a kid's woven fabric pattern in knit, I didn't size down in this case – both because of the more fitted style of this particular top and the fact that the knit I used is not very stretchy.
My verdict — I think the pattern works well with knit, bearing in mind I used a lighter weight knit with limited stretch. I'm pretty confident it would work just fine with a medium weight knit, too, but you might lose some of the peppiness in the skirt because of the additional fabric weight. Also, next time I sew this in knit, I'll just line the whole bodice. Making the facing was intended as a shortcut for this muslin, but a full bodice lining doesn't use much more fabric and I didn't really save any time with the facing. The full lining would also eliminate any bumps or shifting that the facing might produce.
I'm so glad to have another pattern option for sewing with knits!
In case anyone was wondering… how do I know when my daughter is ready to call it quits on our photo shoots? She launches into crazy eyes poses!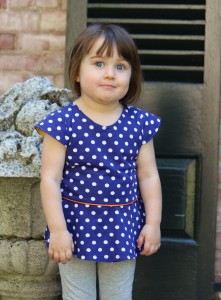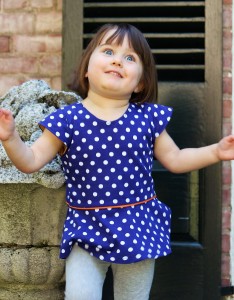 Yep, time to call it a day!