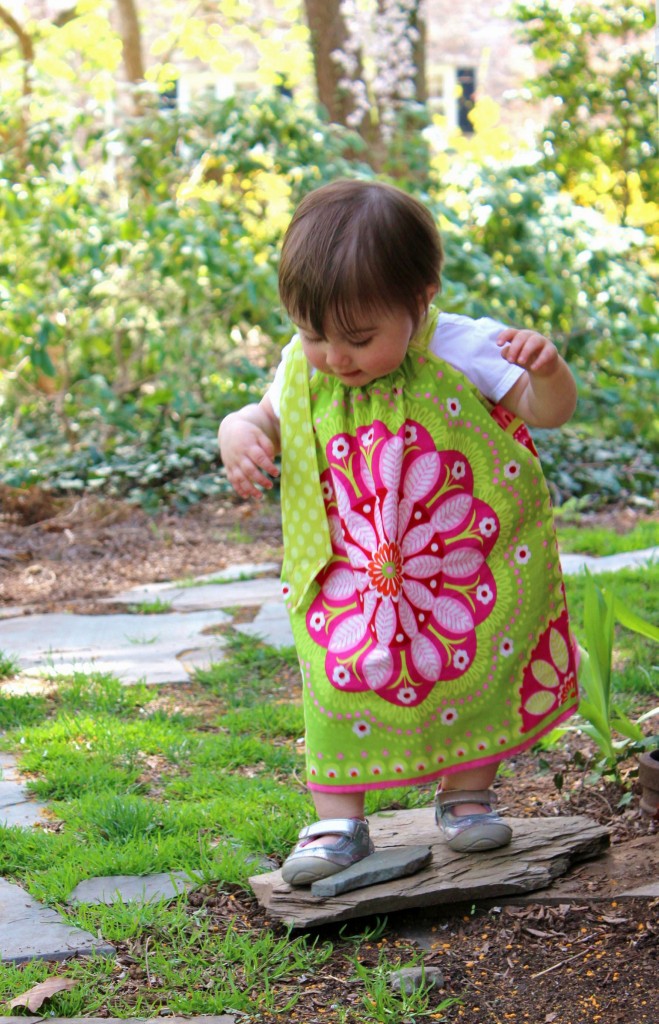 If we were playing a game of word association and you listed "pink, green, dress", I'd respond "Lilly Pulitzer!" I'd bet many of you would respond the same. And while it's not really my style and nothing from the brand has ever graced my closet, there's no denying it's an iconic brand that evokes automatic recognition.
The "socialite turned fashion designer", as she's so often called, passed away earlier this month. (You can read the NYTimes.com biographical article here). She created a clothing brand that allowed the high society, country club crowds (and those who aspired to such) to step out on a fashion limb in a manner that was respectful of their social standing. Her styles attracted immediate attention for their embrace of bright colors and bold prints, but it has never really been about truly pushing the limits of style. I'd characterize the brand as safely allowing the country club girl to show a bit of her wild side — instead of having one too many martinis and dancing on the clubhouse bar, she could get funky by adorning herself in a blend of pink and green and flamingos. Donning a Lilly didn't (and still doesn't) mean trading in your pearls for a leather studded choker. And none of that is a bad thing. Heck, I may not wear Lilly but I don't wear leather chokers, either.
I didn't really intend this post as an ode to Lilly Pulitzer. But when I started this pillowcase style dress, her brand came immediately to mind. This dress is made from a panel of fabric (Pillow & Maxfield for Michael Miller) actually intended for making a pillow (one side in green; the flip side in pink); although you certainly can make a pillowcase dress from regular, non-panel fabric. I just happened to like the colors and print (oh my, maybe I'm actually a closet Lilly admirer!) and the ease of working with a panel for making this dress. I took the idea of making a pillowcase dress from a fabric panel from this post by Anneliese of Aesthetic Nest. It was an easy project to pull together for Kids Clothes Week Challenge.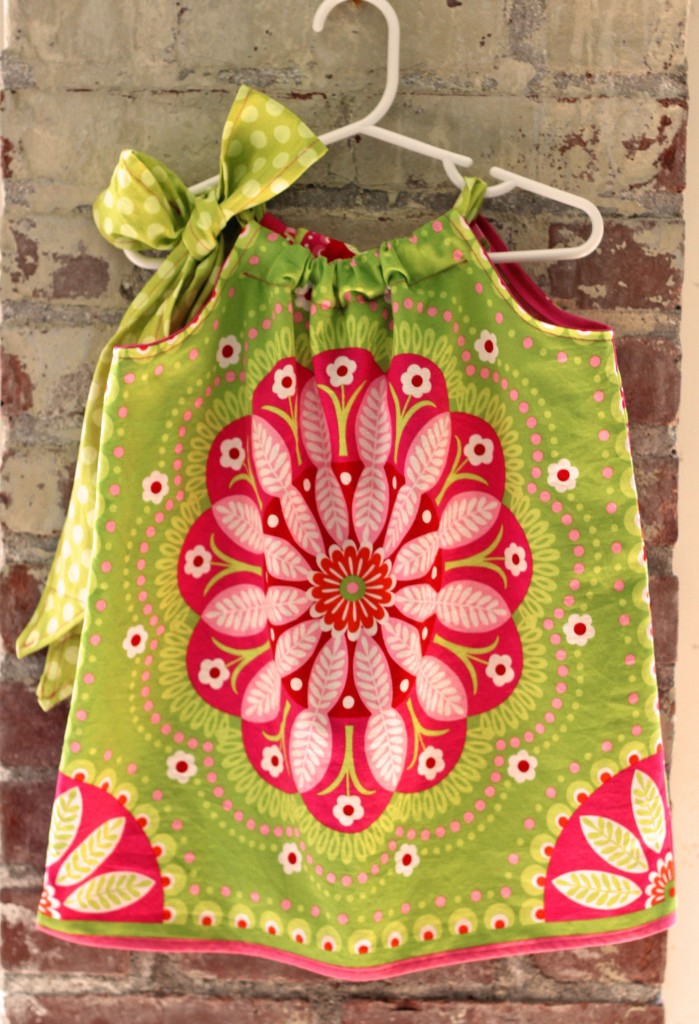 I like the back (pink) side of this dress best. And I'm re-thinking my choice of the green polka dot tie. I like how it looks with the pink side, but I think it gets kind of lost with the green front. I may have to swap it out for a solid, light pink tie. At least that's an easy thing to switch and doesn't require any alterations to the body of the dress.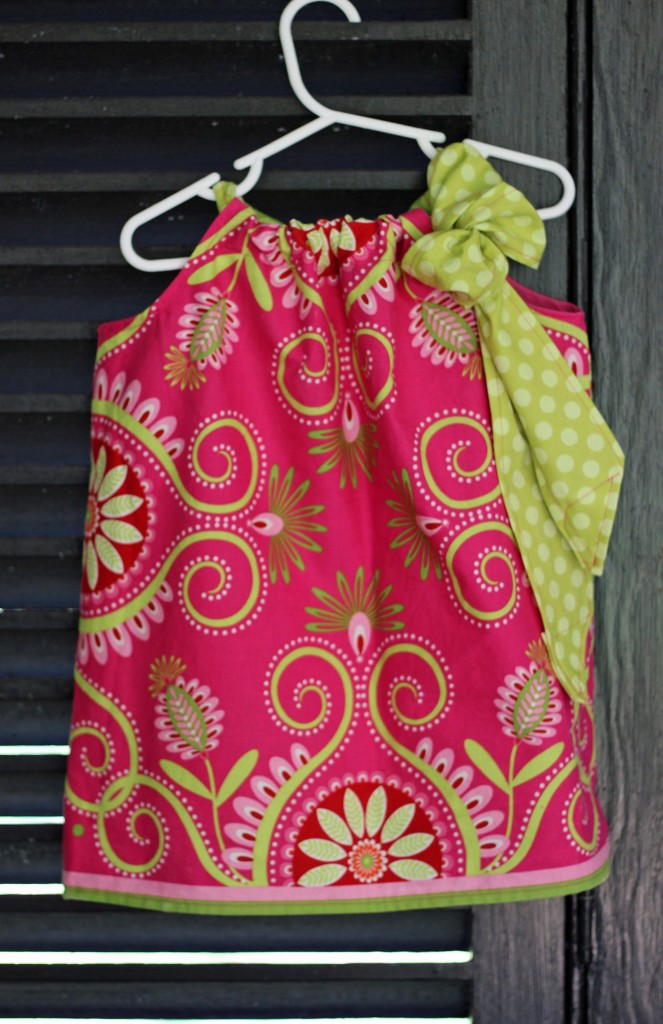 I sized this to fit my daughter as a dress for this summer. She'll more likely wear it as a summer dress without a t-shirt underneath, but the shirt was necessary for an outdoor, springtime photo shoot. Hey, I don't want to be accused of abusing my models! Pillowcase dresses are so flexible with sizing that she'll be able to wear it for a long time to come — with long sleeves and leggings in the cooler weather, and as more of a tunic style as she gets taller. Unless of course I become so tired of the color combination or print that I retire it to the attic early!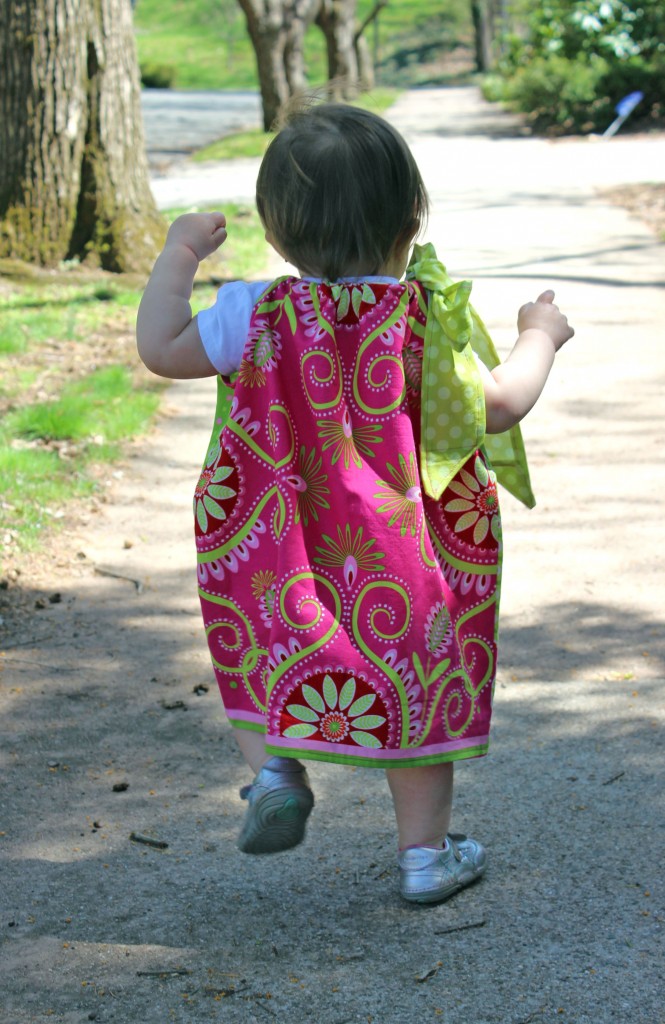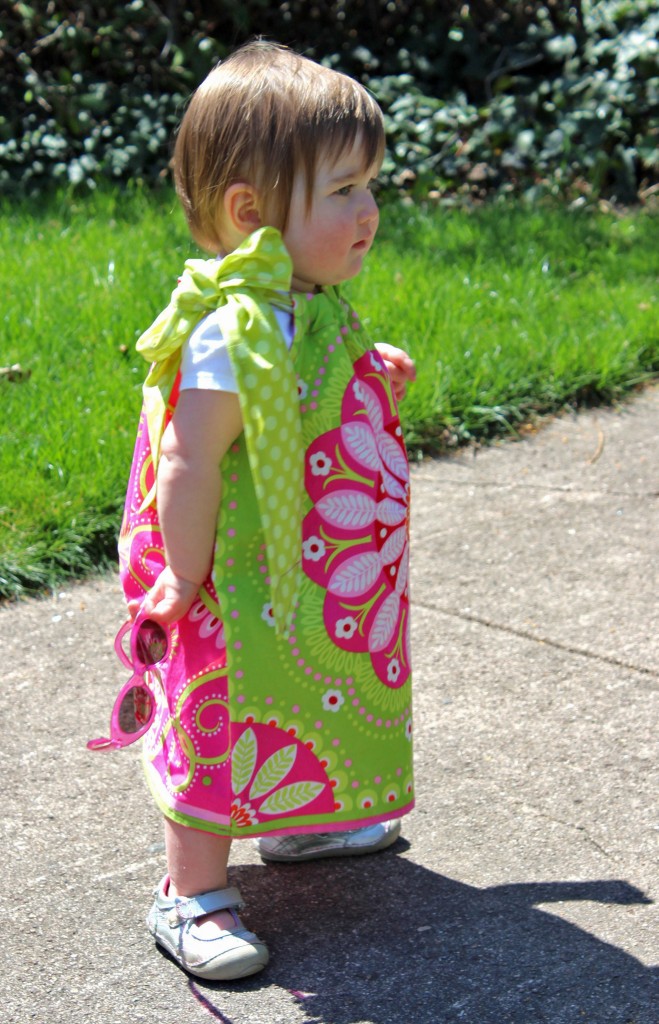 Maybe I really do harbor a secret love for the pink and green combination because as I was dressing my daughter the other day, I remembered this knit top I made a few months ago but never posted. It was actually too big for my daughter when I made it. I have to admit she was sleeping when I drew the pattern and sewed it up, and I was really guessing on size because I didn't have her current measurements at the time. I was antsy for a good sew and eager to work with this stretchy cotton knit, and that eagerness got the better of me. It's a much better fit now, although there is still room to grow.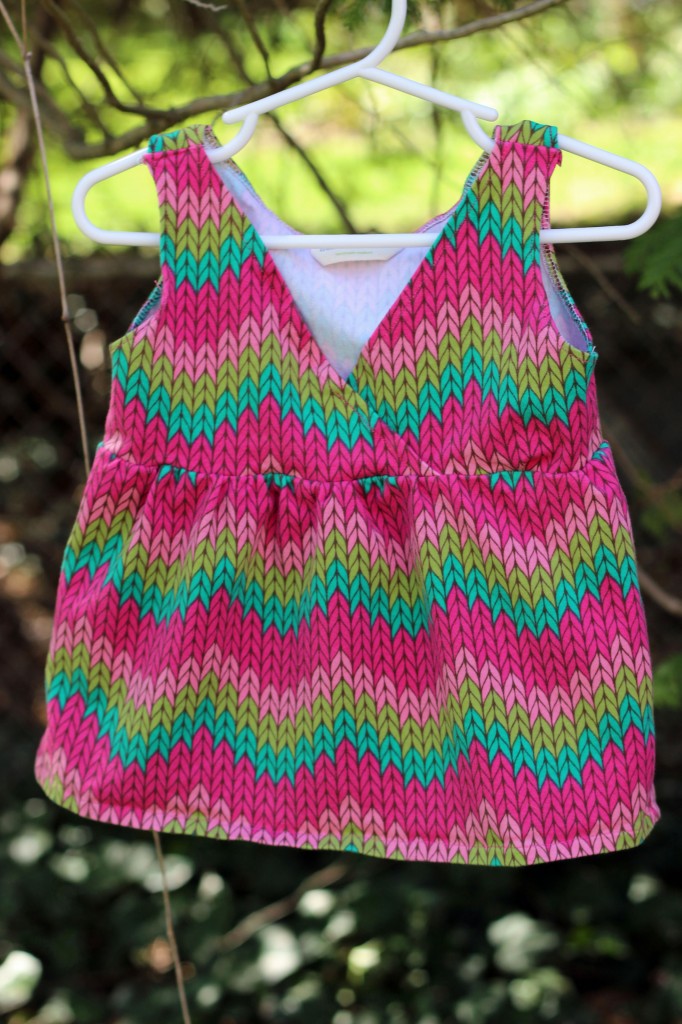 You hear a lot of talk about people being reluctant to work with knits, but so far (and don't let me jinx myself by typing this next part…) I've been pretty lucky with my knit projects. Then again, I haven't exactly tried anything particularly tricky with knits. I was really happy how this fabric came together at the seams and the front cross-over, with the chevrons and colors matching up.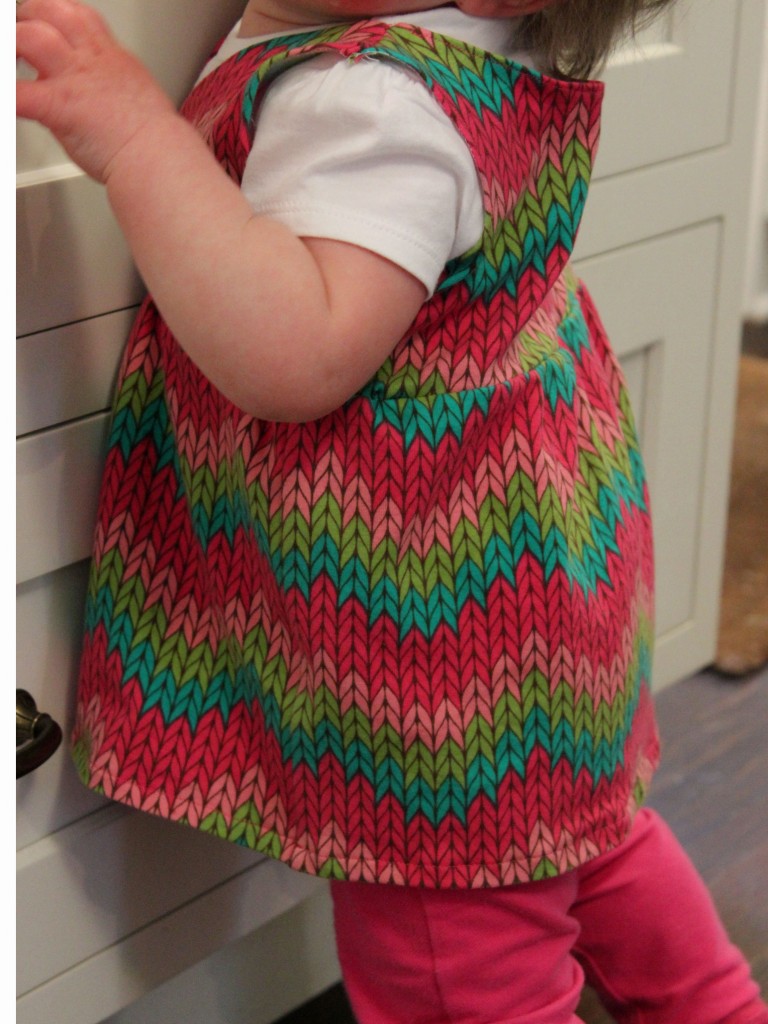 Now that Daisy is walking, she's a whole lot harder to photograph when modeling clothes. She would not stay still for photos wearing this top. It was mostly, literally, a blur. Of course, it didn't help that I was running after her as she disappeared around corners or crawling up the stairs. That just evoked giggles and more movement!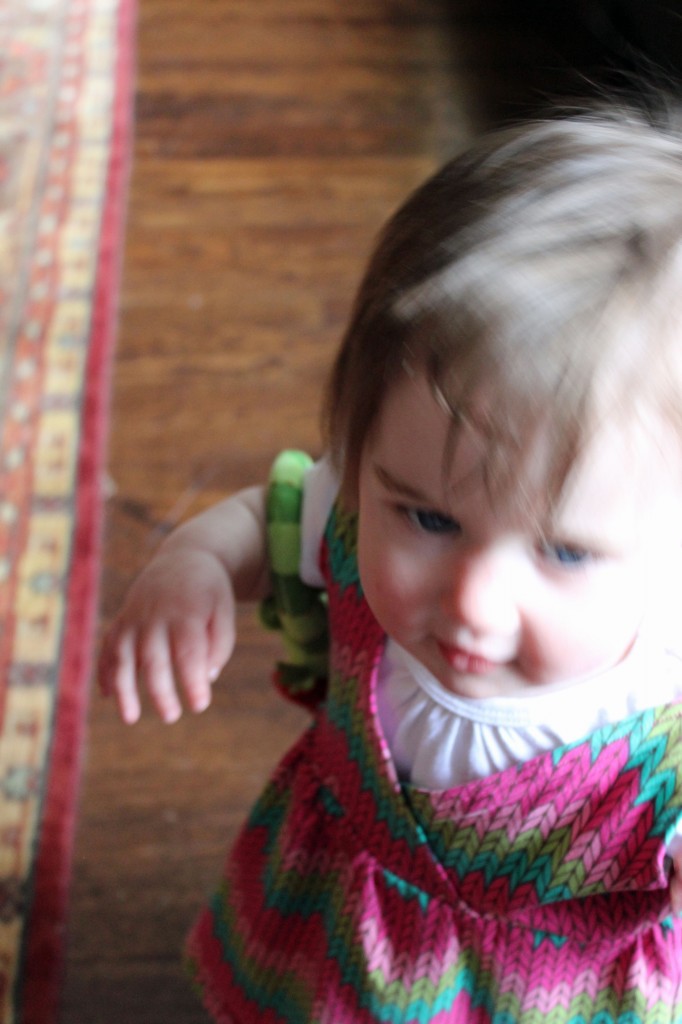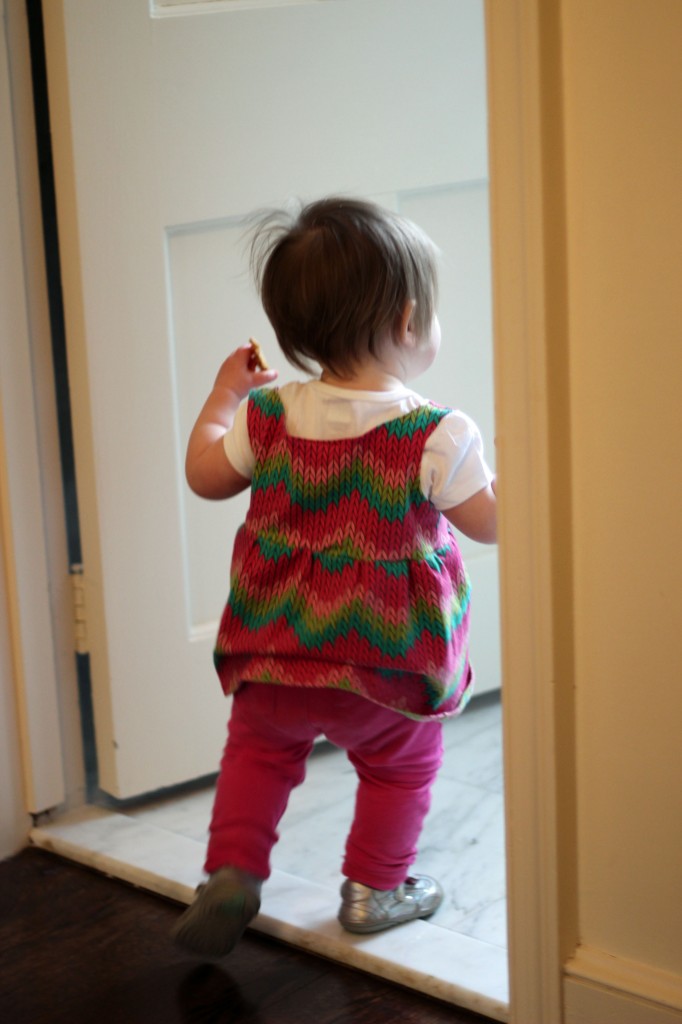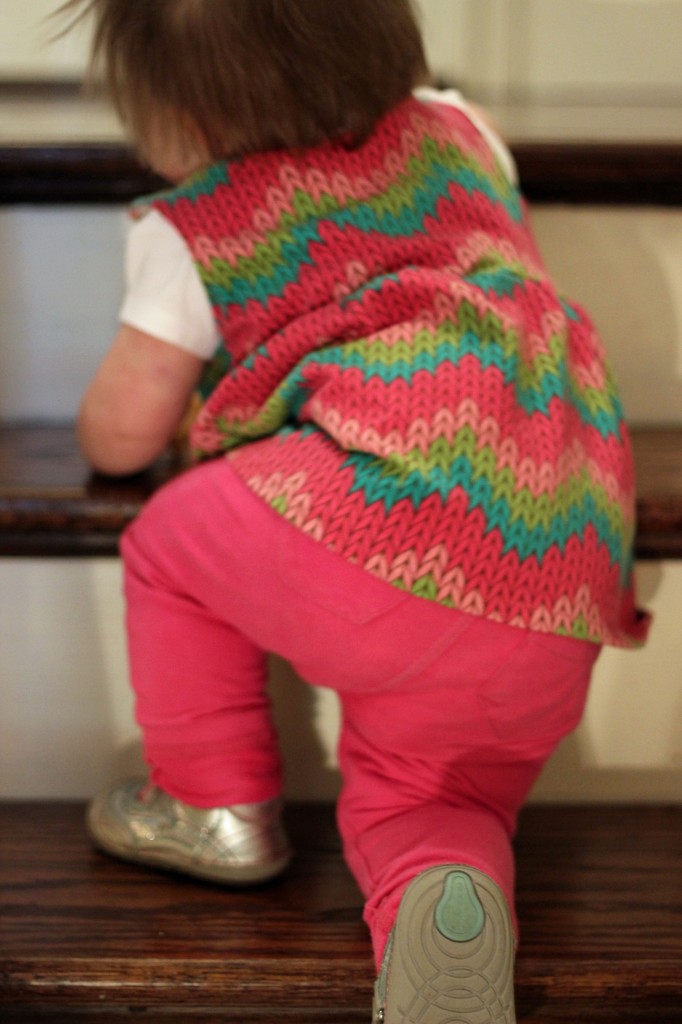 Despite my high hopes of sewing some clothes for my son during this week's Kids Clothes Week Challenge, it would appear my daughter took the new clothes cake this time around! I do have fabric and a pattern in mind for him, though. Stay tuned.
Have a great weekend!
You may want to check this out: