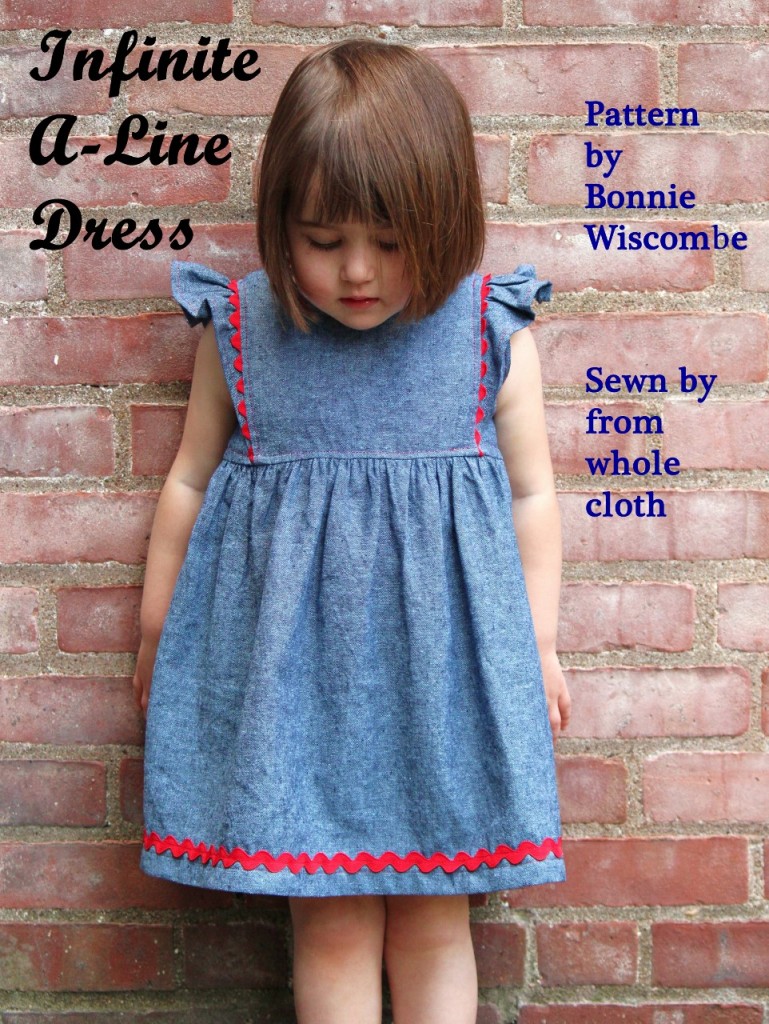 To infinity and beyond!
Sorry, Buzz Lightyear, but this post has nothing to do with space exploration. But it has everything to do with a brand new girl's dress pattern – the Infinite A-line Dress – by Bonnie Wiscombe of whisk 'em. Oh boy, was this pattern fun to sew!
Welcome to stop #1 on the Infinite A-Line Dress blog tour! I am honored that Bonnie asked me to join her blog tour for this extremely versatile new pattern – thank you, Bonnie! This is Bonnie's first sewing pattern, and it's loaded with options to create seemingly endless versions of an A-line dress and really allow your inner designer to take the reins.
For my first attempt at the pattern, I selected Version D, which includes an empire bodice with ruffles. This version has a bit more going on than the simple, classic triangle-shaped silhouette, but don't worry, the traditional A-line shape is included among the pattern versions. I chose Version D in particular because it made me think of this dress I found on Pinterest a few weeks ago and have been hoping to replicate for my daughter.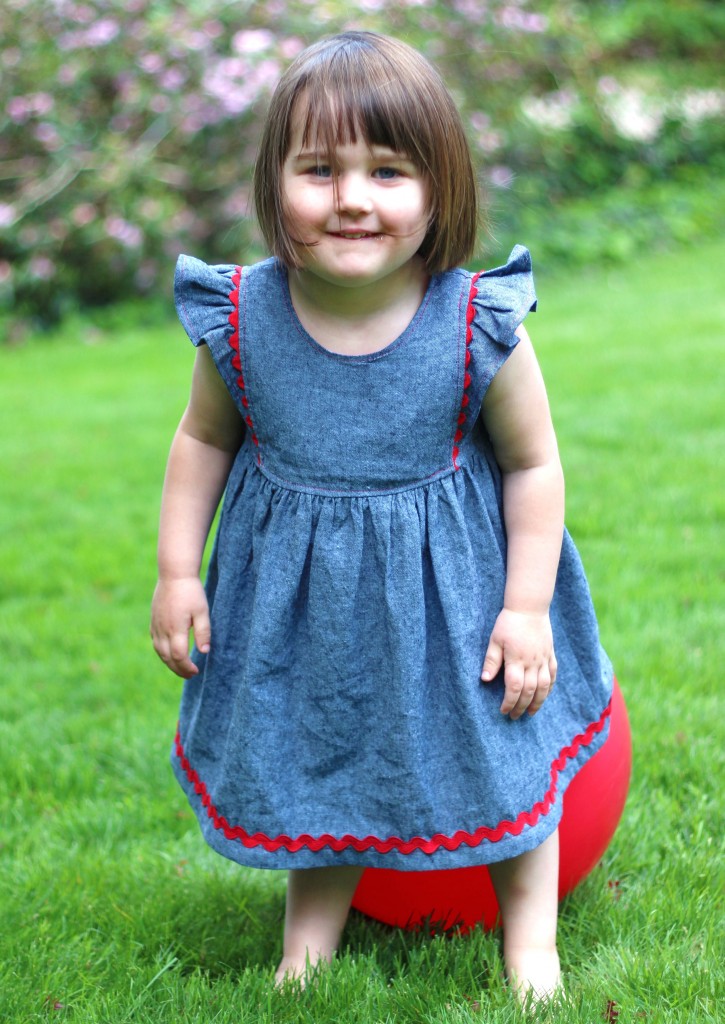 I sewed the dress in a size 3 based on my daughter's chest measurement. Her measurement was exactly equal to the maximum for size 3. I was tempted to size up just to extend the period that the dress would fit, but I wanted the dress to fit well this summer, so I stuck with the size 3. The bodice fits perfectly.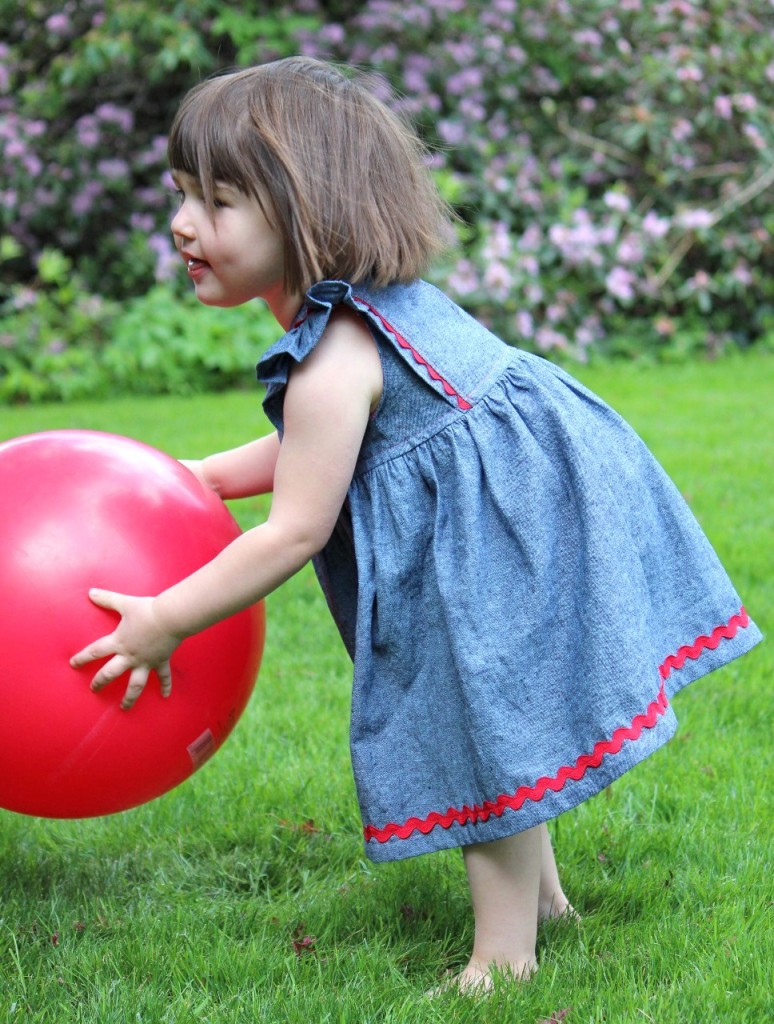 The assembly of the bodice for Version D was very straightforward, and I appreciate that it is more detailed than simply adding a flutter sleeve to an armhole. The ruffle piece is attached along the entire front and back bodice piece. Don't get me wrong – I love me a pretty flutter sleeve – but this bodice and ruffle design provides for a more structured and sophisticated look. It also prevents the ruffle from becoming too floppy, since it has support along the entire bodice.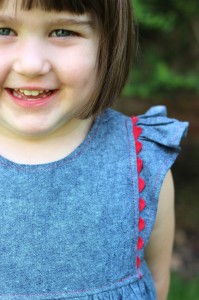 The additional seaming along the bodice is also the perfect invitation to add trim! I could not resist adding red ric rac trim along the bodice/ruffle seams. Piping or mini pom pom trim would be awesome as well. Ah, so many possibilities. I also used a red metallic embroidery thread for my topstitching for another pop of color.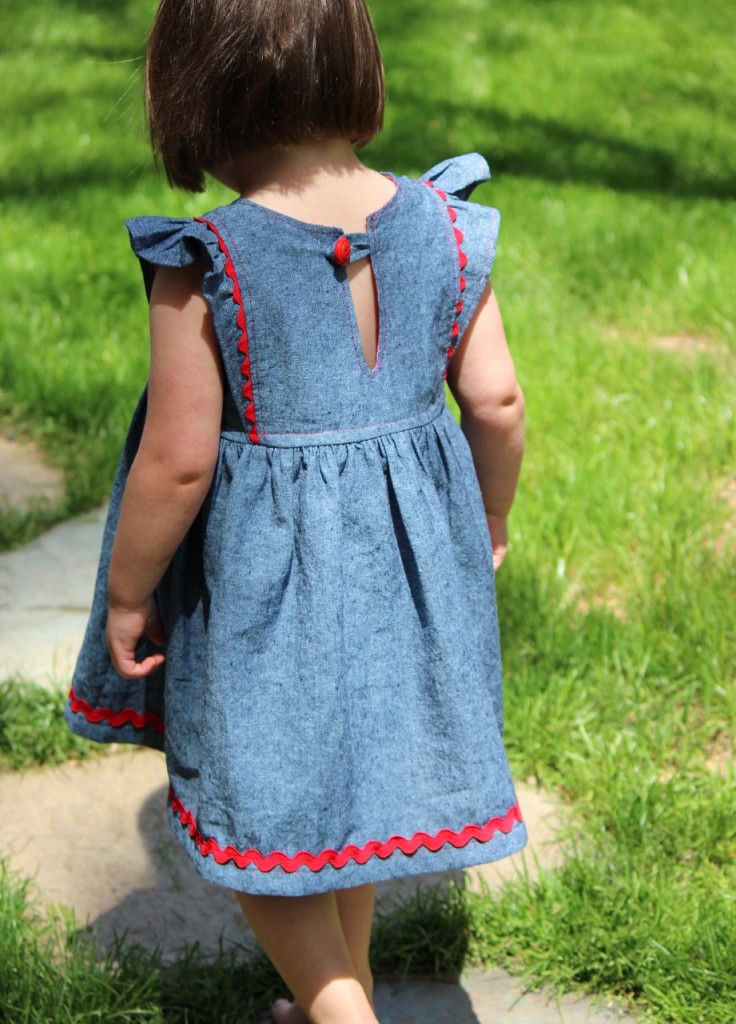 Aside from adding the trim, my only variation from the pattern instructions was to make my back button loop out of the main fabric, as opposed to using elastic cord. This was simply based on personal preference; I think the fabric loop looks dressier. I cut a piece of fabric about 8″ long by 1″ wide; pressed the fabric in half lengthwise, and then folded in both the lengthwise raw edges to meet the center fold in order to conceal them and pressed again. Then I topstitched the piece closed along the lengthwise open edge. I ended up cutting a few inches of extra length off the loop once I'd sewn it in place on the bodice, so 8″ was way more than enough length to work with.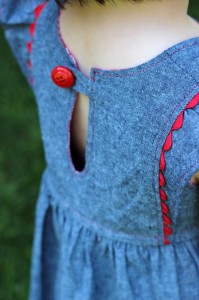 The dress is a good reminder that I need to use solid color fabrics more frequently in my sewing. I am so often drawn to the gorgeous prints and beautifully illustrated designs featured in quilting cottons, and they can be wonderful choices for making cute children's apparel. But for this dress I used a Robert Kaufman chambray in indigo (to be honest I thought the color would be darker than it is – I purchased it online so I didn't see it in person before purchasing). After reading so many other bloggers raving about chambray for apparel sewing, I finally made the plunge and I am a complete convert. It was amazing to work with and the soft drape leaves quilting cotton in the dust. I also feel that the solid color allows the details of the dress to stand out more. It's worth mentioning that the softness of the chambray means that the ruffle is not quite as perky as it would be with quilting cotton. I prefer the more subdued ruffle.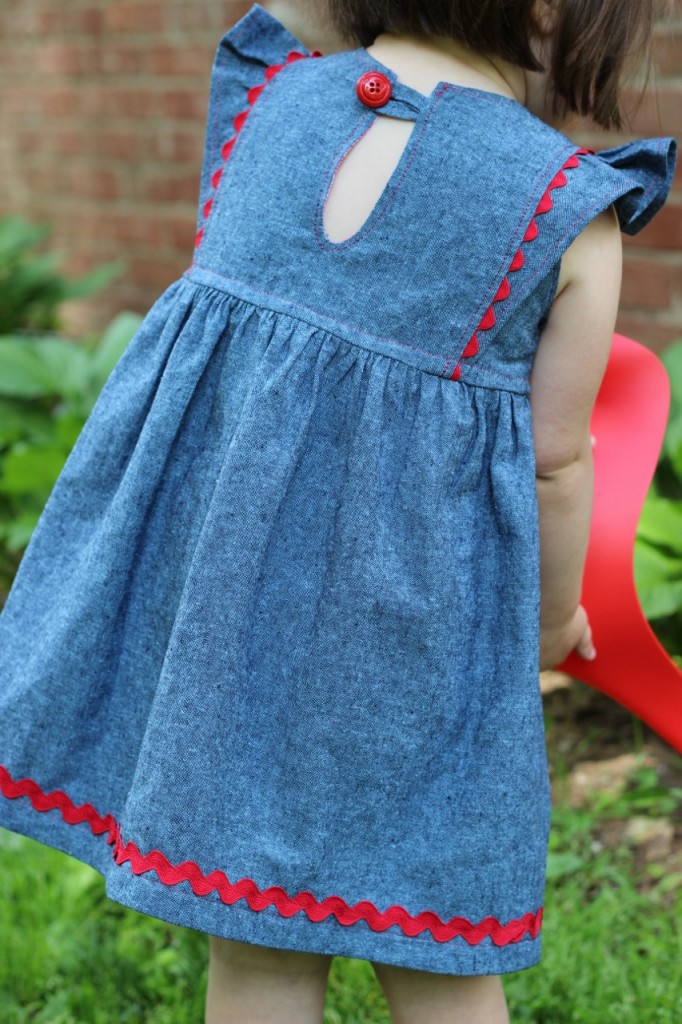 I already have plans to sew another version of this dress pattern. With so many options, and opportunities to really personalize the look to your own taste, this pattern is bound to be in rotation for a while!
Project details:
Pattern: Infinite A-line Sewing Pattern by Bonnie Wiscombe of whisk 'em; Version D in size 3 shown here4; pattern available at Craftsy.com
Fabric: Cotton chambray by Robert Kaufman, in indigo; red ric rac trim
Notes: Version D Bodice is fully lined; bodice seaming created by the ruffle piece is a perfect opportunity to embellish with trim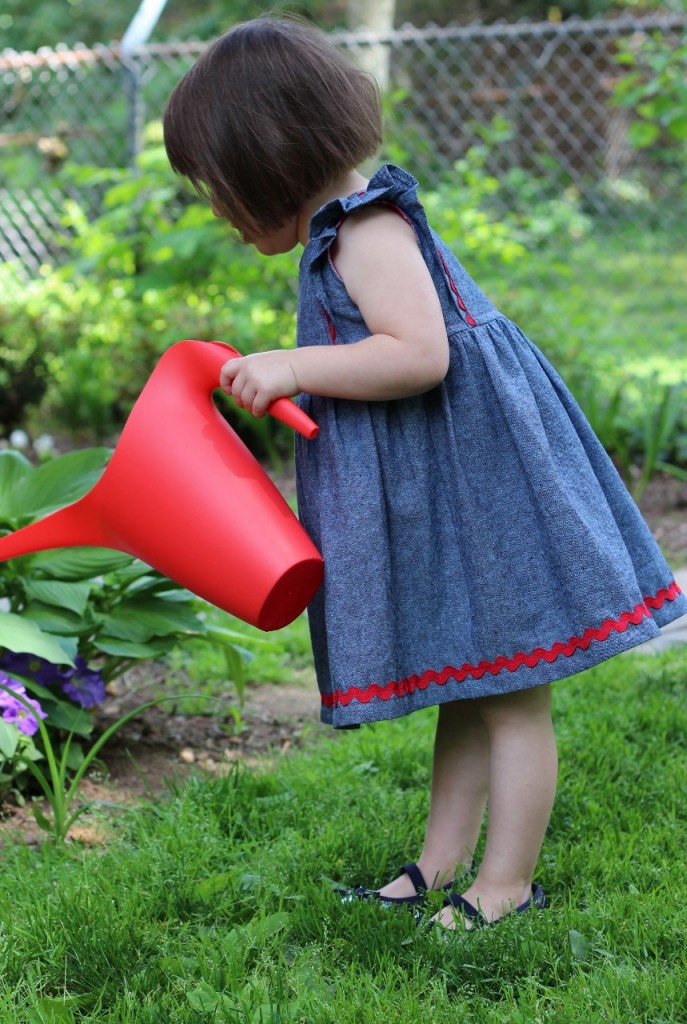 Thank you for visiting!  Be sure to follow along on the Infinite A-line Dress blog tour and check out additional creations from these lovely contributors:
Thursday, May 28: S is for Sewing
Saturday, May 30: itstaylormade
Monday, June 1: heatherhalesdesigns
You may want to check this out: