I've decided I need to focus on sewing up some pieces for my own wardrobe this year. My first step in making good on that decision is joining the Liesl & Co. Gallery Tunic and Dress Sew-Along this week.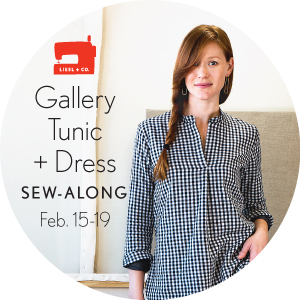 The Gallery Tunic and Dress Pattern has been around for a while, so it's a little sad that I am just getting around to making it for the first time. So far my sewing has been about 98% focused on projects for my children, so I have a lot of catching up to do in the realm of women's sewing patterns. In fact, when I look at the "projects for me" list I compiled earlier this month, barely any of the projects are new patterns (and that's even using a rather generous definition of "new"). I'd like to think I've selected some classics; hopefully they will be timeless pieces, and patterns I'll enjoy sewing more than once.
For the Sew-Along, I'll be making the tunic version of the pattern, with the full collar and three-quarter length sleeves. I've selected a printed stretch shirting fabric from Joann's for my tunic; here's a quick peek at the fabric below. This fabric is super light-weight, so the tunic is definitely destined for spring and summer wear.
I originally intended to stick with solids and neutral colors for the first set of wardrobe pieces I'm planning to sew (to, hopefully, support my goal of adding timeless pieces), but this fabric really appealed to me, and it was on sale, and it seemed so fun and summery as I shopped in the dead of winter, and …. oh well, so much for neutrals on this project!
I'll be posting updates on my Instagram account, and will post again here once the project is complete.
Interested in joining the sew-along? The discussion board can be found here.