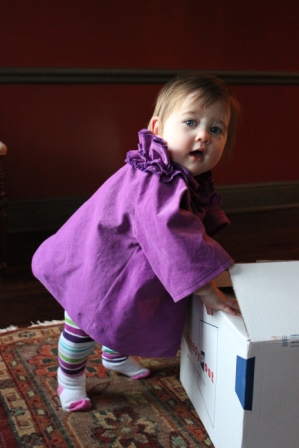 2013 has arrived and I think it's about time I show this blog some love, since I've been MIA for a few weeks. Speaking of 2013, I can't help but wonder, if you're superstitious about the number "13" have you already written this year off, figuring that nothing is going to go right? Seriously, 2013 has got to be a superstitious person's worst nightmare. You mean there's a "13" in every day for a whole year? Well, thankfully that's not me. I have plenty of other kooky things that are taking up valuable real estate in my brain and keeping me up at night. [And on the subject of sleep, personal note to daughter: You are now 13 months old. It is time to start sleeping through the night!]
For my birthday at the end of November, I set a few personal goals for the year ahead; and since I didn't exactly start executing them right away, I'm recycling them as 2013 New Year's resolutions. (That's fair, right? I mean, recycling is a good thing, right?) I categorized my goals in terms of more and less.
More:
photos: take more photos, whether by camera or phone
patterns: create a few things using real sewing patterns, not just the patterns I draw for myself
sew an article of clothing for myself (sewing grown-up clothes scares me!)
Less:
sugar
complaining (bound to be difficult due to #1)
people-pleasing (I'll spare you the psychology on this one)
So, let this post serve as proof that I am pursuing one of my goals — more creations from real sewing patterns! I made this fun tunic for my daughter from the 
Pierrot Tunic Sewing Pattern
 by 
Made By Rae
.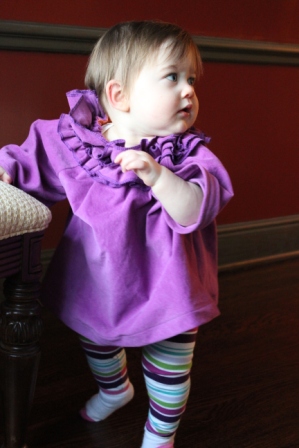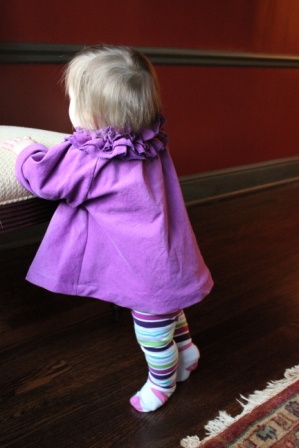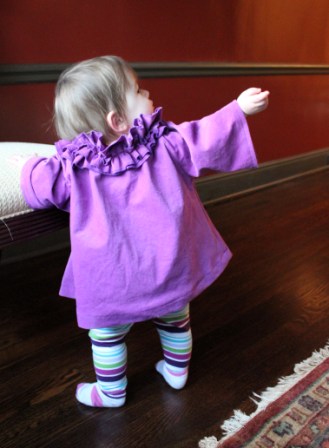 I guess this fabric really isn't purple. More like raspberry ice cream. But I liked the alliteration of "purple pierrot", so let's all just pretend my title is accurate. (I seriously had to hold back from adding a caption to the top photo, "my purple pierrot is perfect for packing parcels". Hey, I never claimed that I'm not a dork.) I didn't even know what "Pierrot" meant/was until I looked it up on Wikipedia did some in-depth research. And I'm still not entirely sure my pronunciation is spot-on. Oh well, I guess I'm just winging this whole thing today.
Made By Rae's blog is really great. She's talented, funny and full of good tips, tutorials and inspiration. I saw the Pierrot tunics she debuted a while back and loved them. I purchased the pattern with hopes of making a tunic during Kids Clothes Week Challenge in the Fall, but it didn't happen. I finally just got around to trying it out. The pattern was easy to follow and full of pictures. Now why can't most commercial patterns be written in such a manner? Maybe then I wouldn't have such "real pattern" phobia. The only modification I made was to add two ruffles to the neckline, as opposed to one ruffle, as suggested by the pattern. The additional ruffle was due to the fact that I accidentally cut the first ruffle piece more narrow than the pattern instructs. The ruffled neckline is what makes this tunic so darn cute, so a narrow ruffle just wasn't going to cut it for me. I added a second, wider ruffle under the narrow ruffle to compensate for my silly cutting error.
Typically when I'm thinking about a sewing project, I have a particular fabric in mind. In this case I was excited about trying the pattern but nothing in my fabric pile was shouting for my attention.  I ended up using a fine wale corduroy for the tunic. I had just enough of the fabric for the size 18-24 months pattern; and actually I skimped on the length of the ruffle pieces. The corduroy had its pros and cons. I really like the color, and the corduroy added more structure to the Pierrot ruffled neckline, which I think is awesome in all its standing-up glory. On the other hand, I think a woven cotton or a linen would allow for a more beautiful drape. I also think that since corduroy generally requires more thought and work — checking that the direction of the nap is consistent across the pieces, and being so careful when pressing to avoid crushing the wales and leaving marks — that sometimes the extra element of caution can detract a bit from the fun of the project. I will definitely make this pattern again (and conveniently the pattern includes 0-3 months up to 5T), and will put some of my light, summery prints to use.
And Daisy is enjoying the tunic. So far it has proven to be perfectly suitable for
posing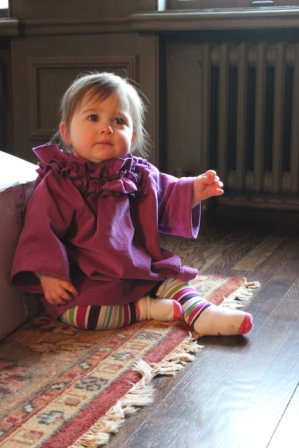 climbing the stairs (even if you're not allowed to)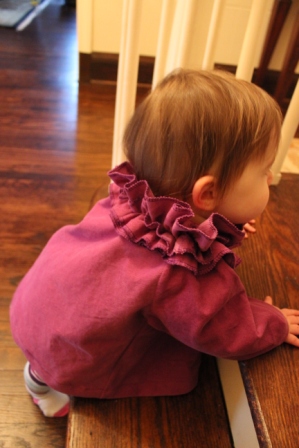 being taunted by your brother about not being allowed to climb the stairs alone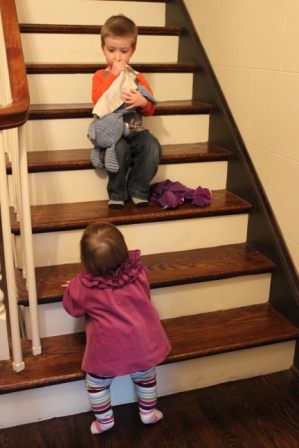 pouting (hey, it's not all fun and games around here!)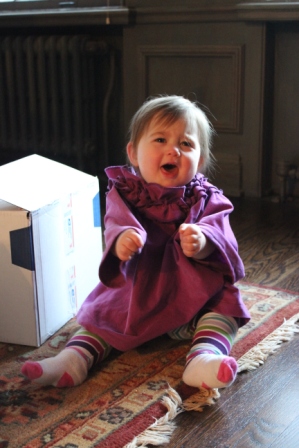 crawling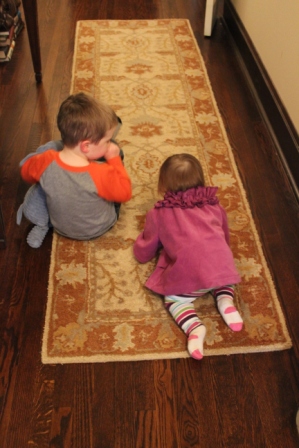 and snacking!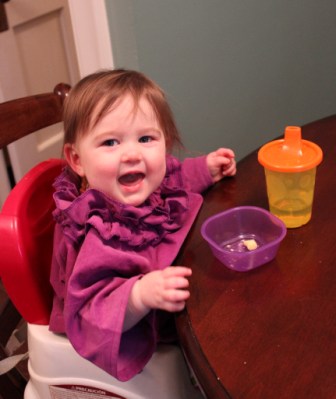 I hope your 2013 is off to a great start — even if you're not dressed in alliterative splendor!