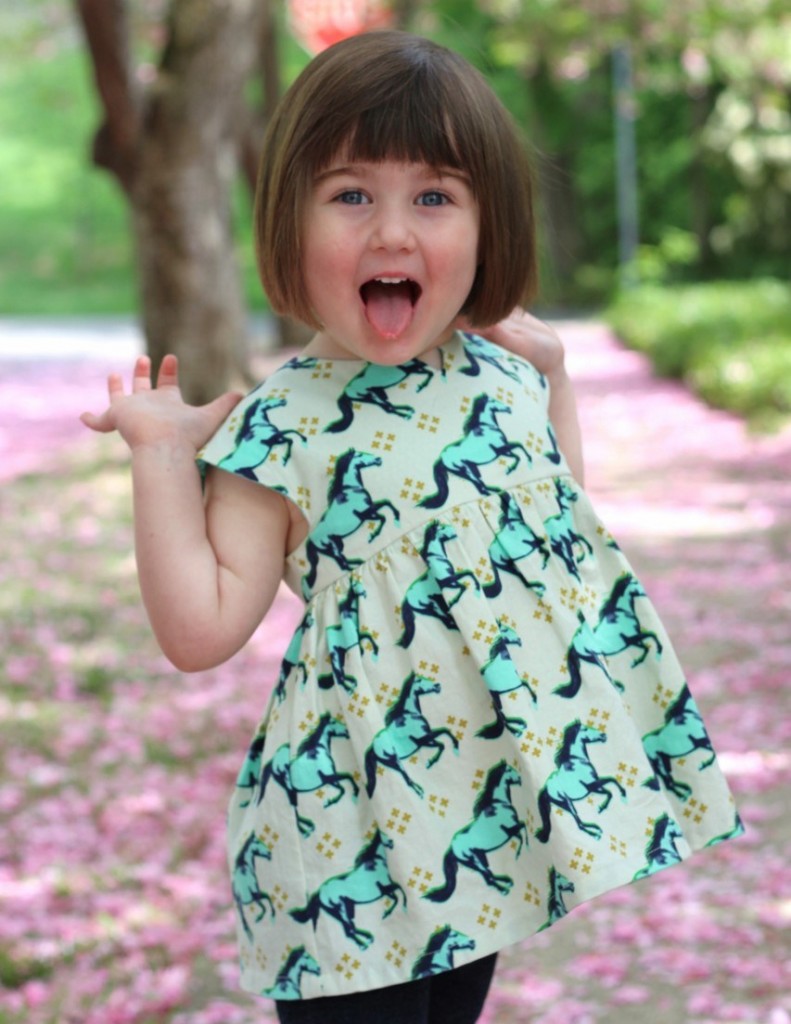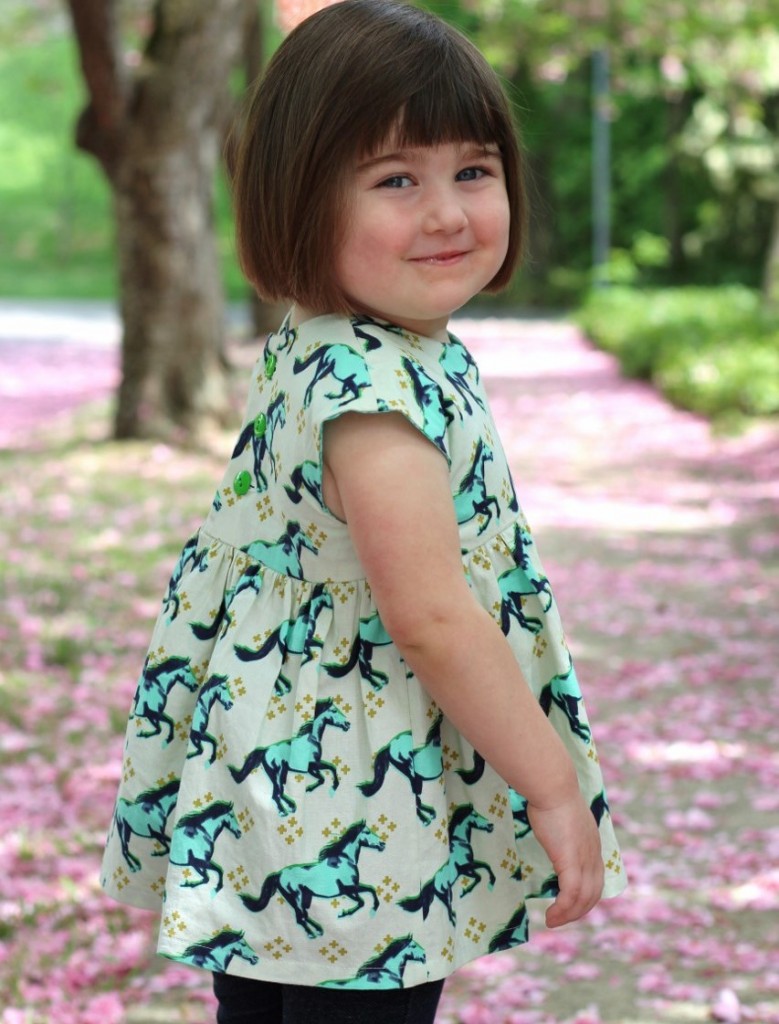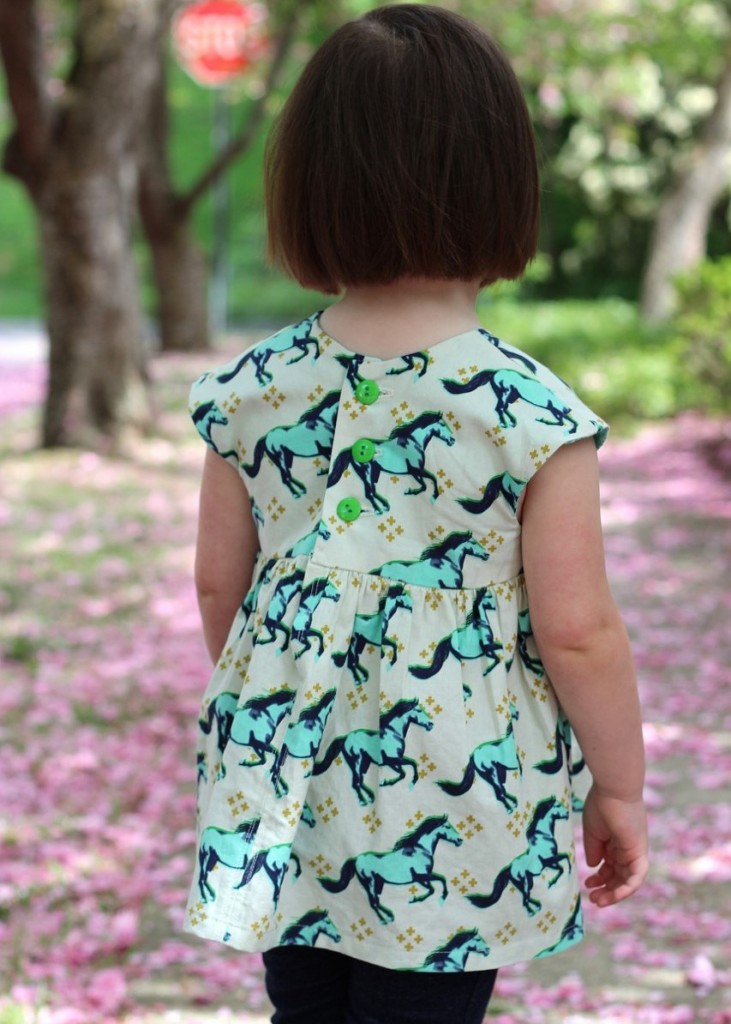 This is my little crazy horse, my Daisy horse. Crazy Horse was known for being ferocious in battle; she's ferocious in her own way. Small in stature but big in spirit. And louder than anyone her size has a right to be. She's also going through a phase (is it still appropriate to call it a phase when it's been about 9 months?!?) where she doesn't think bedtime applies to her. We do the whole bath, book and bed routine, and then she stays up for a couple more hours engaging in vigorous conversation with her toys, singing songs of her own composition, and occasionally sneaking downstairs to see what Mommy and Daddy are doing. And she's still typically the first one to wake in the morning.
She just turned three and a half, which means she's big now. "I was little when I was three, but now I'm big." Watch out, world!
Now, I know a lot of girls are c-c-c-crazy about horses. I went through my own horse-crazed period when I was little. I even asked for a horse for Christmas, and my Mom patiently and devoid of sarcasm responded something along the lines of, "Well, in case Santa Claus can't bring you a horse, is there something else you'd like for Christmas?" I wanted to know why Santa wouldn't bring me a horse, that's what! Well, I never did get that horse, and in fact I forgot all about my previous horse obsession until I started to see so many horse-themed fabrics making their debut over the last year or so. Daisy is actually not horse crazy – yet. Transformer, cheetah and rhino crazy, yes. But this horse fabric has been staring at me from my fabric stash for a while and I couldn't resist using it any longer.
The theme for the Spring Kids Clothes Week (April 20-26) was "Wild Things" and I fittingly sewed this wild mustang top for Daisy. I sewed a bunch of other things, too, but then she and I both were hit hard by a stomach bug that week and I never posted any of my projects. I am seriously backlogged on posting about recent sewing projects, so I'm trying to catch up. Actually, I'm grateful for a little reprieve from sewing because, to tell the truth, I'm feeling a little sewed-out after a marathon sewing session at the end of last week. (More on that later!)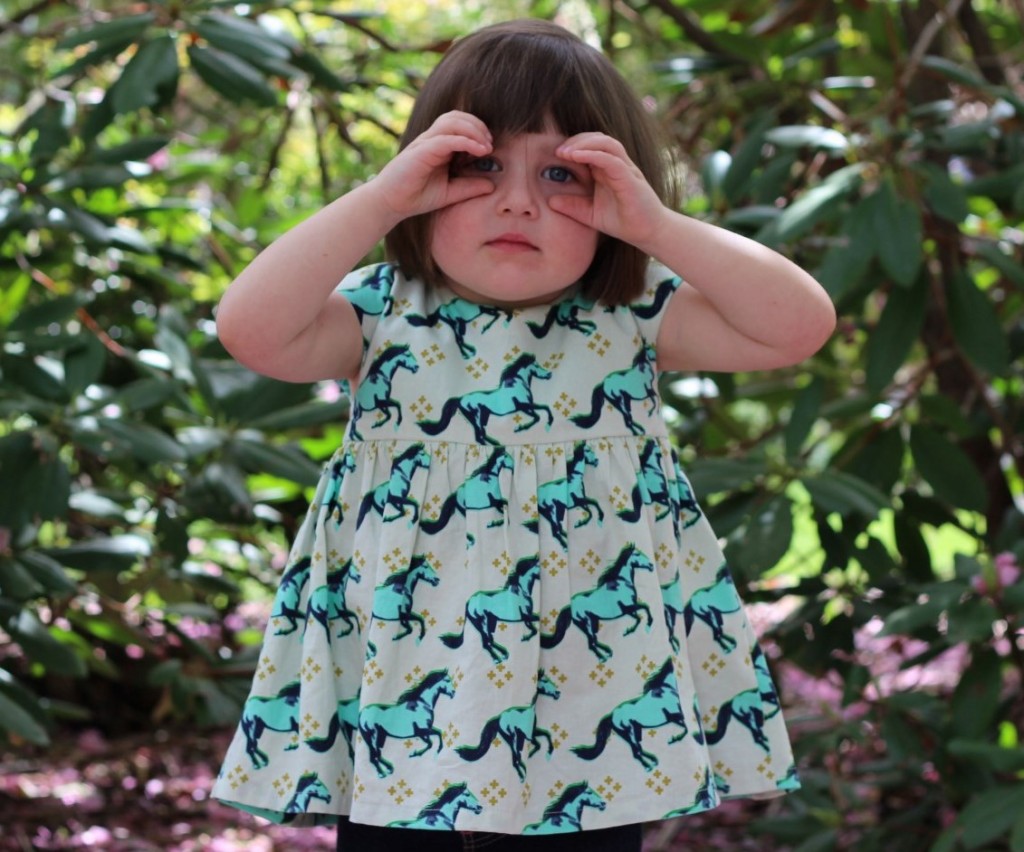 This top is the Geranium Dress/Top Sewing Pattern by Made by Rae. I've made the dress option of that pattern before both here and here. It's an uncomplicated sew and produces such a reliable result. Except that I forgot to mark the buttonholes when I cut my fabric, and then guesstimated on their location and they ended up a little too far from the edge. It made the bodice a bit tighter, but still wearable. Whoops!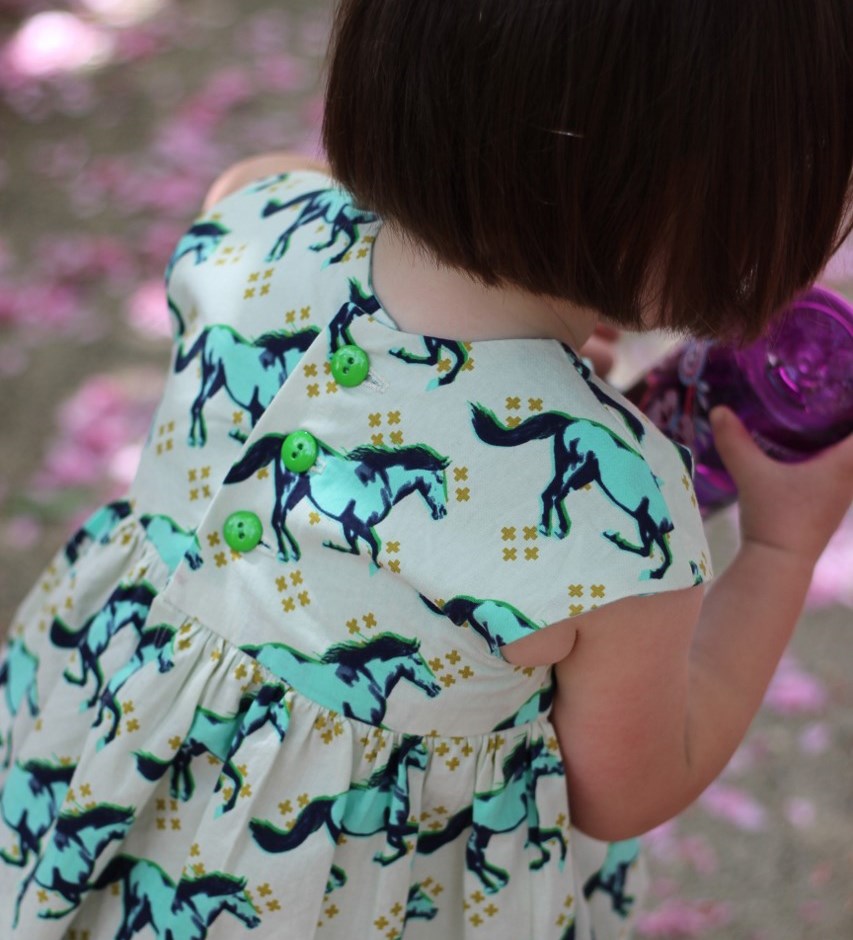 I'm sad to report that lately I've been getting a lot of push back from Daisy about wearing a dress. "No, Mommy. Not a dress today. I want a shirt!", she'll insist in the morning. I guess I've always known this day was coming, since I've heard so many stories about little girls deciding very early on that they want to call the shots on their apparel. I applaud her independence, but it's still kind of breaking my heart. And so, I sewed up a shirt that is about as close to a dress as I can get! "You made me a horse dress?" "No, no, it's a shirt! A horse SHIRT!!"
The fabric is Melody Miller's Mustang in Aqua for Cotton + Steel. The feel of this fabric is wonderfully soft – especially considering it is quilting cotton. It feels soft like favorite shirt status soft.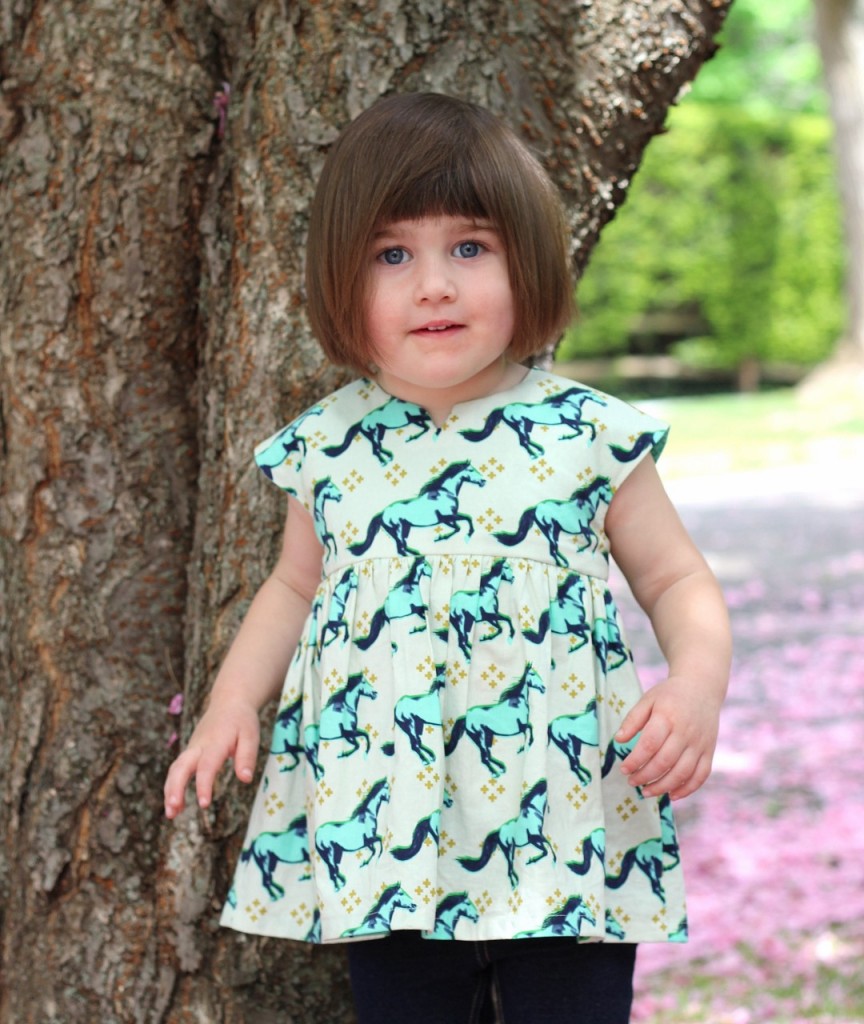 When I decided on the pattern and fabric for the top, I also decided to make her some fun pants to complete the outfit. Big oops on my part – they are way too big on her right now! Rather than calling this a sewing fail (even though I was dying to see her wear the top and bottom together), I'm considering myself super organized for having a leg up on her fall wardrobe. How's that for a positive spin!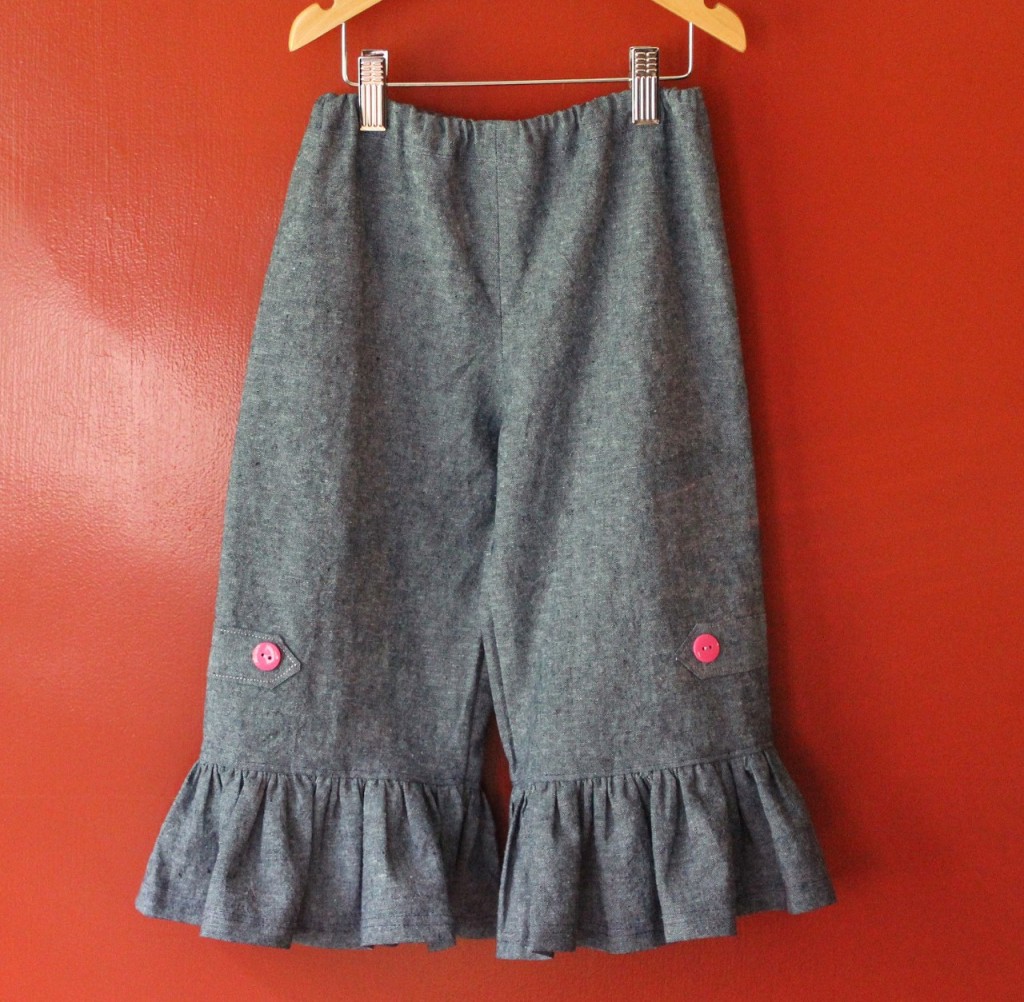 But seriously, aren't these pants super cute!? (Sleepy Jeans Pattern by Brownie Goose, fabric is Robert Kaufman chambray in indigo)
Thanks for reading!