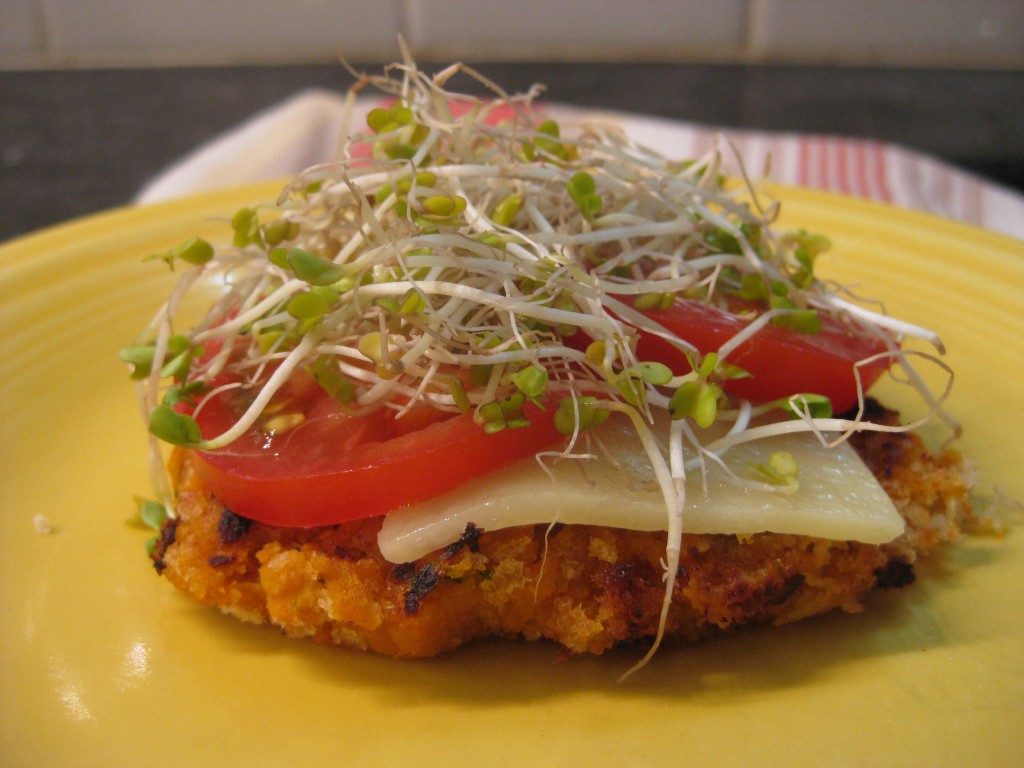 It's sometimes hard for me to believe I never ate sweet potatoes until about 3 years ago. How did I avoid them for so long when they are soooo good? I still remember my first bite of sweet potato; my instant reaction was "wow, it's sweet." Duh! I guess somehow, despite the telltale name, I really didn't believe they'd be sweet. Maybe their color made me think they'd taste like turnips – a vegetable I've yet to embrace.
On that first tasting, the sweet potato was sliced, dressed in olive oil, salt and pepper and direct grilled. Simple yet so delicious. That version was compliments of one of my stepsons, who is quite talented in the kitchen. He's the guy who can look in the refrigerator and see about five different things he could make for lunch; while I'd look in and say "there's nothing to eat, we need to go grocery shopping." I love how some folks just have a natural vision about what can be accomplished with food.
I guess sweet potatoes have been one of those in vogue vegetables for the last few years. Kind of like kale and, more recently, parsnips. And heck, why not, they're delicious and good for you. I feel like an old-timer telling my children, "when I was your age, you couldn't find sweet potato fries in the frozen food aisle. Nope, had to peel, slice and fry 'em yourself if you wanted orange fries. Yessiree."
If you follow any food boards on Pinterest, you've probably seen this recipe from Happy Healthy Life pinned, and repinned, and liked, and liked a whole lot more. It actually inspired these patties. I had been trying out a few veggie pancake recipes, but they always seemed too heavy on the wheat flour and lacking in veggie taste. But, aahhhh, the sweet potato's gorgeous color, sweetness, nutrients and lovely, creamy texture make it a no-brainer for patties.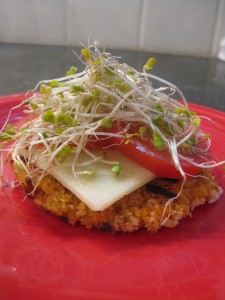 It's great how sweet potatoes are so flexible and easily combined with different flavors. My favorite combination is to pair them with smoky flavors, like cumin and smoked paprika, as featured here. And I never pass down an opportunity to add cilantro to a dish. You could even amp up the Tex-Mex flair by adding some black beans and corn. But I suppose these patties could be just as easily paired with cinnamon and apple if you wanted to try the opposite end of the sweet potato pairing spectrum. There really is so much you can do with the recipe, and it's simple as (er, sweet potato) pie.
As you might suspect of something made from a root vegetable, these patties are pretty filling. Again, there's a great deal of flexibility on how to enjoy these patties. Like traditional burgers on a roll or bread, either full-sized or as pop in your mouth sliders.  Oh, but why cover up the beautiful color of the sweet potato when you can go bun-less! These patties are good enough to stand on their own, but I like to use the patty as a base (no bun) and then start stacking on more good stuff. My favorite is topped with sharp cheddar cheese, a slice of tomato and sprouts, with a green salad on the side.
So have fun, play around with the recipe, play around with how to eat them. Fill your belly with some sweetness.
 Recipe: Smoky Sweet Potato Patties
Adapted from Happy Healthy Life
Makes about 9 small patties or 6 large
1 sweet potato
1 can white beans, drained and rinsed (I use what's on hand, and have made the patties using a 15.5 oz can of navy beans, or 19 oz. can of cannellini beans; the more beans, the creamier the mix becomes, so you may need to up the breadcrumbs or flaxseed to compensate when forming patties)
2 Tablespoons ground flaxseed or breadcrumbs (using crumbs from toasted sprouted bread is a great addition)
1 handful fresh cilantro, chopped
1 Tablespoon tahini
1 teaspoon agave nectar
2 teaspoons smoked paprika 
1 1/2 teaspoons cumin
1 clove garlic, minced
generous dash of salt
several grinds of fresh black pepper
Panko, for coating
Safflower oil for pan
Bake potato (425 degrees for about 45 minutes). When soft, cut open and scoop out flesh into a small bowl and set aside. Fill bowl of food processor with white beans, tahini, agave, flaxseed/breadcrumbs, herbs and spices. 
Process to combine, but still chunky. A couple pulses of the food processor should do the trick.
The mixture should not be chunky, but a thick smooth texture – avoid overprocessing. Note: An alternative approach (if you're not as lazy as I can be) is to combine the bean mixture and the sweet potatoes by mashing by hand. This method makes it easier to avoid an overprocessed (ie., too smooth) mixture. I have found that when I use the food processor, I usually have to add a bit more flax and/or breadcrumbs to the mixture to firm it up a bit.
Form patties and coat with panko. They will be pretty soft but should adhere. If they won't form, add a bit more breadcrumbs or flaxseed to thicken. Heat nonstick pan with safflower oil over medium high heat. Cook until both sides of patties are lightly browned. The patties will remain relatively soft with cooking, so try to minimize flipping to reduce risk of breaking the patty apart. Depending on size, a few minutes per side seems to work well. 
Enjoy with or without bun, with or without toppings. Go crazy.
Guess what we're having for dinner?
You may want to check this out: