It's the winter round of Kid's Clothes Week 2016 and today it feels like Spring in Connecticut! And that works out perfectly for me, because I've been sewing with Spring in mind.
My daughter indulged me in a quick photo shoot before school so I could snap up some photos of my KCW contribution. At first she didn't believe me when I told her we could take the photos outside without wearing a coat! Then once she went outside and felt the lovely 50+ degree weather (at 9 a.m. no less), she was running around giddy with delight.
The knit t-shirt dress still reigns supreme in Daisy's wardrobe, and I should probably just accept the fact that it will probably remain that way for many years to come. Heck, who am I kidding — I'd enjoy wearing a nice, stretchy knit dress and leggings most days, too.
This dress is made from some lovely interlock knit fabric from Amy Butler's Glow collection purchased from Hawthorne Threads. This fabric was fabulous to work with and has that nice, dependable interlock thickness to it. My fabric selection was inspired by this post by Gail of the blog Probably Actually (which is one of my favorite sewing blogs — her creations are beautiful and I enjoy her aesthetic. You should hop over there to check out these adorable robot pants she made for KCW.). Gail used the grey, woven version of this print for her daughter's dress. I had seen the fabric before but always skipped over it in favor of the larger, louder, bolder Amy Butler prints, and her post served as a reminder that I need to expand my appreciation for the more subtle prints (and the solids!). These dots remind me of bubbles; almost luminescent floating in the sunlight.
This dress sews up so quickly that I'm surprised I haven't made it more frequently (I've made her three, but only blogged this one.). I attempted a variation on my usual version by adding a few pleats to the front of this dress. Nothing too crazy but enough to make it a bit more exciting. It looks like I need to double-check the bottom of those pleats; from the photo it looks like they may be separating.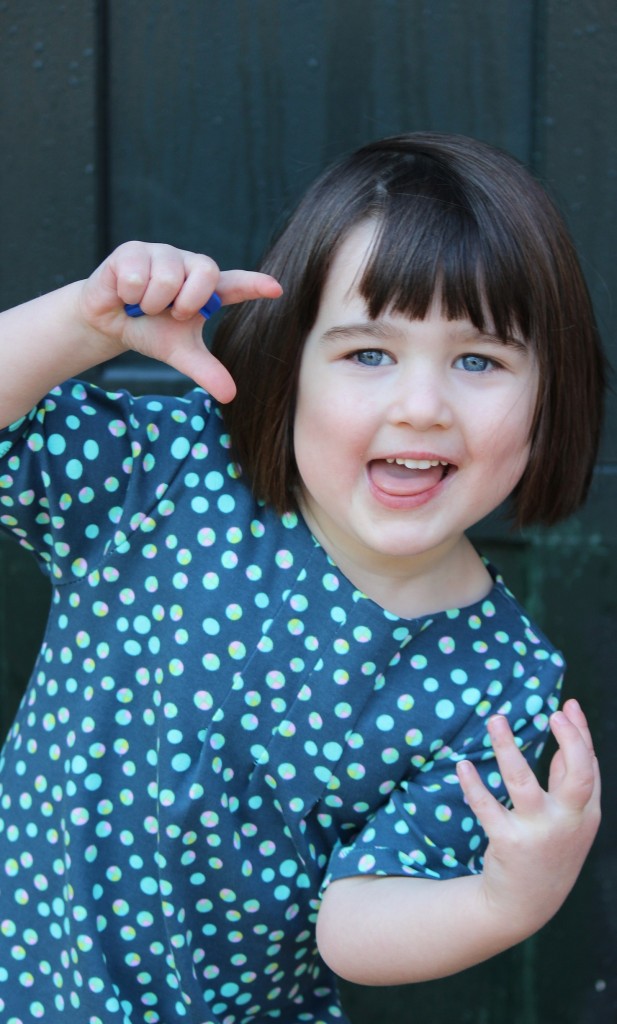 Daisy was in such a good mood for the photo shoot; it was the perfect start to the day. I'm planning to carry that positive energy through the day!
You may want to check this out: