The elsie marley Kids Clothes Week Challenge Fall 2012 is off and running (yikes, how did it get to be Thursday already?) and I am trying not to be discouraged by the fact that at this point in the Spring KCWC I already had four or five clothing items completed and so far … I have finished one item for the Fall challenge. Oh well, that's the way it goes sometimes. Actually, that's the way it goes a lot of times; especially in parenthood. In part this is due to the fact that my schedule has been victim to the "when it rains, it pours" effect. I have a lot of stuff going on right now — good stuff, which I'll share soon — and I have been attempting to judiciously allot my time to the various projects while muzzling my usual over-achiever attitude of thinking I can fit all of it in and sacrificing sleep and sanity in the process.
I do have to ask, though, did I really need to have pre-school snack duty added to my list this week??! Ugh. It's ironic though – when the snack "rules" were distributed during school orientation, I was a bit disappointed to see that homemade snacks were prohibited. I thought it would be so much fun to make healthy treats alongside my son, since he loves to help in the kitchen; and it just seemed like the obvious thing to do. But, Betty Crocker beware, homemade snacks have been outlawed by the food allergy police. Yesterday, however, with an ambitious to-do list in hand, I was more than accepting of the snack rules and gladly tossed a couple boxes of Teddy Grahams (of course, not the chocolate ones, people!) and jugs of apple juice in my cart and crossed that chore off my list. And I even remembered to bring them to school at drop-off time this morning, which is more than I can say about my son's backpack on Tuesday morning. Sometimes I think pre-school is more about testing the parents' organizational skills than it is about school preparedness for the children!
So, enough about that, it's time for the big reveal….. What have I made so far for KCWC? A cinch-waist dress!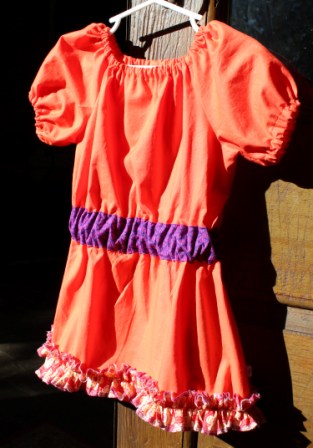 Presumably this dress is for my daughter. I intentionally sized-up when drafting the pattern so let's hope it eventually fits her in all the right places at the same time. Ha! That did not happen with one of the first dresses I made for her. I made it before she was born in anticipation of her arrival, so I wasn't working with actual measurements. I put it on her when she was about 3-months-old and quickly observed that the bodice probably was a good fit a month earlier and the arm length would be great in about another month — oops.
I haven't sewn her anything lately and have been really eager to do so, but when I thought about this dress, I envisioned her running around and playing in it because the lightweight fabrics and bright colors seemed so fun and playful to me, but — slight complication — she's not running anywhere just yet! That's okay; the dress and the running are something to look forward to.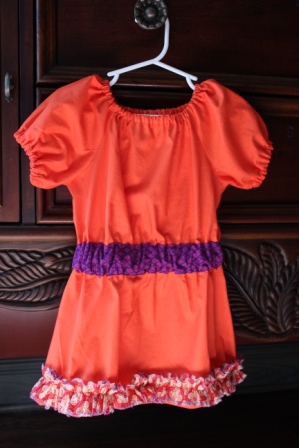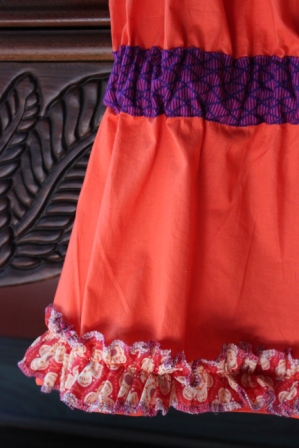 The dress is essentially a peasant dress with an elasticized cinched waist and a ruffled layer added near the bottom for some extra pizzazz. The main, solid-colored fabric is Clementine from Michael Miller's Cotton Couture collection. I love how cheery it is, and it made me realize how infrequently I use solid colors when I sew. I'm always drawn to the fun prints and overlook the beauty of solids. It convinced me that I need to change my solid-avoiding ways.  The cinch fabric is from Patty Young's Heaven & Helsinki collection for Michael Miller. Having spent my junior year of college abroad in Finland, it would be sacrilege for me to not own something from this collection (for the geographically-challenged crowd, yes, Helsinki is in Finland). I compensated by purchasing three of the prints, which actually required restraint because there are so many great coordinates in the collection. Finally, the ruffled piece was made using a voile from Anna Maria Horner's incredibly popular Little Folks collection. You really need to see this fabric without the ruffled effect to enjoy just how gorgeous it is; and it feels just as good as it looks. The whole collection is a-MA-zing. I have several prints and I can already tell I'll have to fight the selfish tendency to hoard it away and save it for some as of yet undetermined special project.
The dress came together quite easily, which makes it so much more satisfying. Nothing like whipping up a dress in a short period of time! Oh honey, you need something to wear? Here you go. I made you a dress this afternoon. All you need to do is learn how to walk and run, and it can be yours.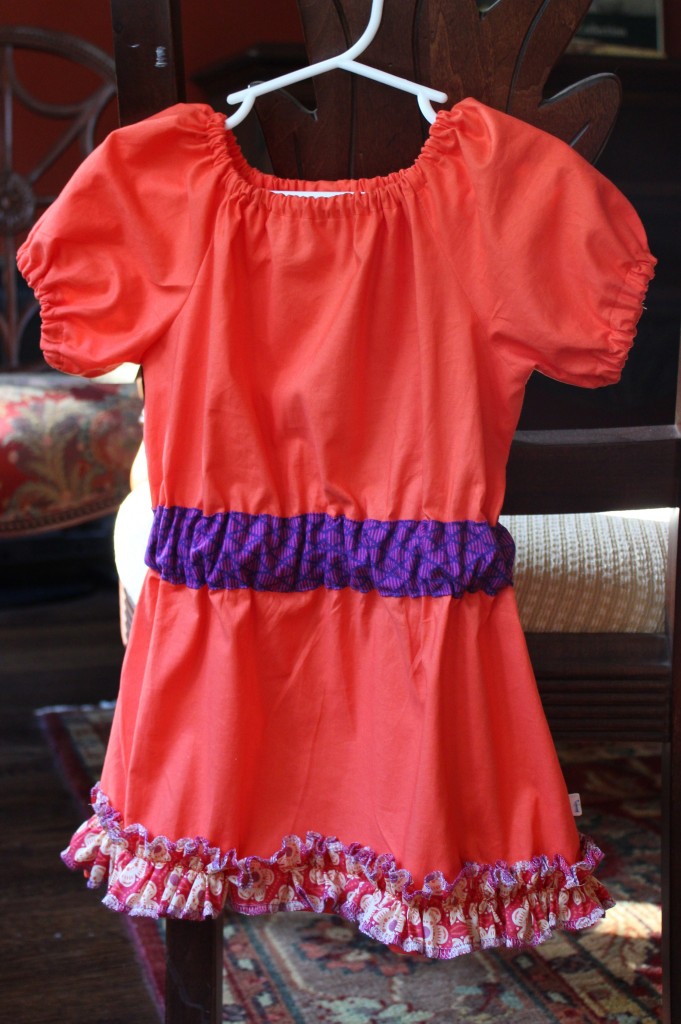 Okay, back to to-do list conquering and, hopefully, some sewing. Hope your week is going well and you are crossing things off your lists, too!
You may want to check this out: