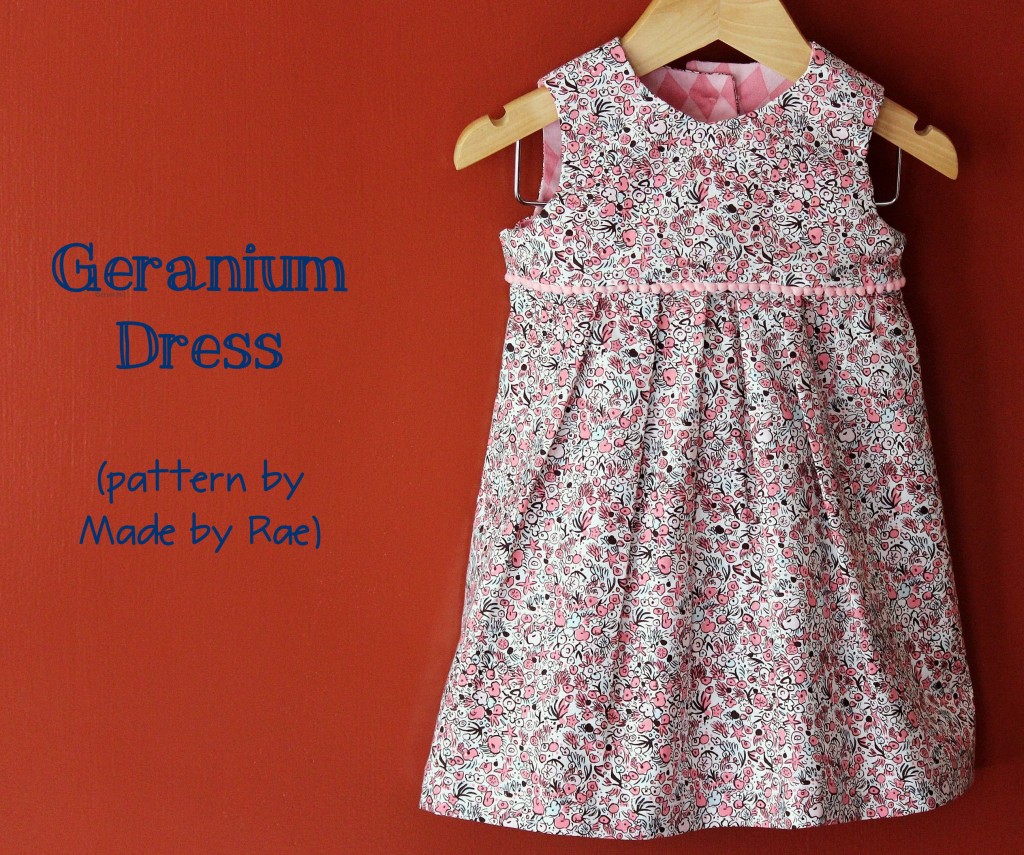 Hurrah, a new baby in the family! The extended family — not my immediate family. "Phew!" says my husband. "Awwwwww…, " says Eli, with disappointment. That boy asks for another baby on a regular basis. Cue the Rolling Stones: you can't always get what you want, my dear son.
My cousin and her husband welcomed baby #2, a beautiful daughter, in January. Yes, yes, I know, it is now July, and I finally just shipped off a package of homemade goodies and officially welcomed her to the family.
I swore I was going to be more timely. I sewed up a minky and flannel blanket right after she was born. But it just didn't seem exciting enough. I tossed around different pattern and fabric ideas but nothing really struck me. Months passed. Then I decided I needed to get in on the Geranium Dress goodness I'd been admiring on sewing blogs and in the Kids Clothes Week photo pools. The Geranium Dress Sewing Pattern is from Made By Rae, and the fabric I chose is from the Out to Sea collection by Sarah Jane for Michael Miller.  The "Sea Flowers" fabric is a small scale print of flowers and sea stars in pinks and blue and it is pretty busy, but I think it works really well in a smaller child's size (in this case size 6 to 12 months — actually, I don't think I indicated the dress size in the package I sent, so this post will have to do the trick!).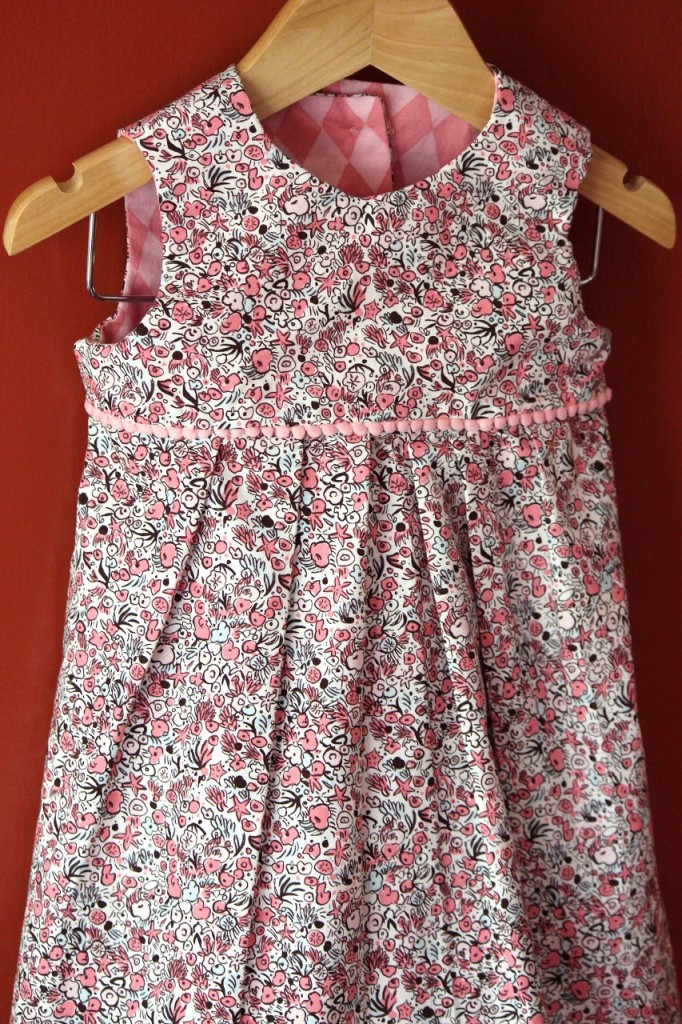 Aside from the usual greatness of Rae's patterns and the detailed instructions, I love that the pattern easily accommodates different trims. I chose pale pink pom poms at the waistline, because, well, pom pom trim is awesome. Enough said. Rae has a post devoted to Adding Trim to the Geranium Dress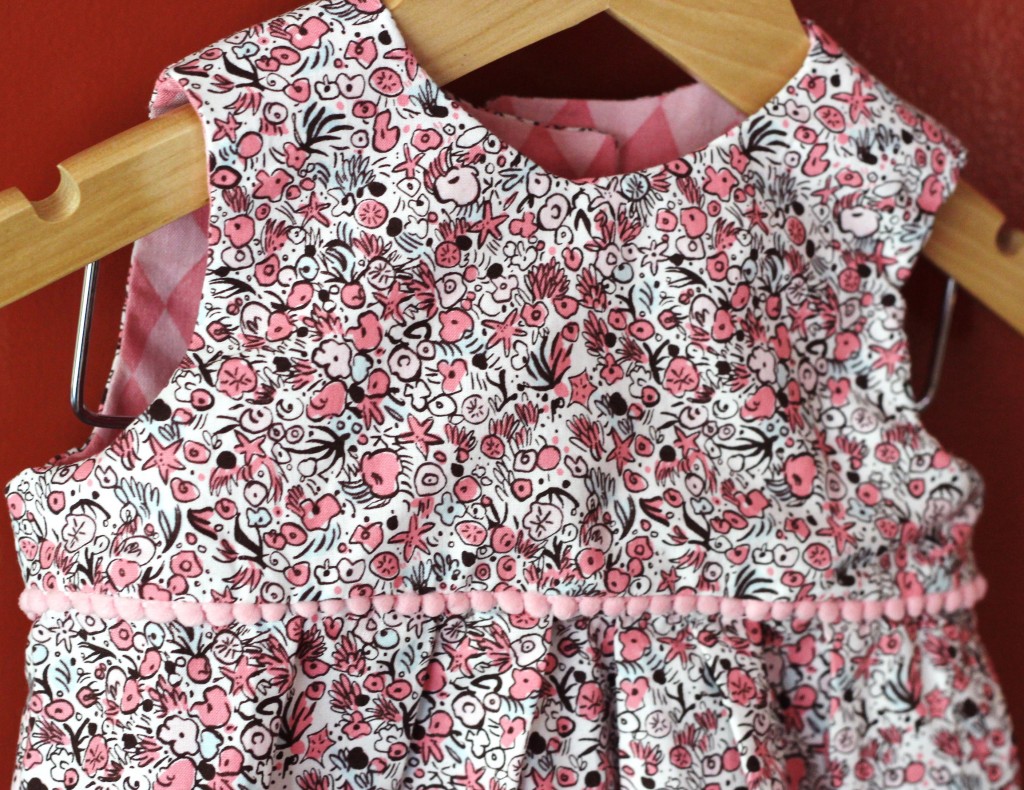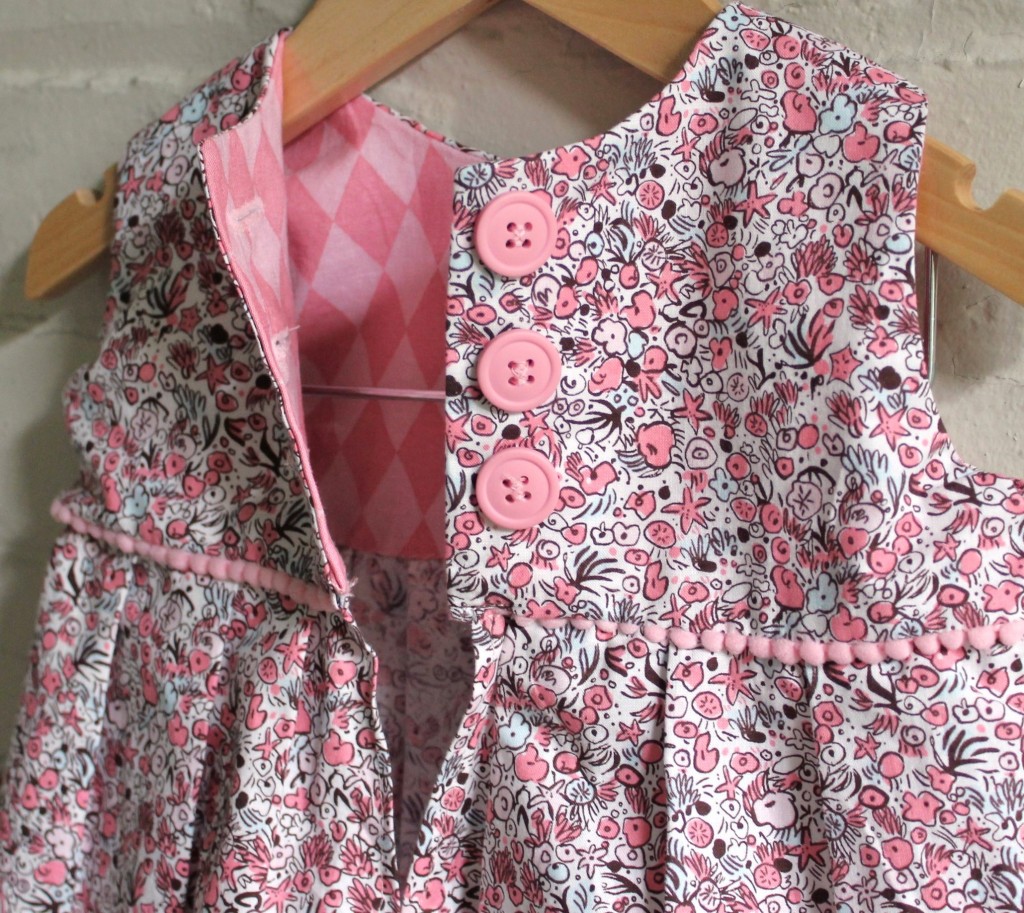 As much as I love the added element of pom pom trim, this part didn't go as smoothly as I'd hoped. I didn't give myself enough of a seam allowance on the waistline once the trim was added, and this necessitated closing the bodice lining by hand. Groan. Groan again. I learned how to sew on a sewing machine, so my hand-sewing skills could use some work. Sometimes, when I'm feeling super ambitious (a/k/a "fooling myself"), I declare loudly — in my head, so that no one can hear and I won't really be held accountable — that I should spend an entire week's worth of sewing time focused solely on hand-sewing techniques. I mean, I should do this. And I really do think it is important to be skilled and feel confident in the most basic form of one's hobby, buuuuuut (insert whiny voice here) the sewing machine just makes everything so much easier, not to mention faster, and there are so many projects that just seem way, way more interesting than a week of sewing drills.
This is a poor picture, but you can see my totally amateur stitching by hand. Thank goodness this is the lining. Ain't nobody gonna see it from the outside!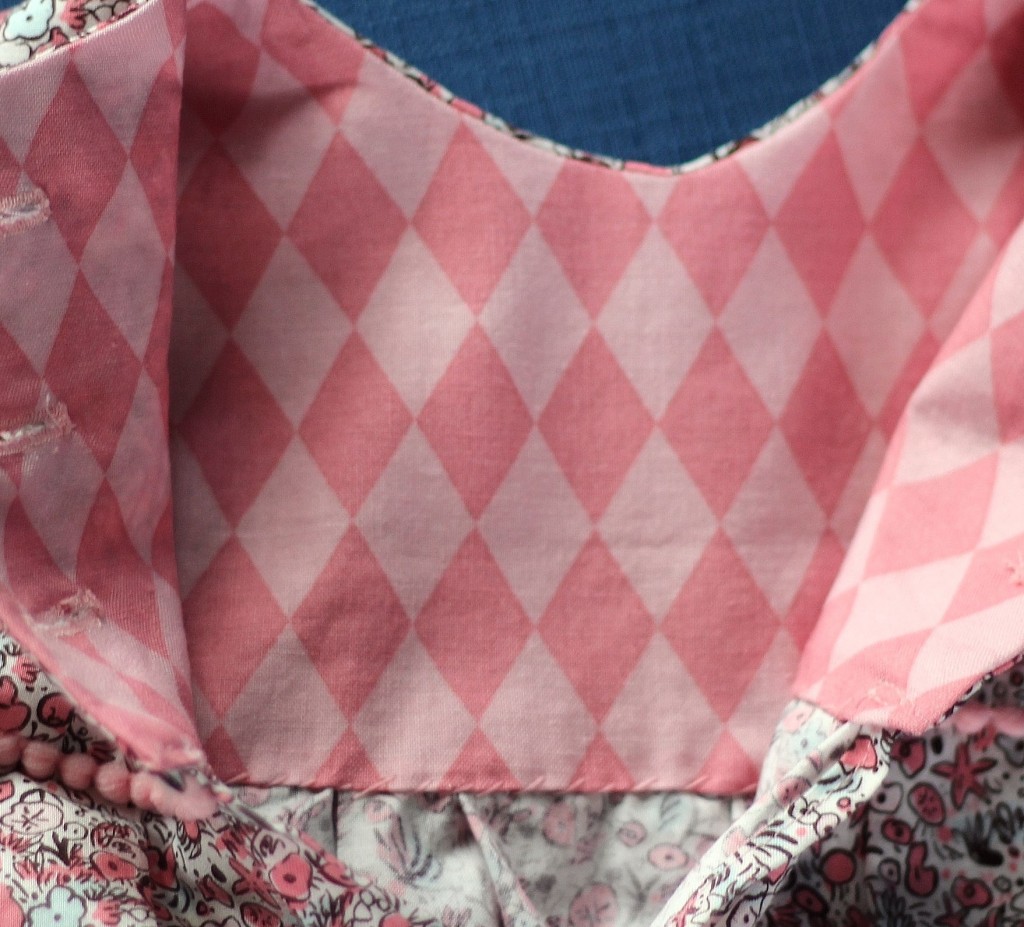 So, the dress was complete and ready to be sent off with the blanket (I swear there really is a blanket! Just no photos!). All set, right? Nope. I wanted to include a little something for the Big Bro. A couple more months passed. Really, now, this is just pathetic. A classic study in procrastination.
I knew exactly what I wanted to make — a little zippered pouch to house treasures of all sorts — and I had the fabric and the zipper and, well, apparently no motivation. I knew it wouldn't take too long to complete so I kept pushing it aside in favor of whatever was grabbing my fancy at the time — like truly important things such as surfing the internet looking at outrageous vacation rentals in far off magical places where no one with children under the age of fifteen ever visits. Tick. Tock. Finally I had to sit myself down and have a little talk about responsibility and ambition.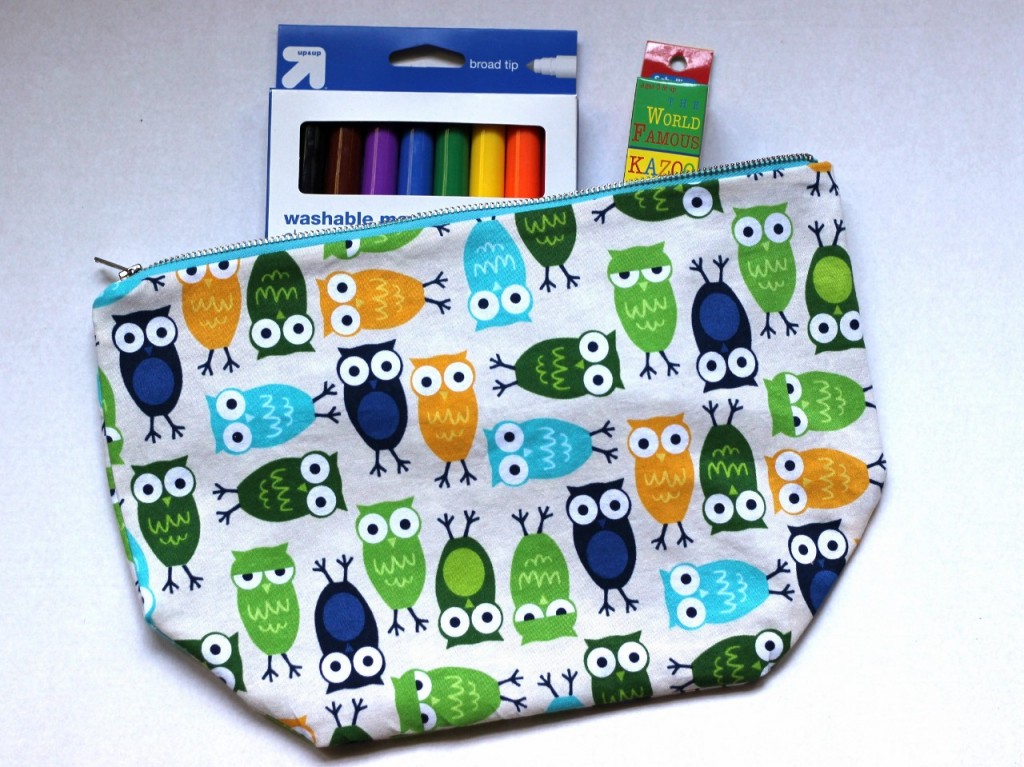 Okay, actually there was no such talk, but I did finally get out of my own way and sew this cute little bag for a cute little guy. And all's well that ends well. Or so I hope.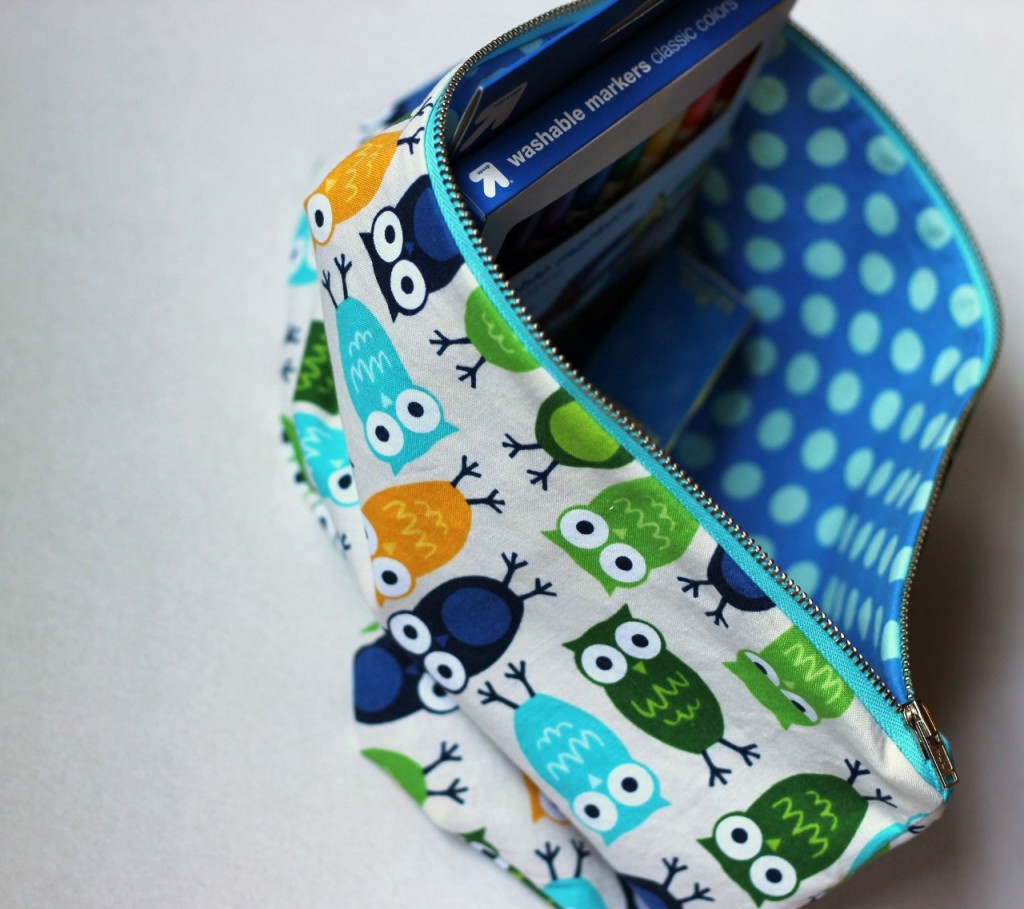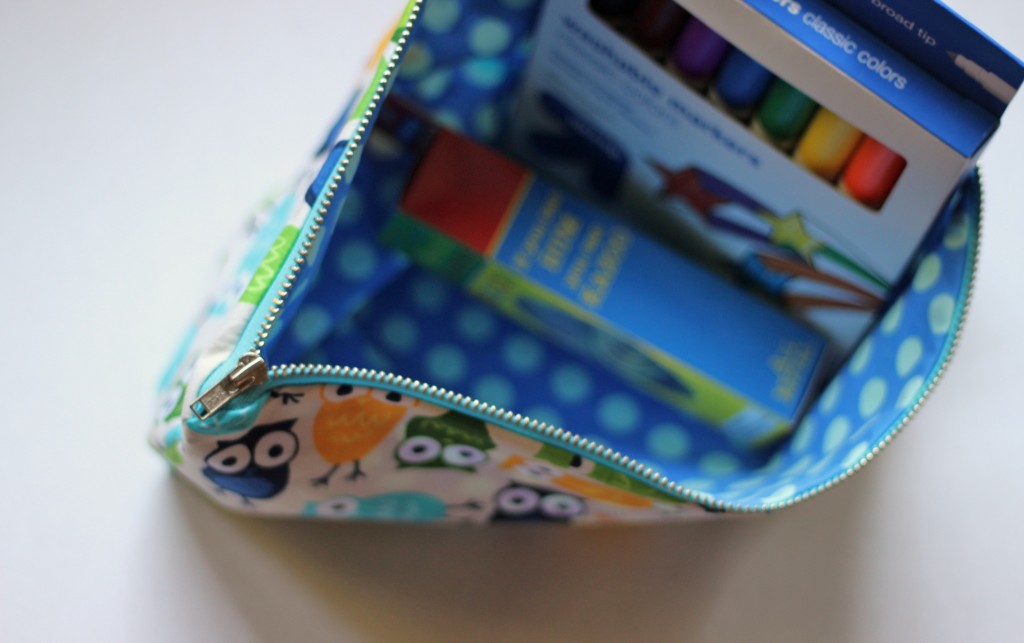 Happy Fourth of July!
You may want to check this out: