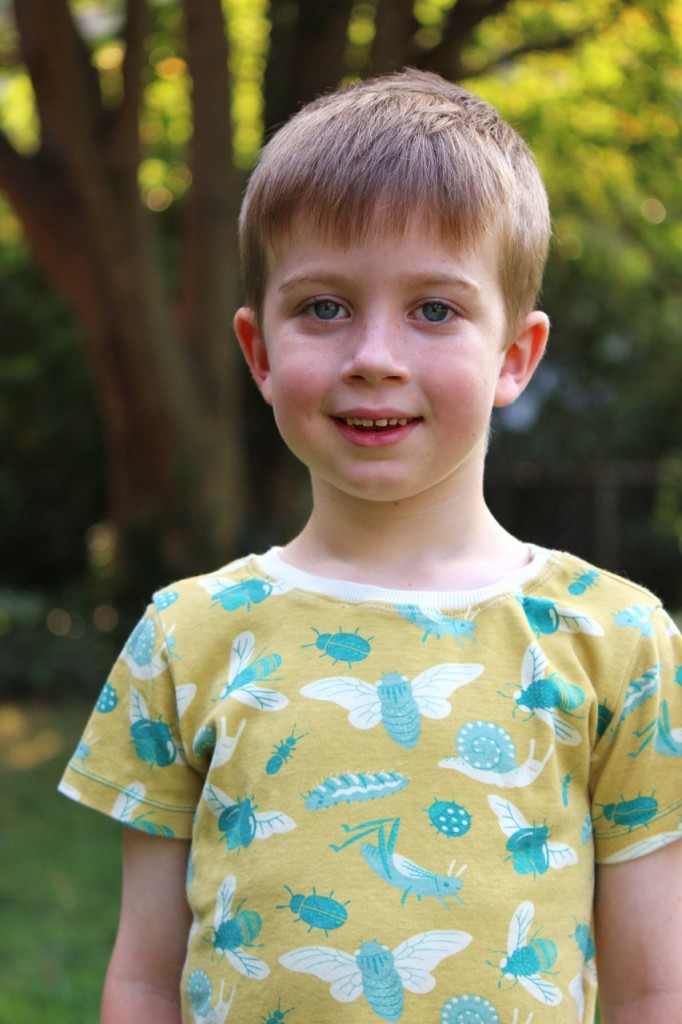 My goodness, it feels like I'm pulling from the sewing project vault for this post. These pajamas were sewn up in the spring and have been in pretty heavy rotation, even during the summer. I've seen so much of them it's hard to believe I never got around to posting about them. But they're just too loved by my son for me to skip posting them. And besides, it's been pretty quiet around here lately, so let's start with some catching up.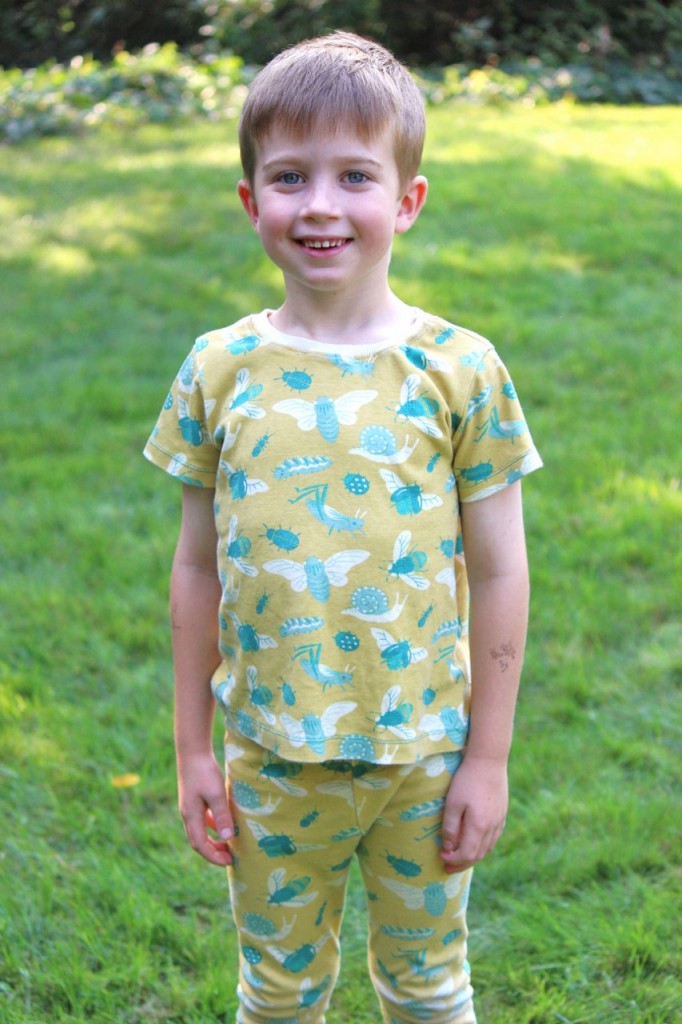 These pajamas were made using two patterns by Titchy Threads, the Rowan Tee pattern and the Fancy Pants Leggings pattern, and are sewn up in a comfy 100% organic cotton knit interlock. I purchased the fabric (Teagan White for Birch Organic Fabrics, Acorn Trail, Knit, Bugs Gold) with the intention of sewing up pajamas during the Spring 2015 Kids Clothes Week (they would have been so perfect for the "wild things" theme). But I fell short of my goal, and hence, no KCW jammies.
The thing is, I had told my son about the pajama plans. And he mentioned that he could wear them on "Pajama Day," a special day planned near the conclusion of his pre-kindergarten program last school year. But it was a casual conversation, and he also mentioned that he might choose his store-bought superhero PJs instead. So, no big plans, nothing set in stone. And I was kind of hoping that his PJ expectations had been forgotten.
Wrong, mama! Of course. I mean, how could I not see that coming, right?! So, two nights before the highly anticipated Pajama Day, he expectantly asked if his new PJs were ready. Gulp. And, not being one to shy away from late night sewing, I truthfully responded, "they will be!"
And they were. And he wore them proudly. And I sighed a big sigh of relief. Mission accomplished.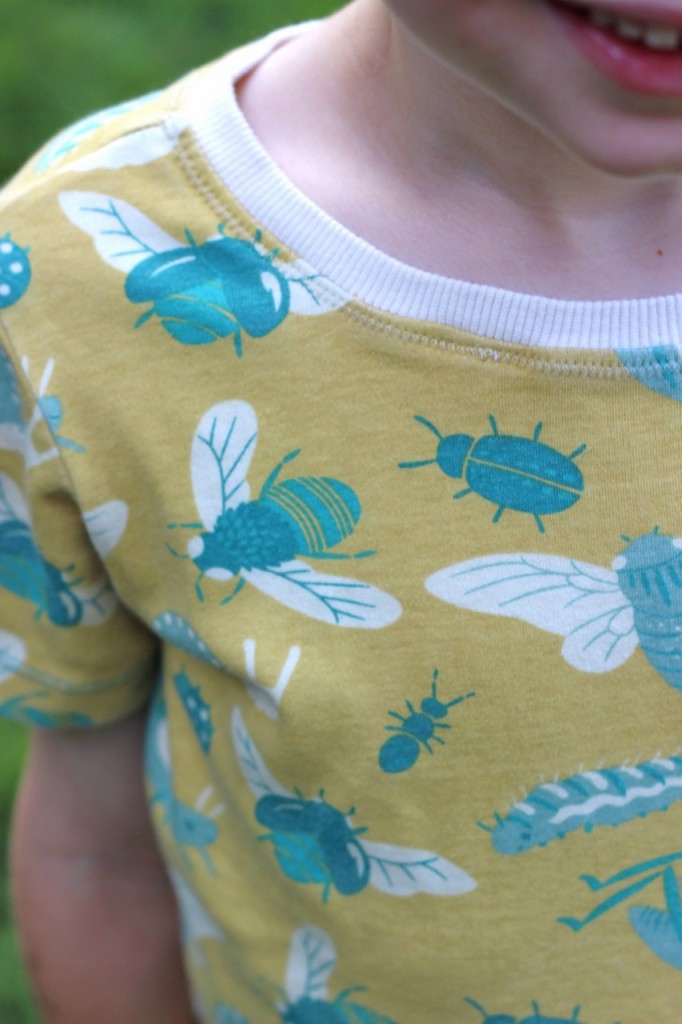 I fully acknowledge that my son is completely biased when it comes to my sewing ability and treasures just about every item I make him. And that is why I love him. KIDDING!! Well, not entirely. He really is my biggest fan when it comes to my creations, and that is one of the millions of reasons I love him. He's my sewing ego boost.
The last minute nature of this project meant that I didn't have a chance to snap photos before they were put to their first use. We finally rectified that this week. As a newly minted kindergartner, my son has been so wiped out each afternoon that it was easy to persuade him to put his PJs on before dinner so we could do a photo shoot. And he suggested an outdoor photo shoot would be a good match for the creepy crawly bug theme of the printed fabric. Pajama modelling in the front yard — yes, awesome!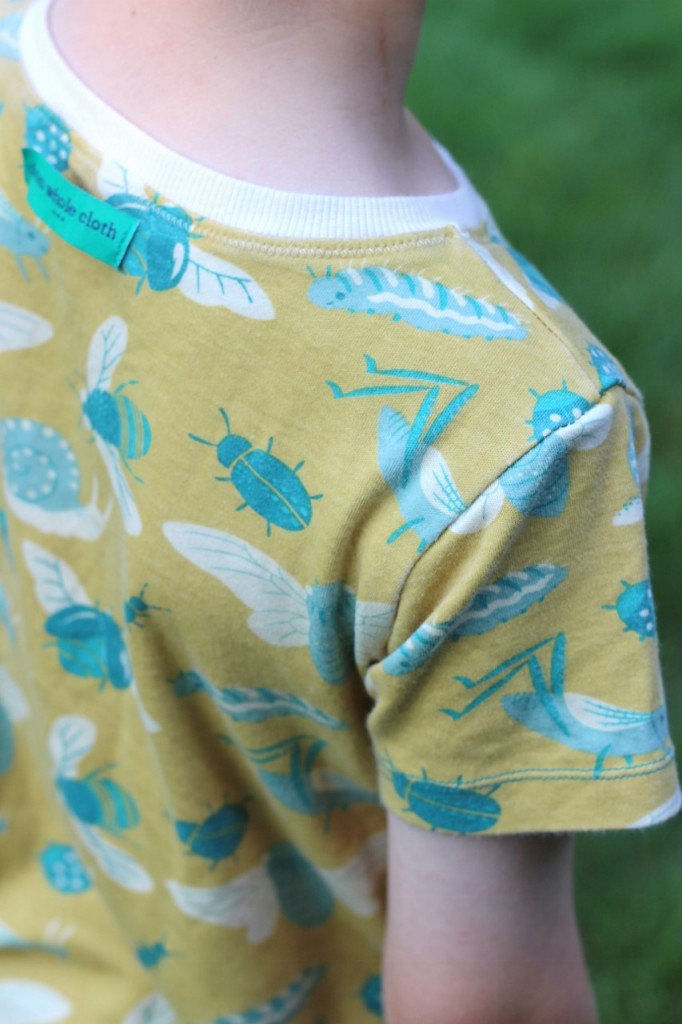 These patterns and this stable knit were easy to work with. I definitely see more pajamas and more knit t-shirts in my sewing future.  I finally broke out my double needle for the first time to finish the hems on the top. I love the more professional finish it provides, although I admit I need more practice. The thread has already broken in one spot along the front, bottom hem. Grrrr. I've since read that wooly nylon thread for the bobbin thread helps prevent breakage with the double needle – next time!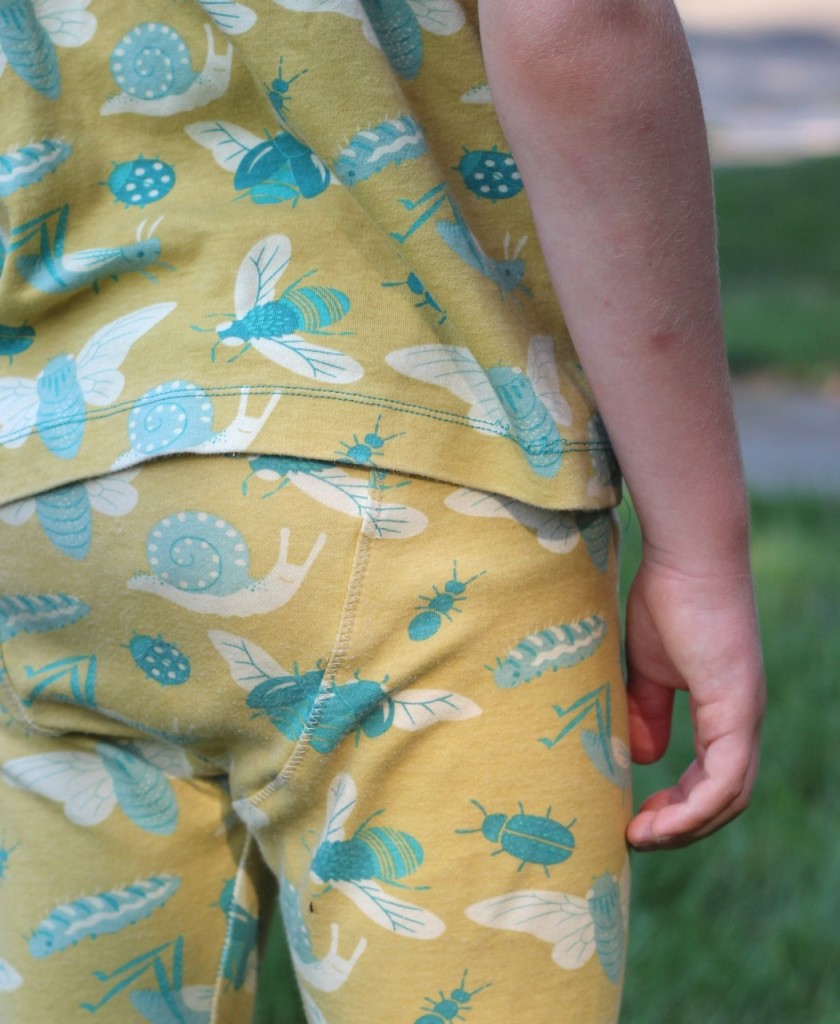 As you can see above, the Fancy Pants Leggings pattern features a separate bum panel, so you can play around using a coordinating fabric on the butt, if you like. It also provides for a ribbed waistband and ribbed ankles (although alternates are provided in the pattern, as well). I sewed the top and the bottoms up without any alterations from the pattern and was very happy with the results.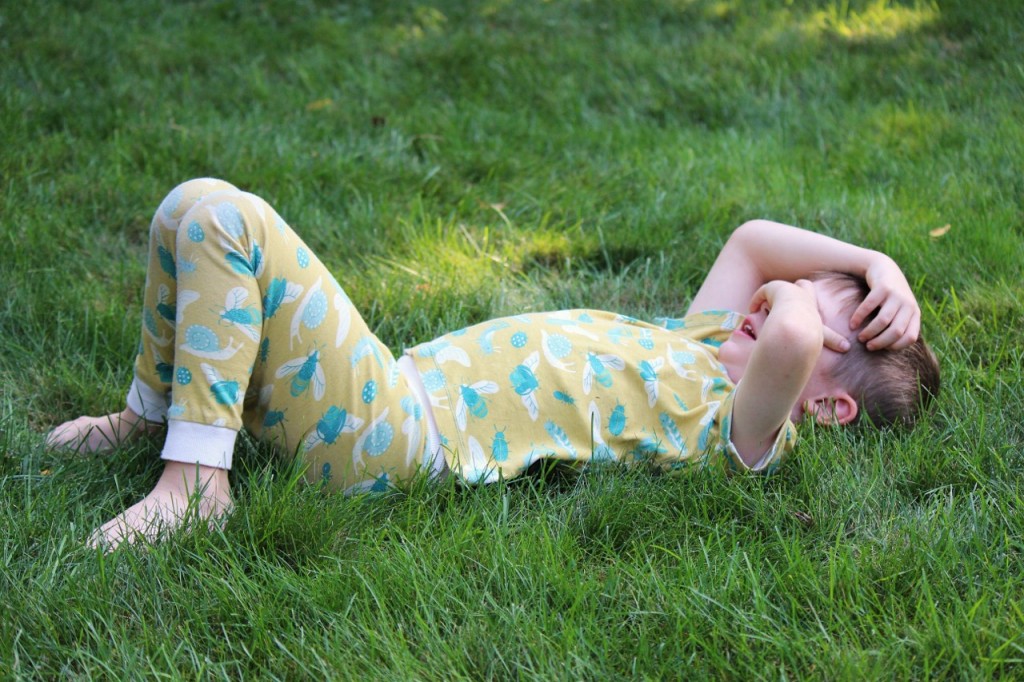 When we moved the photo shoot inside – "because you usually wear your jammies in bed, mom" – I really thought he was going to fall asleep on me.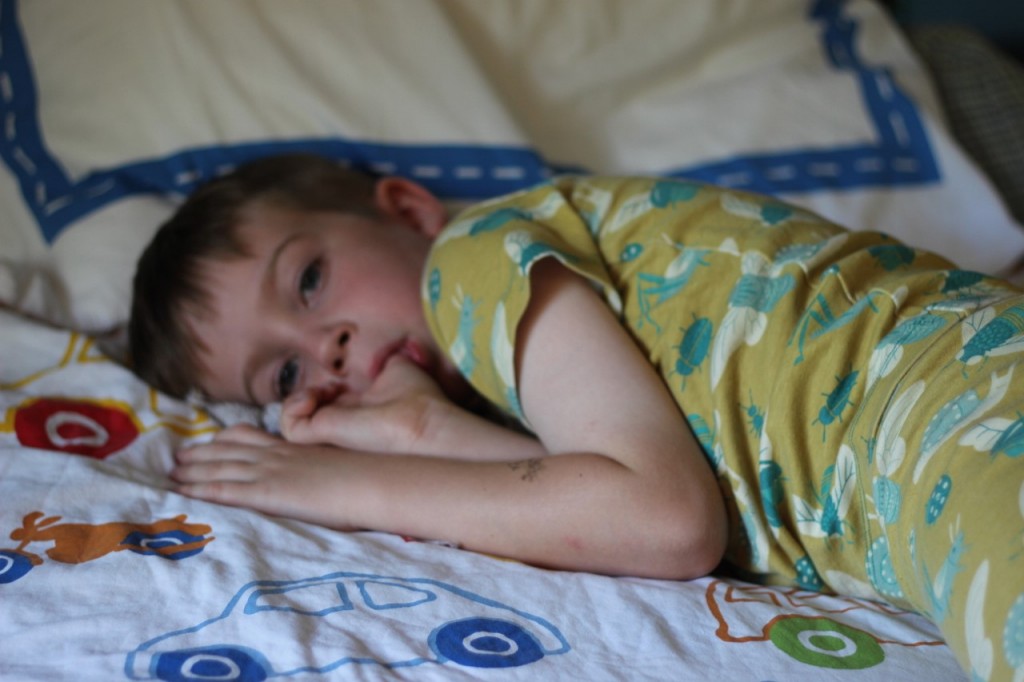 Insert thumb, cue the heavy lids. Good niiii-iight! I may have even begun to daydream about all that could be accomplished if the kids were both in bed by 5:30 p.m. Tsk, tsk, bad mommy.
But then, he found his second wind.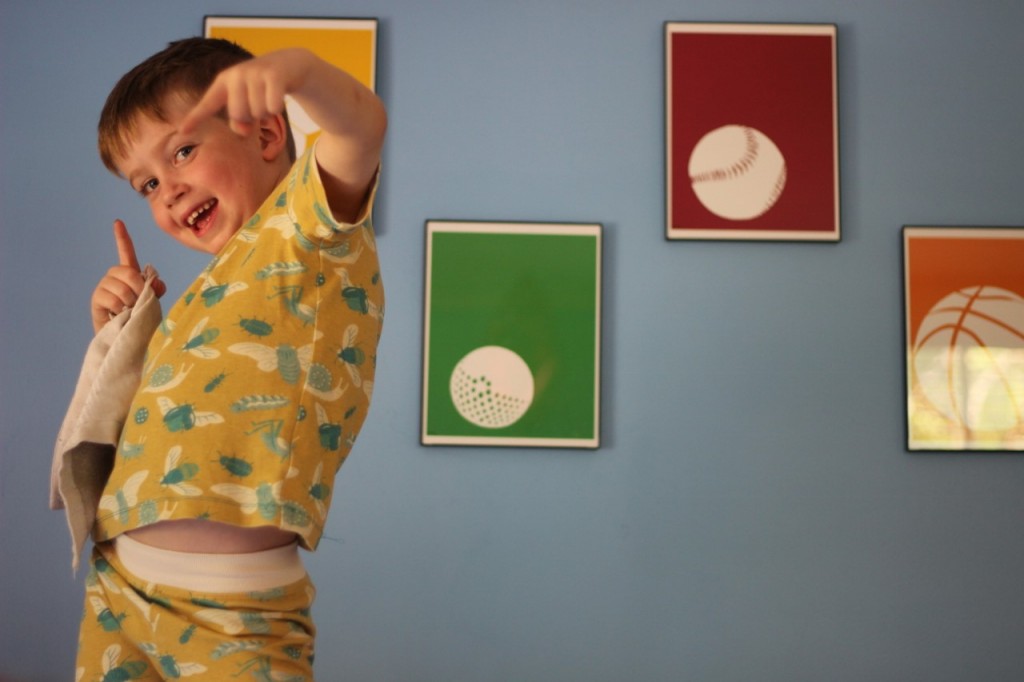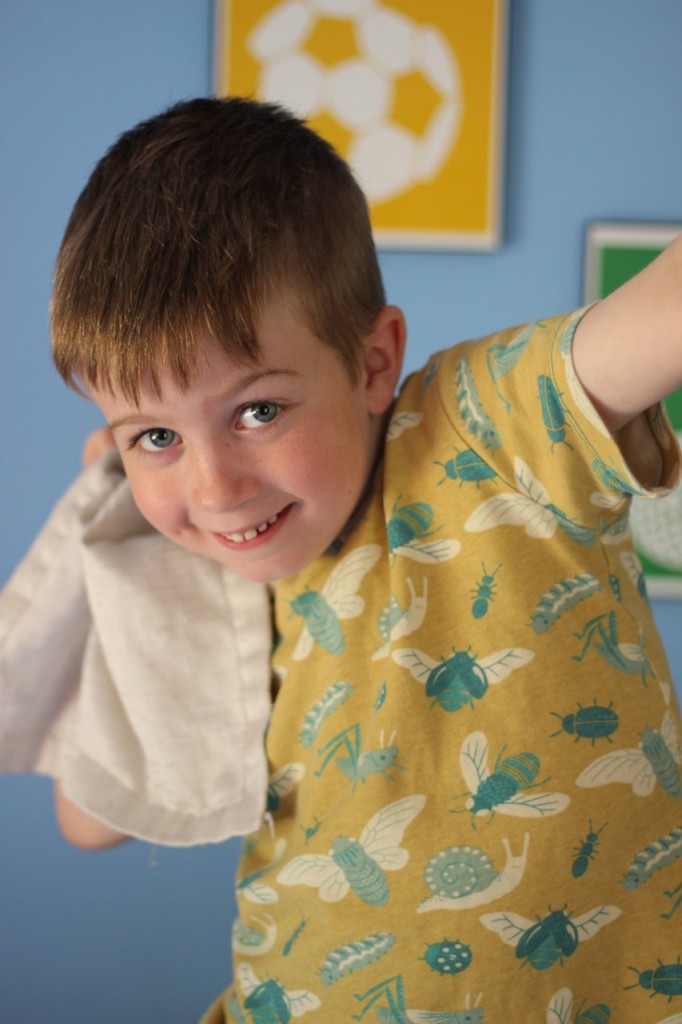 Although, he insisted on giving me a "sleeping" shot.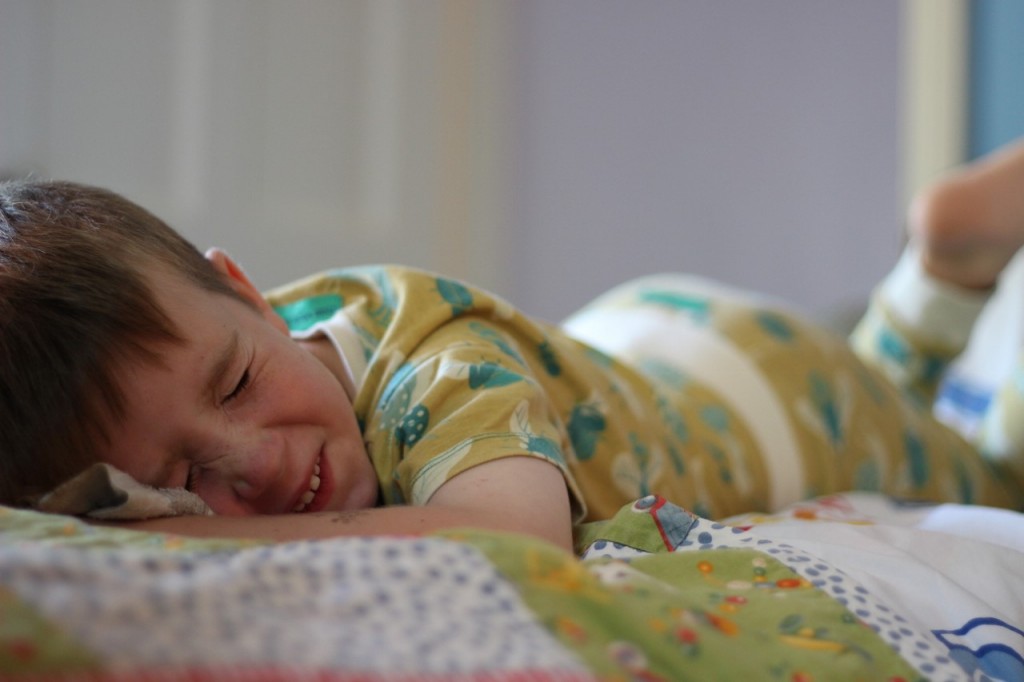 Very authentic.
And in case you are curious, Pajama Day is celebrated by allowing the students to wear their PJs to school, and then it's lights off while they "camp out" in the classroom, listening to a "bedtime" story, enjoying popcorn and looking at the constellations on the ceiling (a la a night sky project they completed leading up to the PJ day). It really was a sweet and special experience for them.
And much better experienced in new, handmade pajamas, no doubt!
You may want to check this out: